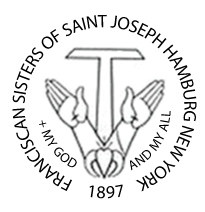 Franciscan Sisters of St. Joseph
Called by God into the Fraternity of Francis, we live in Simplicity, Servanthood, and Joy, renewing the spirit of Mother Colette Hilbert, "In all things Charity."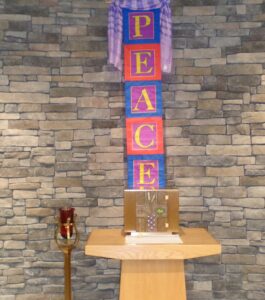 St. Francis loved peace and he invites us to grow in peace during this time of Advent.  To get an on-line Advent calendar from Catholic Relief Services go to https://www.crs.org/advent-calendar https://www.crs.org/advent-calendar
Our Mission & Vision
Helping to connect people to faith
We, the Franciscan Sisters of St. Joseph,
witness the Gospel in joy and peace,
committed to prayer, service, and care for all creation.
Monthly Reflection
by
Sister Deborah Marie Ciolek, FSSJ
"The people that walked in darkness have seen a great light…" Is.9:1
Sister Presentia Stawicki, FSSJ
Sr. Presentia Stawicki taught for many years and loved teaching.  She was also a guidance counselor and a principal.   Then, open to the needs of God's people, she served as Pastoral Associate, visiting the sick, those in prison, teaching the faith to the youth and leading Scripture study groups.  Sister Presentia also shared faith with the FSSJ Associates in the town of Medina, New York, where it seems that everyone there has a story about her and how she touched their life in a special way.  Sister Presentia's life was one of being a mentor and counselor but above all, a great friend.  Sr. Presentia went to God on November 25, 2020.  Her life is a reminder to each of us to look for ways, large and small, to serve the people of God.
Sister Anzelma Thomas, FSSJ
Sr. Anzelma Thomas taught for many years and inspired her students – inspiring one student, in particular, to become a Franciscan Sister of St. Joseph.  Presently Sr. Anzelma is someone who sees the needs of others and helps out as best as she is able.  She is a very good listener and has a wonderful sense of humor.  Sister's prayerfulness inspires all who live with her. 
Advent
Advent is a time when we especially remember Mary, mother of Jesus and our mother. This modern picture of Our Lady of Guadalupe reminds us of the many titles of Mary and how she lived her daily life with faith, hope and love.  Her example reminds us to do the same.
Advent is a time of waiting – during this time of covid-19 we find ourselves waiting – waiting to see what restrictions we will need to live with, waiting for a vaccine, waiting in the quiet that this pandemic has invited us to be present to. Pope Francis says, "The virus reminds us that the best way to take care of ourselves is by learning to care for and protect those who are close to us." 
What We Do
Ways to Get Involved.
Learn About Franciscan Spirituality
Prayer ~ Reflection
Remembrance Garden
– A place that offers opportunities for prayer and quiet reflection.
Plan a Visit
©2020 Franciscan Sisters of Saint Joseph
5229 South Park Avenue, Hamburg, NY 14075
All rights reserved. No content or images may be reproduced in any form without permission.