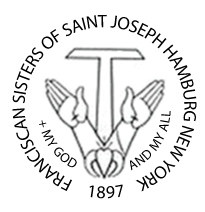 Franciscan Sisters of St. Joseph
Called by God into the Fraternity of Francis, we live in Simplicity, Servanthood, and Joy, renewing the spirit of Mother Colette Hilbert, "In all things Charity."
Our Mission & Vision
Helping to connect people to faith
We, the Franciscan Sisters of St. Joseph,
witness the Gospel in joy and peace,
committed to prayer, service, and care for all creation.
Monthly Reflection
by
Sister Mary Beth Bejma, FSSJ
In 1979 St. Pope John Paul II proclaimed Francis of Assisi patron of all who promote ecology.
Stigmata of St. Francis
September 17 is the feast day of the Stigmata of St. Francis of Assisi. From the beginning of his conversion St. Francis had a very great devotion and veneration for Christ crucified and never ceased to preach this devotion. In 1224 he was rapt in deep contemplation on Mr. Alverna. Christ, by a stupendous miracle, imprinted the marks of his passion onto the saint's body. This reminds us of St. Paul's words, "May I never boast except in the cross of Jesus Christ, through which the world has been crucified to me and I to the world." Gal. 6:14
Sr. Christine, Holder of our Story
Sr. Christine Songin, FSSJ, was the ultimate teacher, nurse, and community storyteller. She, herself, was inspired by a story that she read as a young woman about Mother Colette Hilbert and immediately felt the call to join the Franciscan Sisters of St. Joseph. She is one of the last Sisters to have known Mother Colette personally so her stories kept the spirit of Mother Colette's love of God and her Sisters alive. Sr. Christine went to God in 2017. But she will always be held in gratitude by the Sisters for keeping our history alive in stories and in the way she taught us so many things by her life.
Sr. Marcia Stobnicki, Lived the Mission
Sr. Marcia Stobnicki was a teacher during her time of active ministry.  When she retired she wanted to reach out to the poor and needy. Like Mother Colette Hilbert, Sr. Marcia respected those who had less and she wanted to DO something for them. Sr. Marcia made her "world renowned" chicken soup and sold it to raise money to purchase animals through the Heifer International Program that benefited those who are poor in other countries. Locally she worked at a soup kitchen in Buffalo. Sr. Marcia raised money and sent packets of rice to the people of Nicaragua through the Nicaragua Mission Project. Sr. Marcia went to God in 2010. When we think of Sr. Marcia we think, missionary, like Mother Colette, as one who served from home, but her heart reached those in need throughout the world.
In the Spirit of Mother Colette Hilbert, who cared for all people: the student in the classroom and the porter at the train station, we, the Franciscan Sisters of St. Joseph ask you to go to U.S. Conference of Catholic Bishops
What We Do
Ways to Get Involved.
Learn About Franciscan Spirituality
Prayer ~ Reflection
Remembrance Garden
– A place that offers opportunities for prayer and quiet reflection.
Plan a Visit
©2020 Franciscan Sisters of Saint Joseph
5229 South Park Avenue, Hamburg, NY 14075
All rights reserved. No content or images may be reproduced in any form without permission.