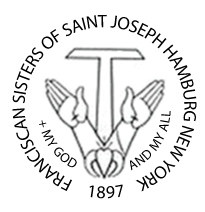 Franciscan Sisters of St. Joseph
Called by God into the Fraternity of Francis, we live in Simplicity, Servanthood, and Joy, renewing the spirit of Mother Colette Hilbert, "In all things Charity."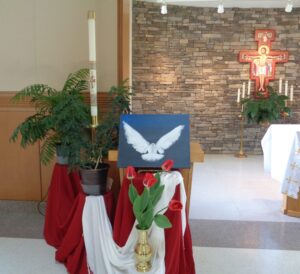 Come Holy Spirit, fill the hearts of your faithful and kindle in them the fire of your love.
Send forth your Spirit and they shall be created.  And You shall renew the face of the Earth.
We pray for all those suffering because of Coronavirus and
from unrest in our country.

Ambiance in FSSJ Chapel, created by Sr. Ann Lyons, FSSJ for Pentecost
Our Mission & Vision
Helping to connect people to faith
We, the Franciscan Sisters of St. Joseph,
witness the Gospel in joy and peace,
committed to prayer, service, and care for all creation.
Monthly Reflection
by
Sister Sharon Goodremote, FSSJ
God's Unconditional, Extravagant, Complete Love for Us
A Treasured Shared
This statue of the Sacred Heart was in our original motherhouse chapel at 5286 South Park, Hamburg, N.Y. in the 1930s.  When we built a new chapel in the1960s it was moved to our community room and oversaw many of our gatherings.  When we moved to St. Francis Park at 5229 South Park Avenue the statue gave comfort to the Sisters.  As time went on we thought that sharing this wonderful statue that carried so many of our prayers and memories should be shared with others who would greatly appreciate the Sacred Heart.  We then gave the statue to Ann Marie Zon for her Nicaragua Mission Project and it is now in Nicaragua feeding the prayers and life of others.  Another way to share our Mission and our lives.
Part of FSSJ Story
The Sacred Heart holds a precious place in the story of the Franciscan Sisters of St. Joseph.   The story is told that Mother Colette, as a young 24 year old Sister of the St. Charles Borromeo Community, was praying for guidance in making a difficult decision.   Should she return to Poland and her religious community or should she stay in the U.S. and form a new Franciscan Community?  She was praying before a statue of the Sacred Heart and she seemed to have seen the head of the statue nod yes.  We do not know where that specific statue is, but this statue is a reminder of our love of the Sacred Heart.  If you want to know more about the Sacred Heart go to Monthly Reflections on this page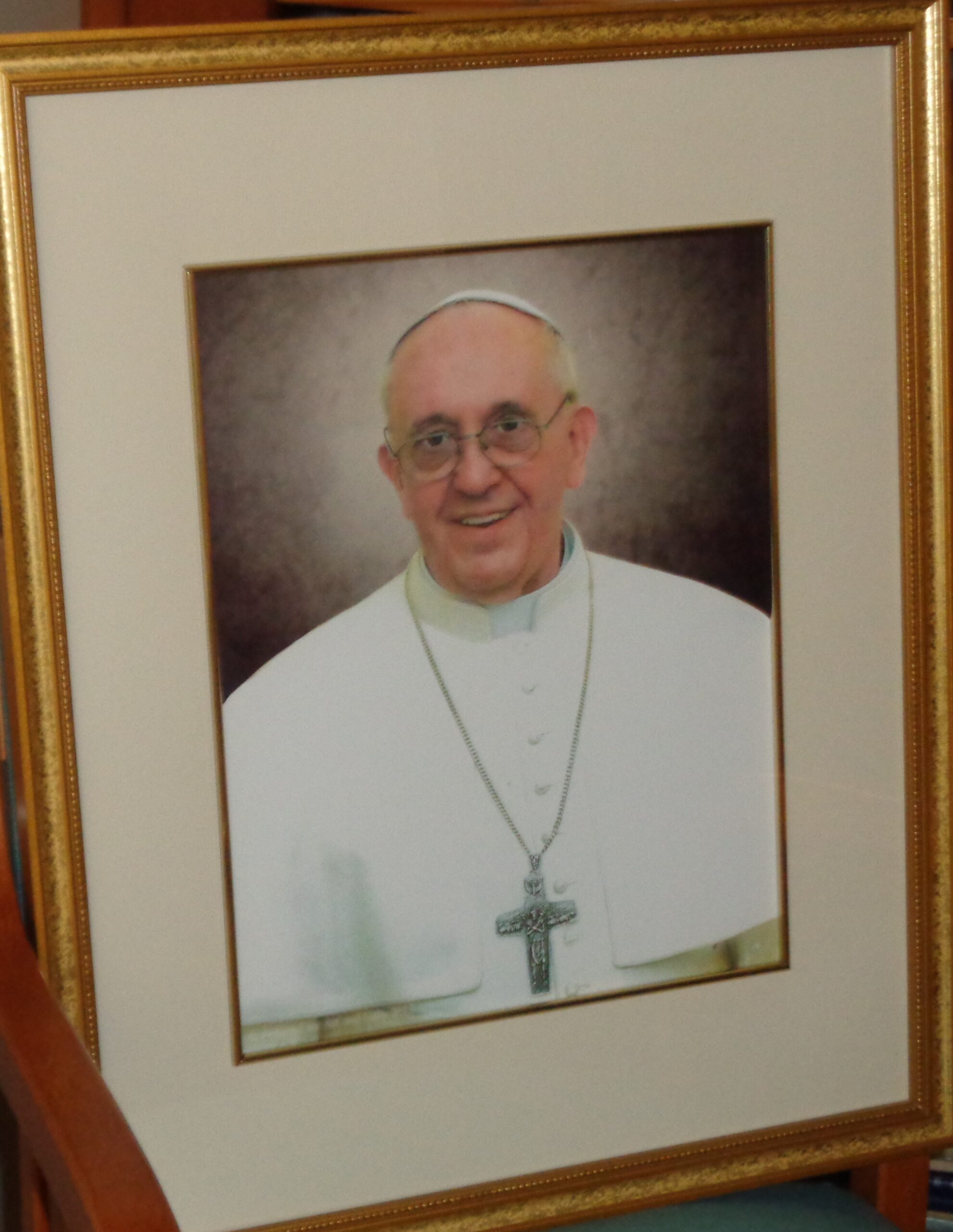 The Way of the Heart
Pope Francis has an intention for each month of the year which he asks all Catholics to pray for.  The intention for June is:  We pray that all those who suffer may find their way in life, allowing themselves to be touched by the Heart of Jesus. 
We Franciscan Sisters add to this prayer:  God who loves Diversity, help our country and our world to accept, as sisters and brothers, those who seem different from us, but who in reality are our sisters and brothers in Christ.
What We Do
Ways to Get Involved.
Learn About Franciscan Spirituality
Prayer ~ Reflection
Remembrance Garden
– A place that offers opportunities for prayer and quiet reflection.
Plan a Visit
©2020 Franciscan Sisters of Saint Joseph
5229 South Park Avenue, Hamburg, NY 14075
All rights reserved. No content or images may be reproduced in any form without permission.