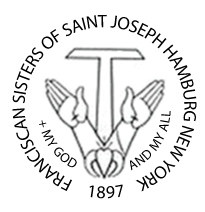 Franciscan Sisters of St. Joseph
Called by God into the Fraternity of Francis, we live in Simplicity, Servanthood, and Joy, renewing the spirit of Mother Colette Hilbert, "In all things Charity."
Martin Luther King, Jr.
A Person of Justice, Peace and Hope
Franciscan Sisters of St. Joseph hold in prayer
all people who suffer from racism in any way.
Our Mission & Vision
Helping to connect people to faith
We, the Franciscan Sisters of St. Joseph,
witness the Gospel in joy and peace,
committed to prayer, service, and care for all creation.
New Year Reflection
by
An Anonymous Franciscan Sister of St. Joseph
Sister Gregory
Sr. Gregory LaSala worked in health care for many years.  She continues to heal people with her kindness, wit and welcoming spirit.  Sr. Gregory is a magnet for people who want a listening ear and an open, compassionate, and generous heart.  Sister Gregory is the epitome of Franciscan Hospitality. 
Prayer for Justice and Peace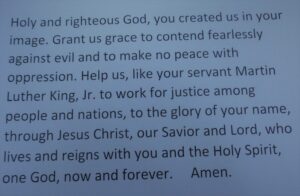 Giving Those Who are Poor a Hand-up
Among our tasks as witnesses to the love of Christ
is that of giving a voice to the cry of the poor."  Pope Francis
An organization that reaches out to those who are poor is Gerard Place.  The programs at Gerard Place not only give charity in order to relieve the immediate needs, but they also have programs that educate, empower and assist each person who takes part in the programs to self-sufficiency and a life of responsibility and hope.  Click below to find out more about Gerard Place.
Gerard Place – Buffalo, NY – Transitional Shelter for Homeless Families
What We Do
Ways to Get Involved.
Learn About Franciscan Spirituality
Prayer ~ Reflection
Remembrance Garden
– A place that offers opportunities for prayer and quiet reflection.
Plan a Visit
©2020 Franciscan Sisters of Saint Joseph
5229 South Park Avenue, Hamburg, NY 14075
All rights reserved. No content or images may be reproduced in any form without permission.