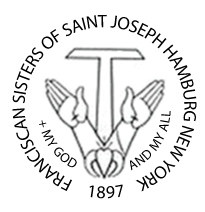 Franciscan Sisters of St. Joseph
Called by God into the Fraternity of Francis, we live in Simplicity, Servanthood, and Joy, renewing the spirit of Mother Colette Hilbert, "In all things Charity."
Who We Are
Franciscan Sisters of St. Joseph are women religious who strive to live the Gospel way of life in the Spirit of St. Francis of Assisi. We hold deeply in our hearts the call from our the Rule of the Franciscan Third Order Regular:
Within themselves, let them always make a dwelling place and home for the one who is God All Loving, Father, Son and Holy Spirit , so that, with undivided hearts, they may increase in universal love by continually turning to God and to neighbor
(Article 8)
©2020 Franciscan Sisters of Saint Joseph
5229 South Park Avenue, Hamburg, NY 14075
All rights reserved. No content or images may be reproduced in any form without permission.