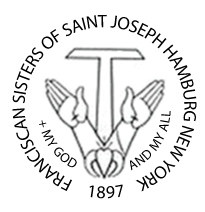 Franciscan Sisters of St. Joseph
Called by God into the Fraternity of Francis, we live in Simplicity, Servanthood, and Joy, renewing the spirit of Mother Colette Hilbert, "In all things Charity."
                                                                                                          Bracelets of Blessing
The Sisters living at St. Francis Park, which is part of the Catholic Health of Buffalo, are praying daily for all those first responders during the covid-19 pandemic.  With the help of Joanna Mach, Director of St. Francis Park, the Sisters made Bracelets of Blessing for the Catholic Health Associates of St. Francis Park and Father Baker Manor, who come in to work every day, serving and caring for all the residents.  We are grateful for the kindness, care and joy all the Catholic Health Associates share with all of us at St. Francis Park and Father Baker Manor.  God bless all of you and know you are held tenderly in our prayers.
          Gratitude to our Nurses and Home Health Aides
At St. Francis Park we are so grateful for the nurses who care for all the Sisters who live here.  Sr. Alexine, using her wonderful creativity and deep faith, created this display thanking the nurses who care for us and letting them know we place them in the loving heart of Mary, Our Mother.  As a special thank you to our nurses, the Leadership Team prayed with them, shared cupcakes and then gave them a blessing to show our gratitude for each of them, as well as for our Home Healthcare Aides.
In this picture, which is found in the Care Community area of St. Francis Park, Mary is pointing to the Child, Jesus.  We know that Mary always leads us to Jesus.  During this month of May, may we look to Jesus remembering his love for us, his call to love one another and see one another with his eyes, seeing good rather than bad, seeing hope rather than despair.  May we like Mary, be Jesus' disciple following him in all things.  Let us pray the Rosary this month, pondering the Mysteries of Mary and Jesus' life and how they responded to God's call to love all people and all creation.

Statewide Volunteer of the Year
in the Spiritual Guidance Category.
Sister Benedicta Dega, FSSJ was chosen by New York State Facilities Association and New York State Center for Assisted Living as the outstanding state wide Volunteer of the Year for her work and ministry at Autumn View in Hamburg, NY.   Sr. Benedicta began volunteering at Autumn View in 2015 providing room-to-room spiritual visits and communion through the facility's Journeys palliative care program.  Sister also provides bible studies, and spiritual counseling for the residents, their family members and staff.  Congratulations, Sister Benedicta and thank you for living the FSSJ Mission Statement, "We witness the Gospel in joy and peace."
Prayer
Each Franciscan Sister of St. Joseph is praying together or privately for our world at this time.  Some pray in Chapel, some in parlors.  Where or however we pray, God is with us.  Know that you and your families have us holding you tenderly in our hearts.
As St. Francis taught us by example, we not only pray when we pray together but our hope and our call is to "become a prayer." It is something all followers of Jesus are called to do.
Sister Lucille Ann, Sister Jean, and Sister Martha used their care for others and their creativity to make face masks for each Sister and resident at St. Francis Park.
The Franciscan Sisters of St. Joseph who serve in Baltimore, MD area, Sr. Carol Clare and Sr. Valenta, made face masks for themselves and are looking to make them for others.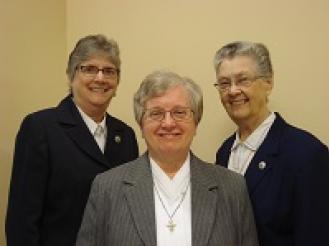 The Leadership Team of the Franciscan Sisters of St. Joseph was elected at the Congregation's 22nd General Chapter in July of 2018.
Elected were Sr. Marcia Ann Fiutko, General Minister, Sr. Jean Marie Cherry, General Councilor and Sr. Judith Elaine Salzman, General Councilor.
FSSJ Chapter Commitment
The Leadership Team will lead the members in fulfilling their Chapter commitment which reads in part: We… Embrace our Sacred Journey…to explore ways to embrace full participation in our community life, new expressions for our mission, and hope-filled plans for our future. We welcome God's invitation to co-create our future possibilities for the common good of God's people.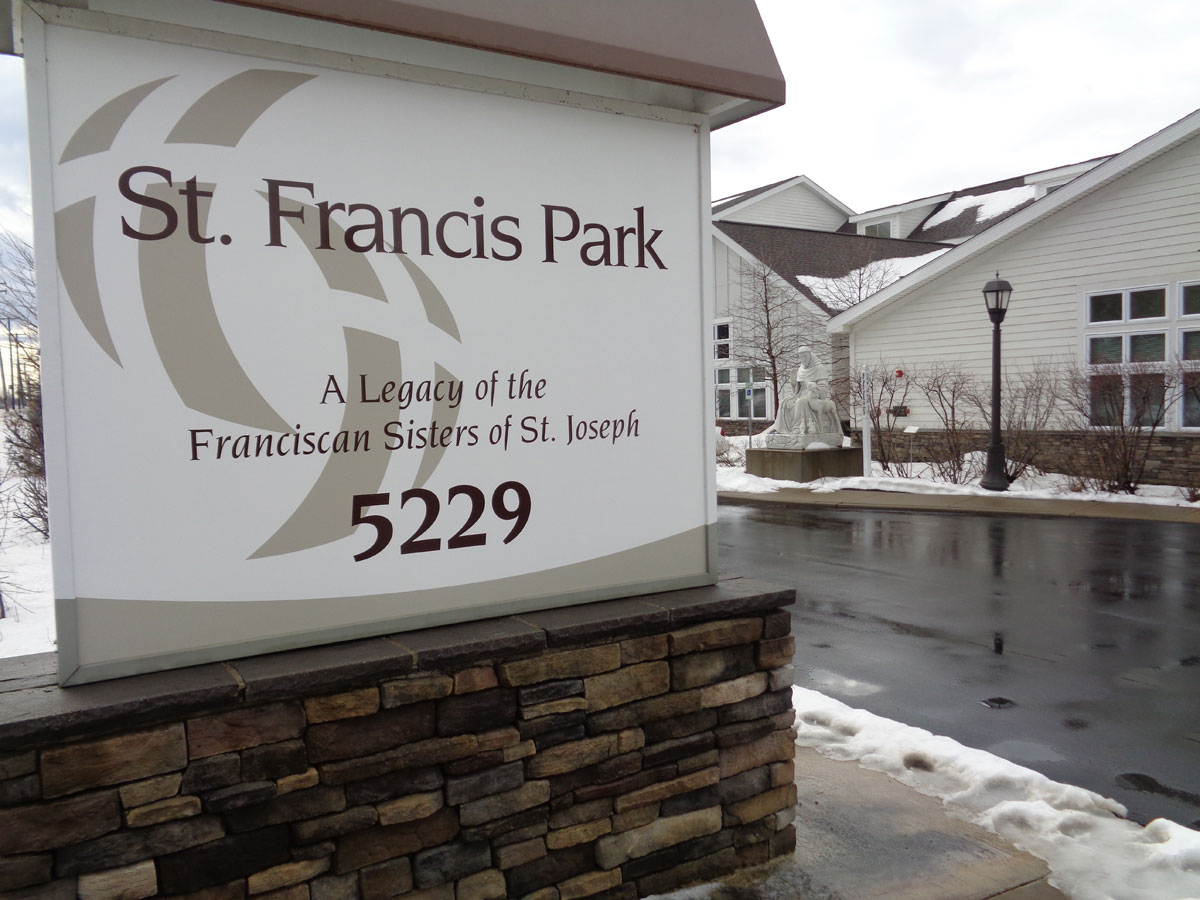 Becoming St. Francis Park
The Franciscan Sisters of St. Joseph have always been open to the Spirit of God and what God is asking of us at each time in history. In the 2000s the Sisters became more aware that we were being called to create a legacy of a new home – one that would be constructed in the Spirit of St. Francis's love of creation and one that would allow us to open our home, our spirituality and our hope for the future to others. In 2010 the new Immaculate Conception Convent was built (LEED Platinum) at 5229 South Park Avenue, Hamburg, NY.
In 2018, Catholic Health purchased Immaculate Conception Convent and helped the Sisters' vision become a reality with the opening of St. Francis Park, an independent living facility for seniors from all walks of life. We invite you to spend some time on this site to learn more.
©2020 Franciscan Sisters of Saint Joseph
5229 South Park Avenue, Hamburg, NY 14075
All rights reserved. No content or images may be reproduced in any form without permission.