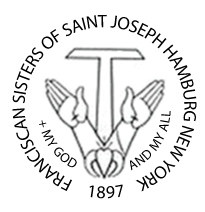 Franciscan Sisters of St. Joseph
Called by God into the Fraternity of Francis, we live in Simplicity, Servanthood, and Joy, renewing the spirit of Mother Colette Hilbert, "In all things Charity."
Apple pie made with apples from an 80+ year old tree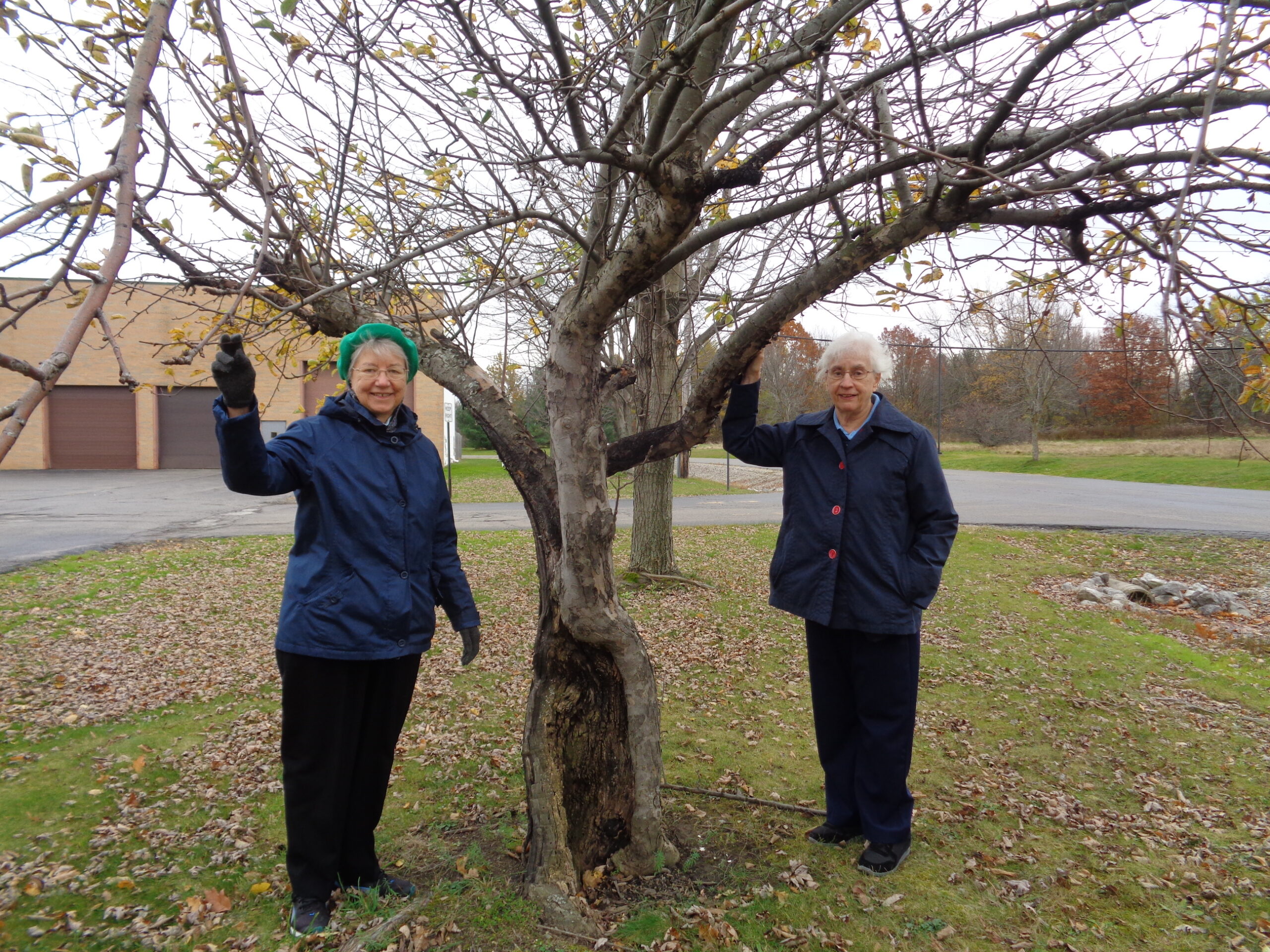 Sr. Valenta and Sr. Carol Clare, during one of their walks around Hilbert College in October, saw a very old apple tree with beautiful apples on it.  They were able to pick 14 apples.  They remembered that before Hilbert College was built, this field was an apple orchard that gave the Sisters some very good apples.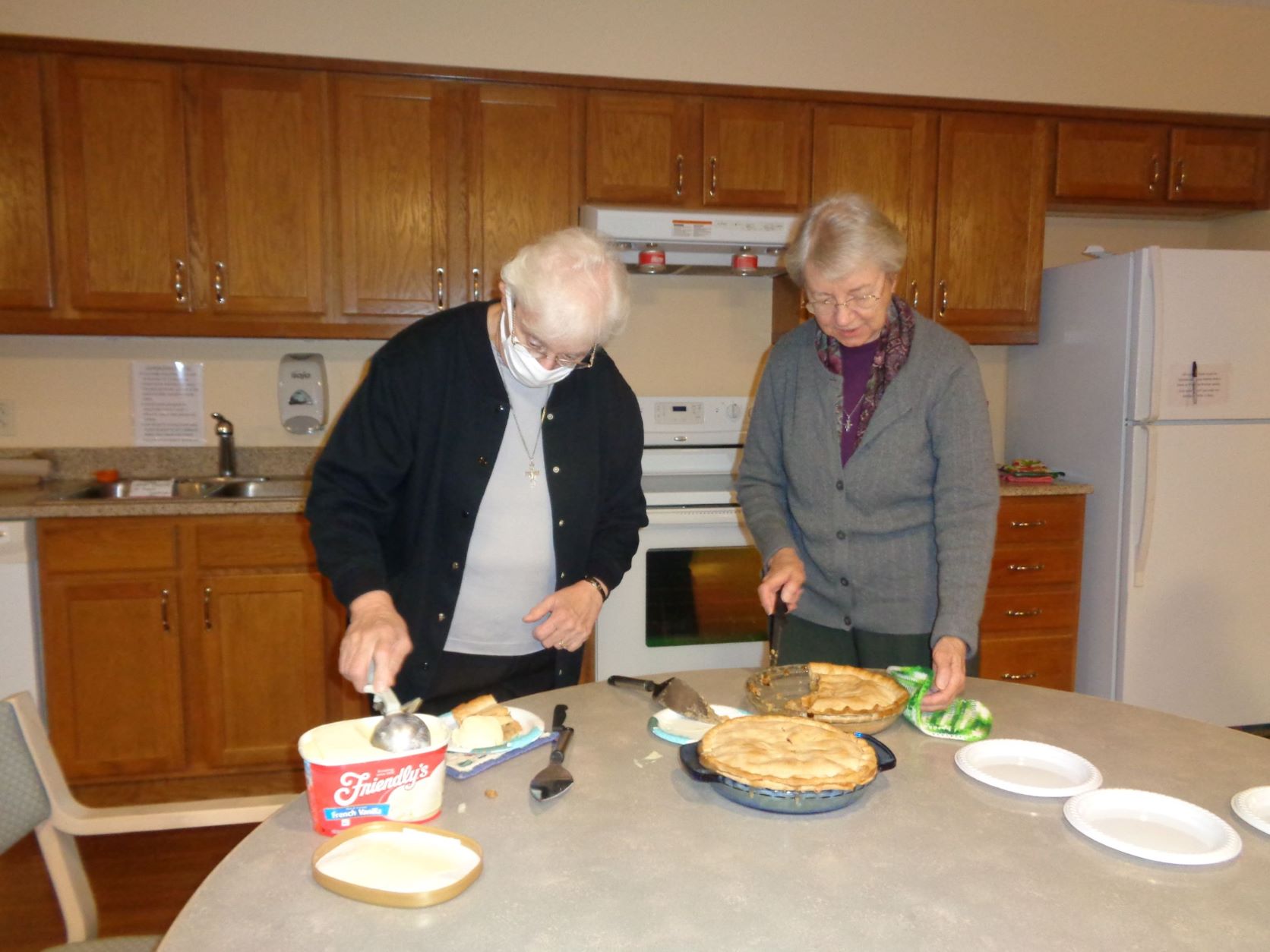 So, they decided to make some apple pies and share them with the Sisters at St. Francis Park who would remember picking those apples.  As you see from the picture of the apple tree, it looks like it could not produce any apples – with its trunk looking like it is not alive – yet, the tree lives and produces.  Sr. Valenta and Sr. Carol feel this in itself is a wonder to ponder and to remember for our own lives.
FSSJ Gifts for Afghan Refugees
"For I was a stranger and you welcomed me" (Matt 25:35).  The Franciscan Sisters of St. Joseph took this scripture passage to heart when we heard that Buffalo is slated to receive over 300 Afghan refugees.  Most of these refugees assisted our military during the U.S. time in Afghanistan.  They are leaving their homeland because they fear for their lives.
Sister Ann Lyons coordinated collecting resources so the Sisters could assist the International Institute of Buffalo in their work of resettling the refugees.
Besides sheets, towels, washcloths and various kinds of blankets, Sister Benedicta and Sister Lucille Ann crocheted baby blankets, hats and scarves.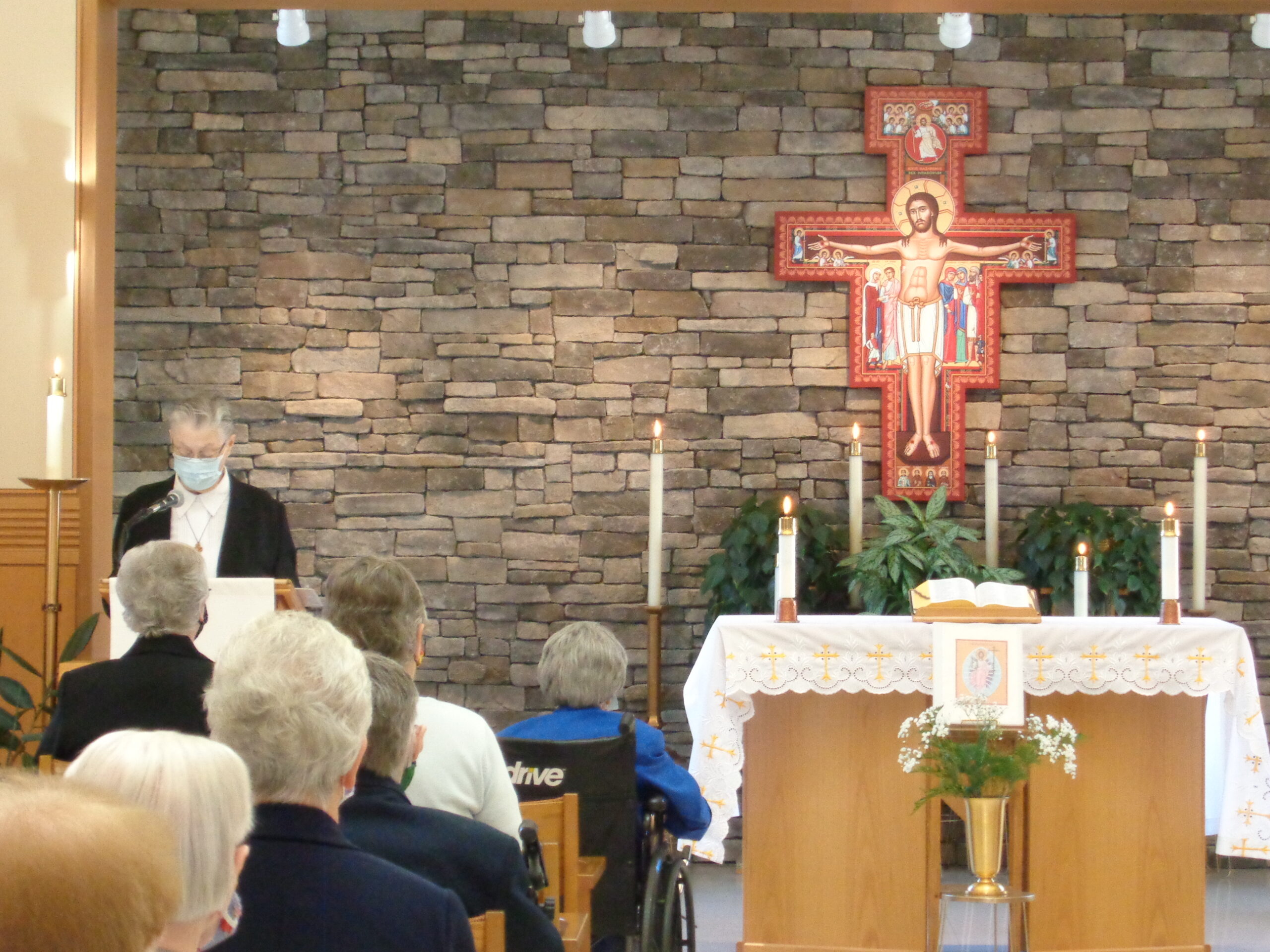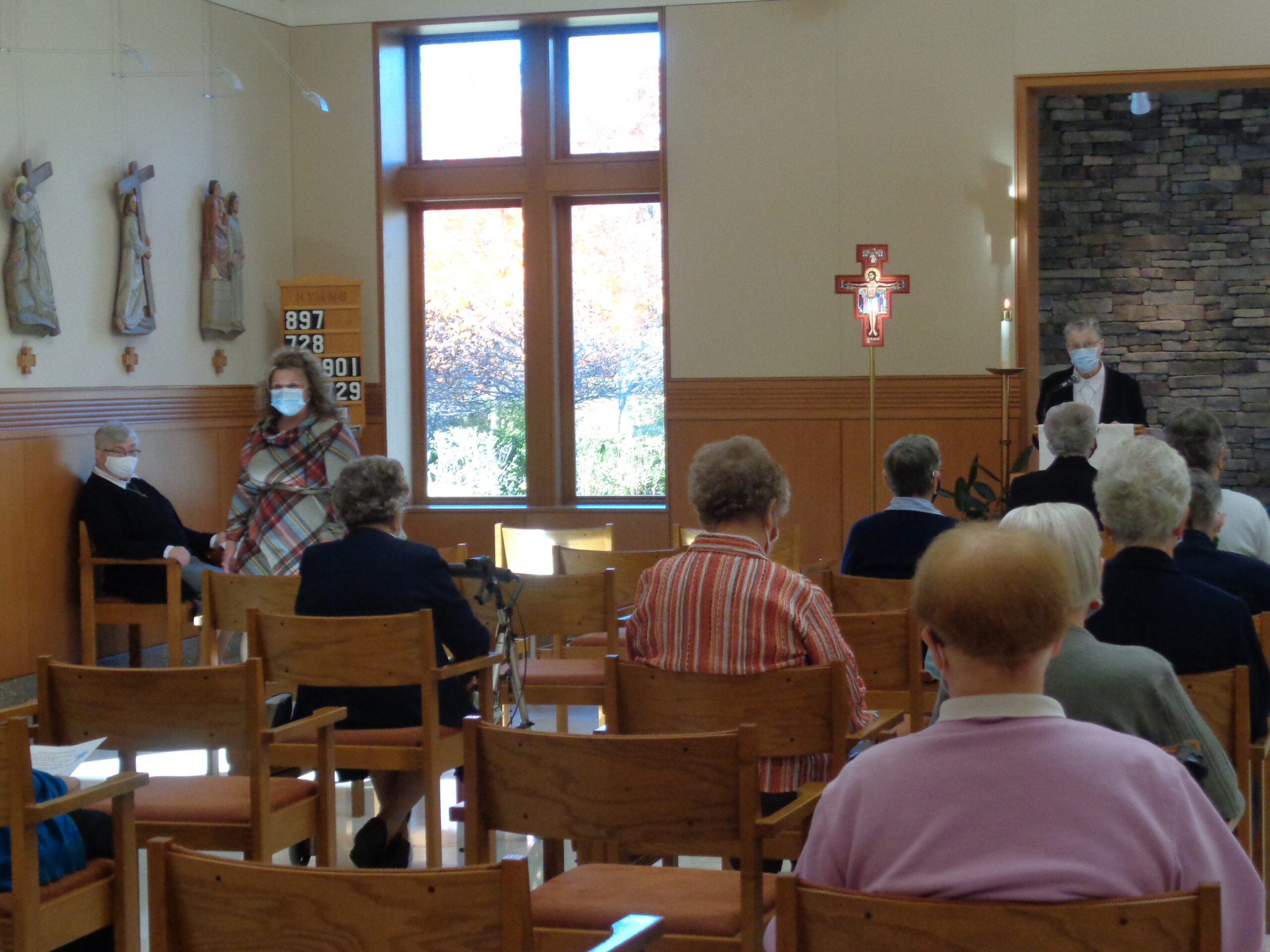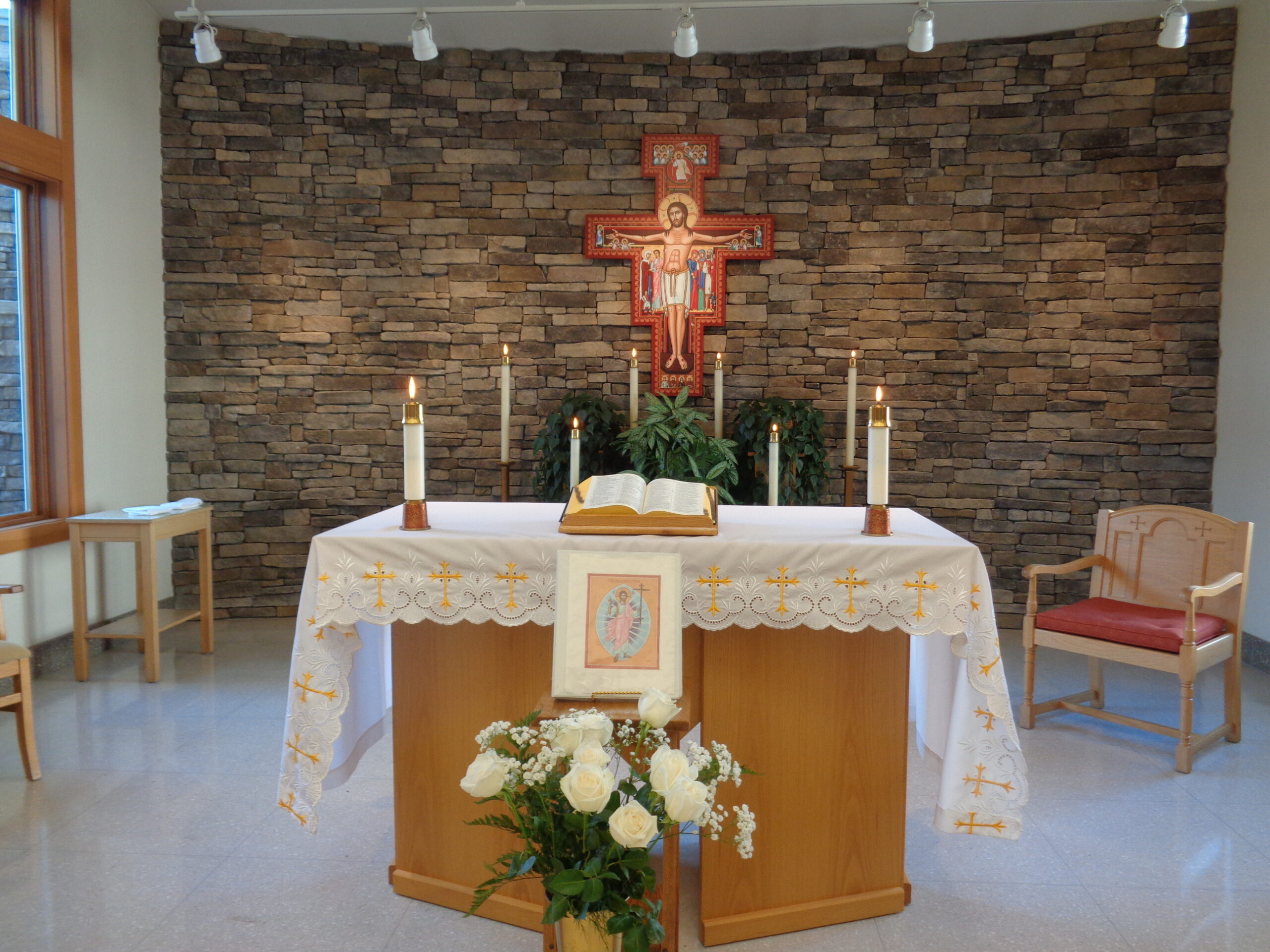 The ambiance for the prayer service showed pictures of those who passed away this year:
Sr. Telesphore, Sr. Benilda,
Sr. Loretta, Sr. Helen Dirig,
Sr. Carmeline, Sr. Presentia,
Eleanor Santucci and Sr. Helen Therese.
Eternal rest grant unto them, O Lord,
and let perpetual light shine upon them.
Signing Christmas Cards for those who are served by Meals on Wheels
A tradition that started with our beloved Sr. Claire Ann, signing Christmas cards for those who receive meals from Meals on Wheels at Christmas time, continues at St. Francis Park.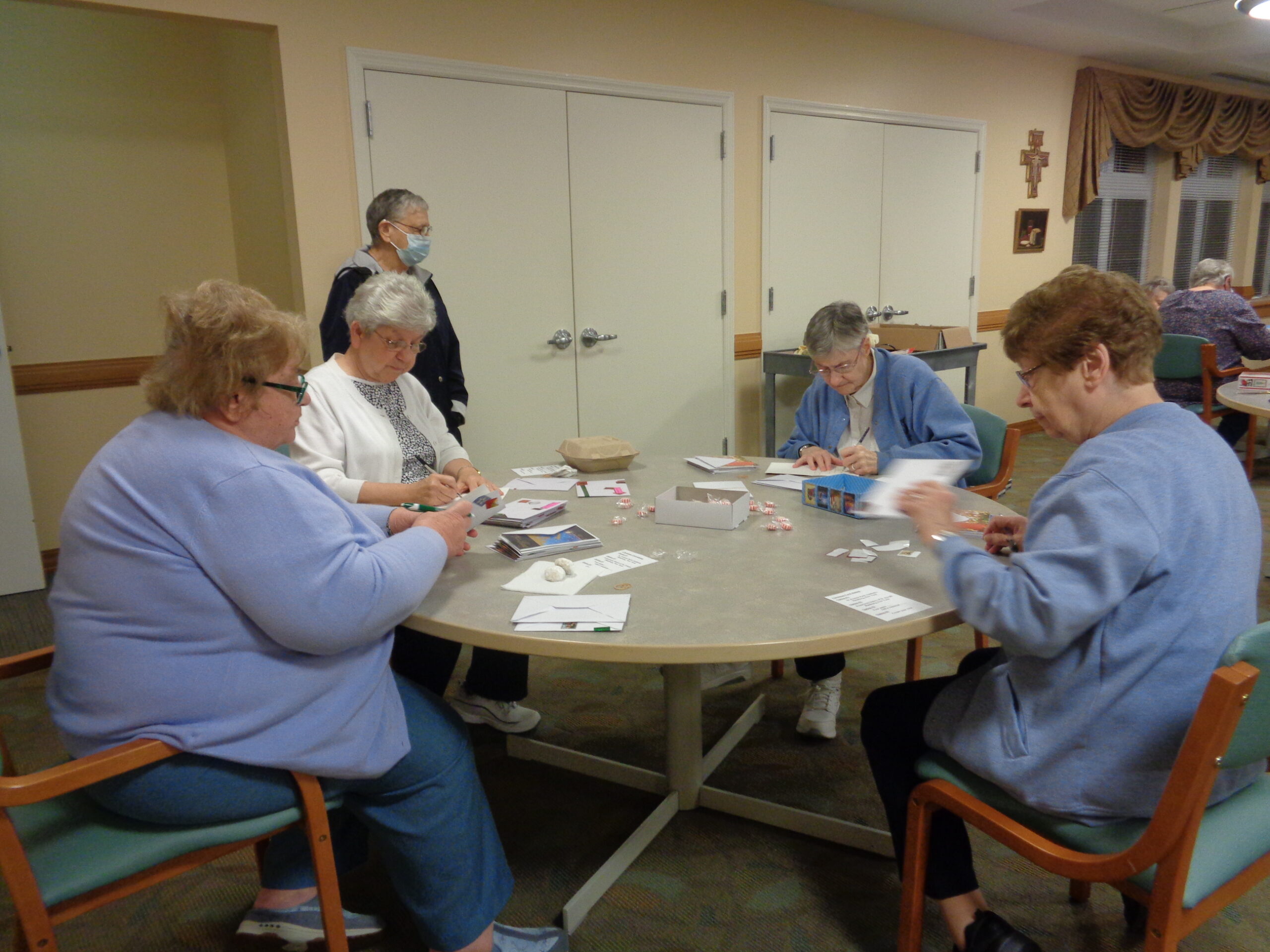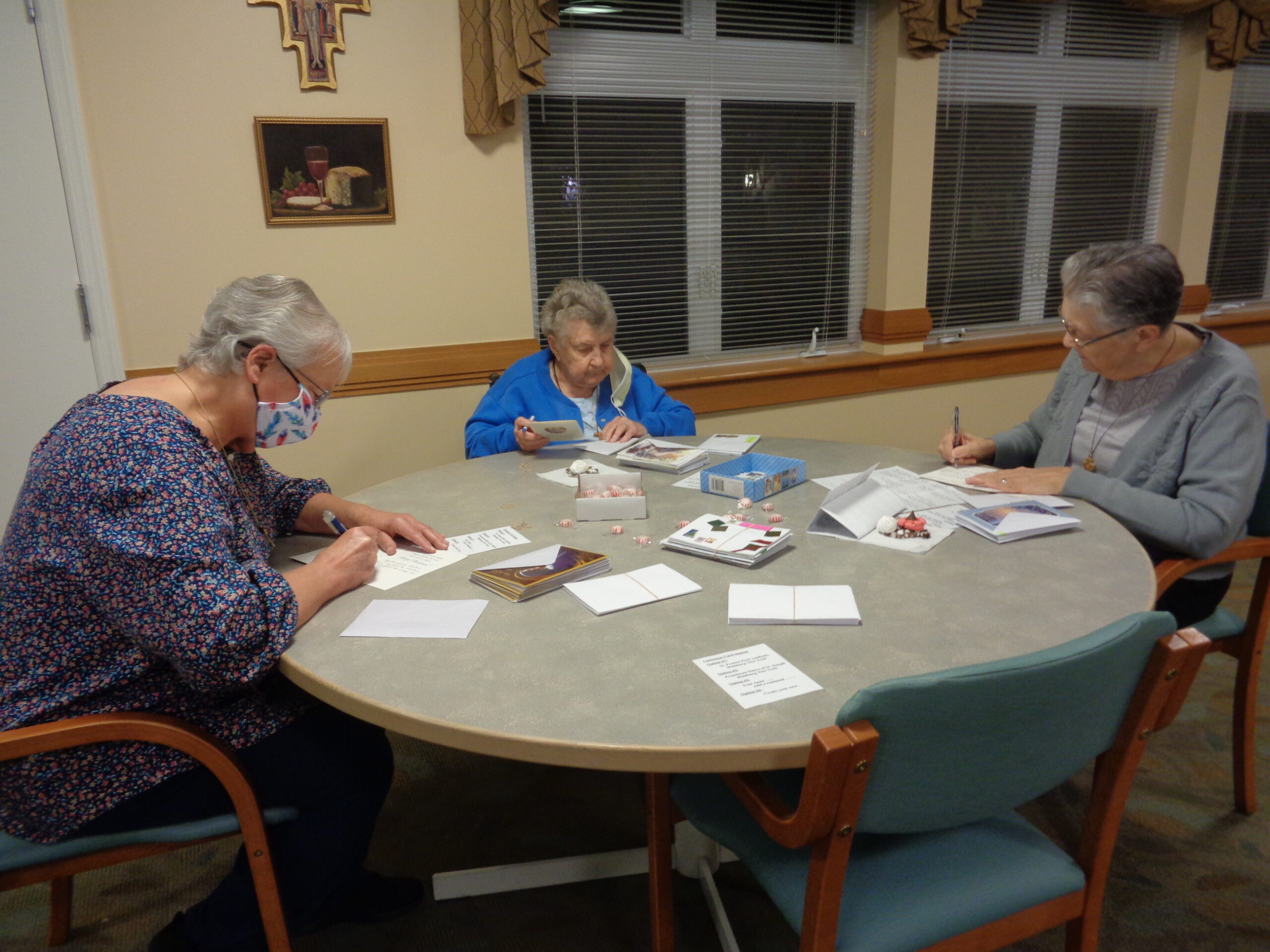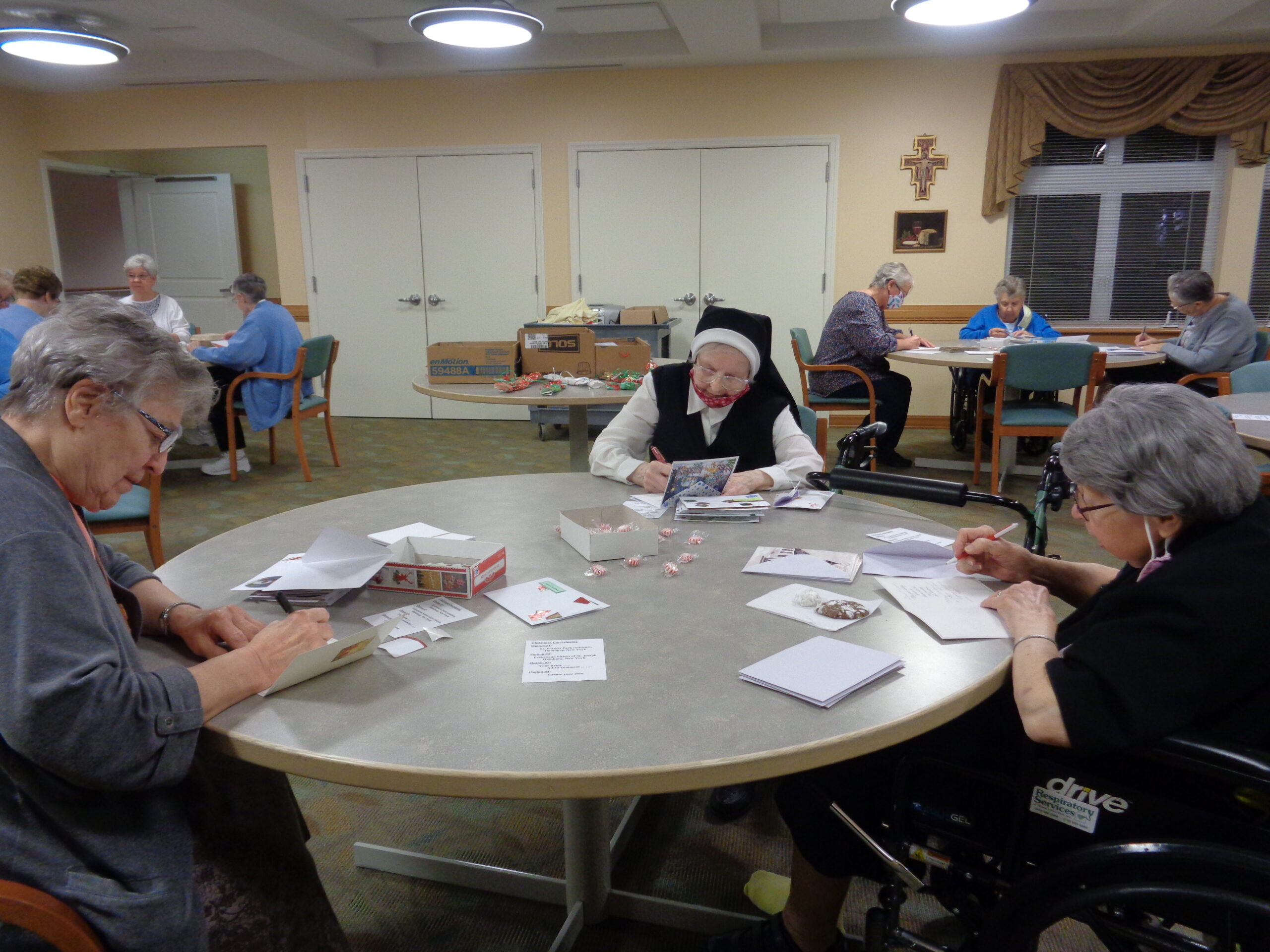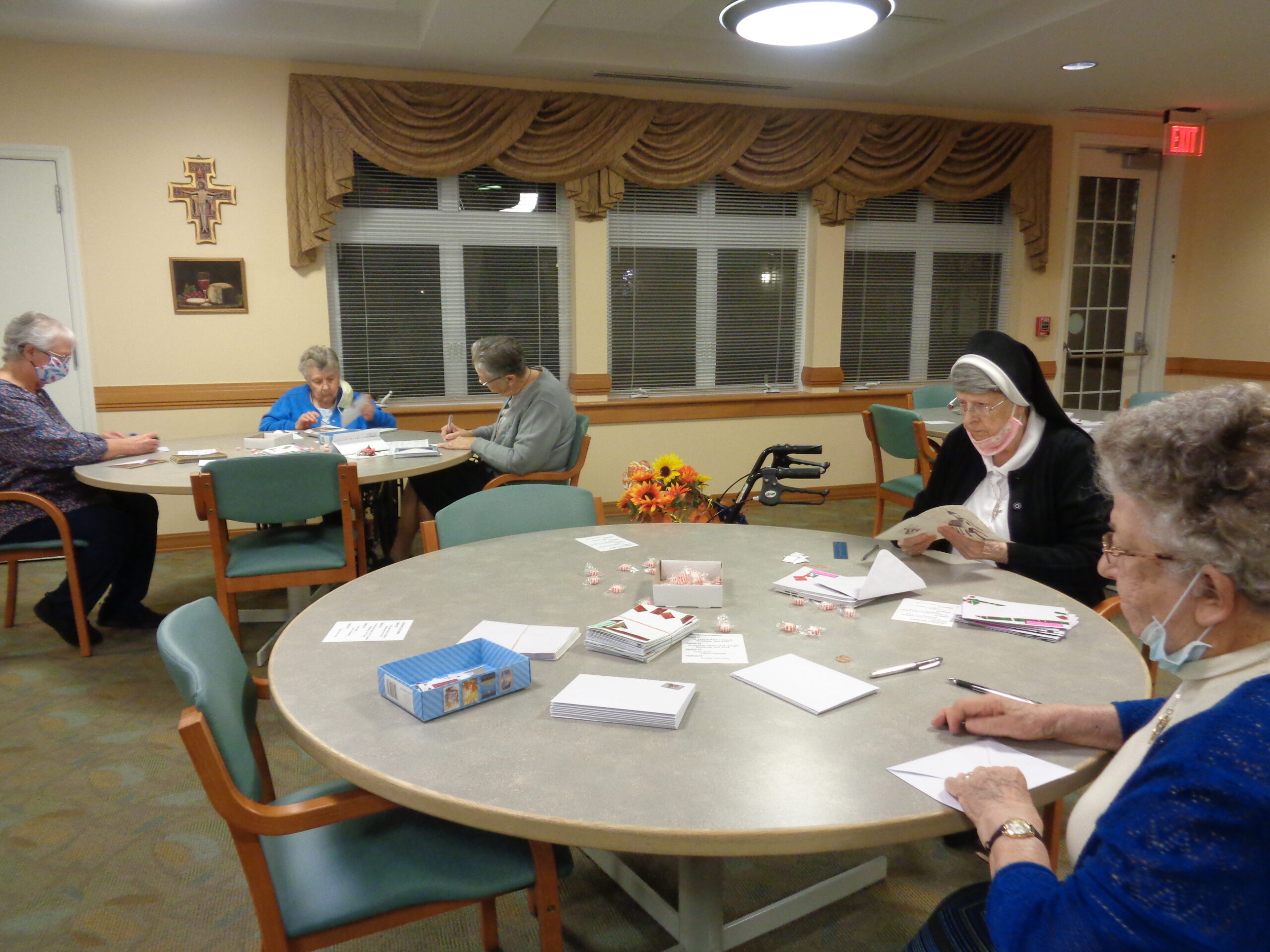 FSSJ Welcome Newest FSSJ Associates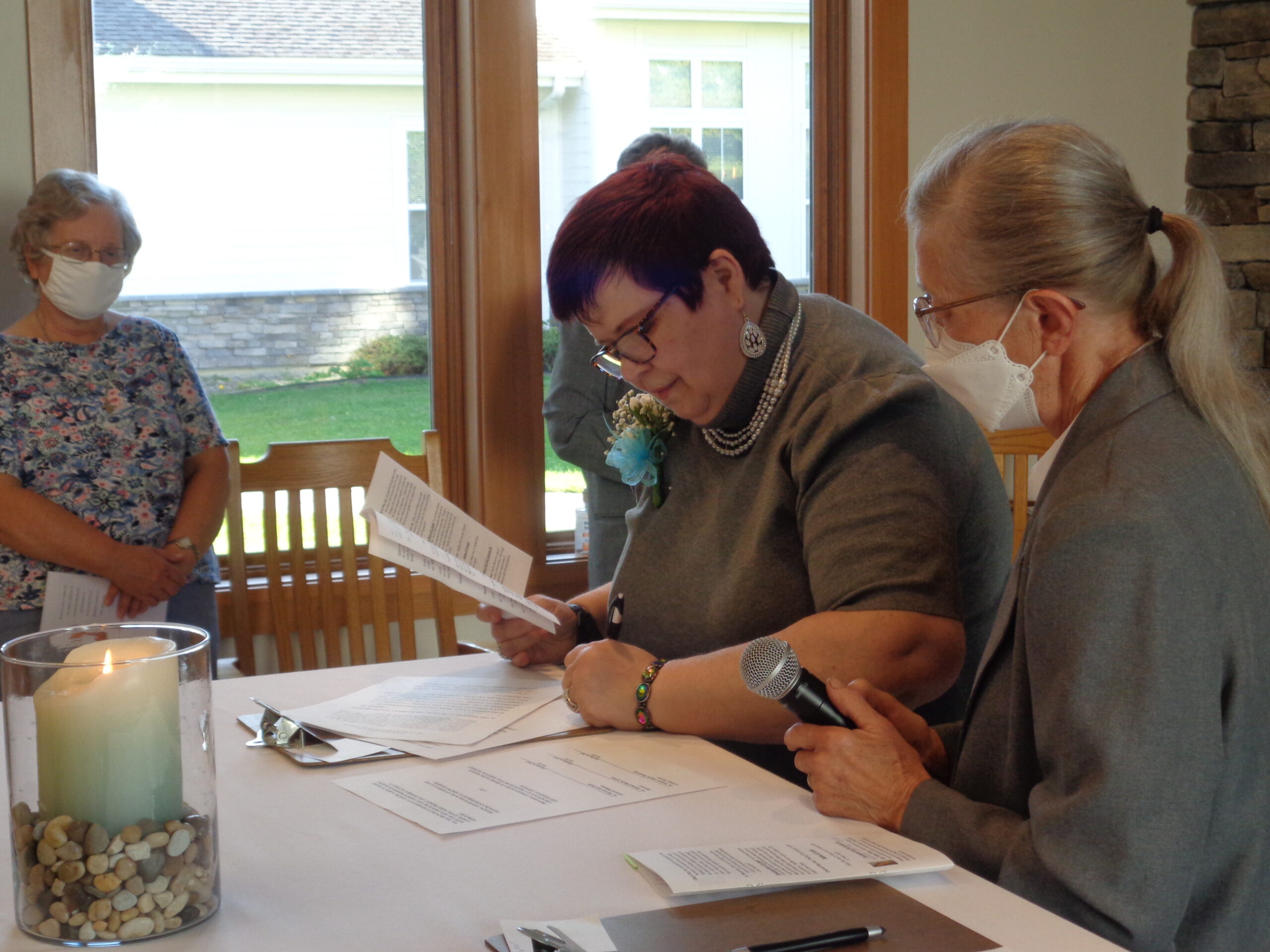 The Franciscan Sisters of St. Joseph celebrated and rejoiced in the induction of the newest FSSJ Associates, Cindy Conlon and Mary Jane Masiulionis into the FSSJ Associate Program.  Both Cindy and Mary Jane stated:
"I ask to make a formal commitment to live in the spirit of the Gospel and the charism of the Franciscan Sisters of St. Joseph.  I desire to deepen my relationship with God and this religious Congregation as we strive to follow Jesus Christ."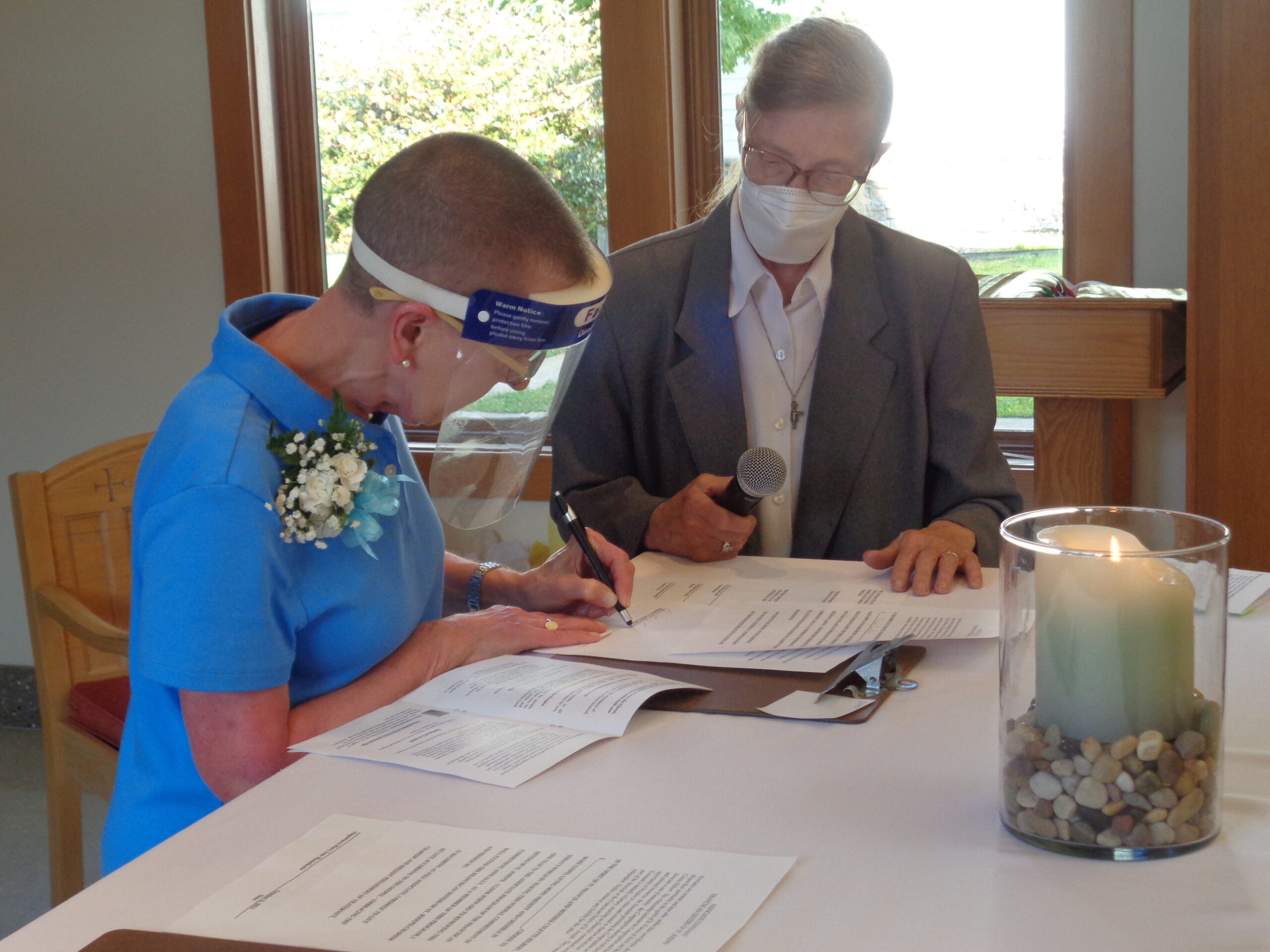 Sr. Marcia Ann replied:  "I invite you to live the Gospel in the spirit of St. Francis and Mother Colette Hilbert, and to share in the Mission of this Congregation."
Cindy and Mary Jane replied:  "I am grateful for the opportunity to share the mission of the Franciscan Sisters of St. Joseph.  Trusting in God's assistance I commit myself to live the Gospel in the spirit of simplicity, servanthood and joy.. and in all things charity.  I endeavor through prayer, witness and ministry to live in such a manner that we may grow together for the Kingdom of God."
The Sisters responded:  We warmly welcome Cindy and Mary Jane as FSSJ Associates, believing that we can be mutually enriched by our common faith.  We open to them the treasures of our tradition, which we have received from St. Francis, Mother Colette Hilbert and the Sisters who have preceded us.  Together may we grow in fidelity to the Gospel of Jesus Christ."
Brother Mickey McGrath, O.S.F.S. creates a mural at Hilbert College that honors Mother Colette Hilbert, St. Joseph and St. Francis with students and staff as well as Franciscan Sisters of St. Joseph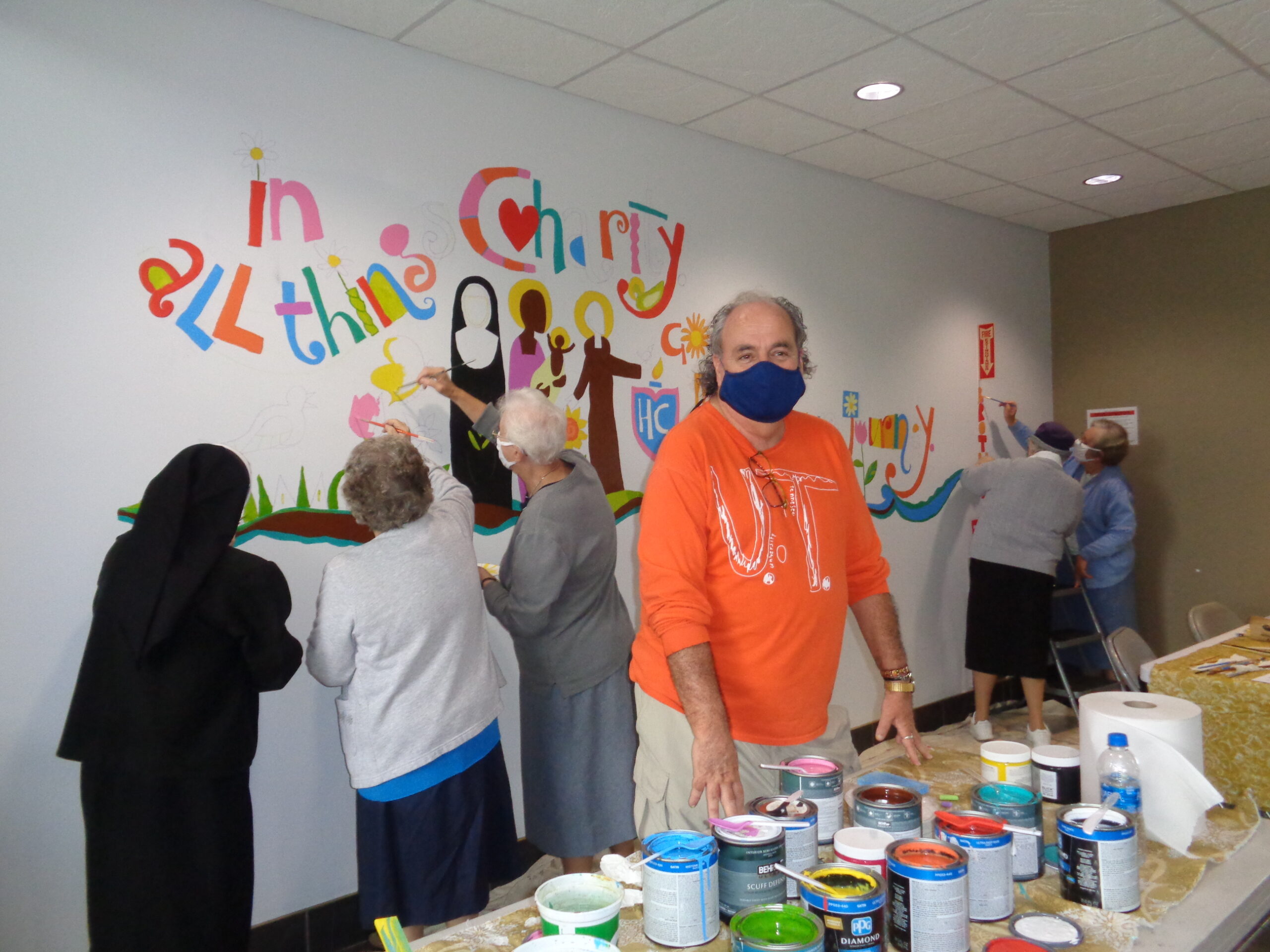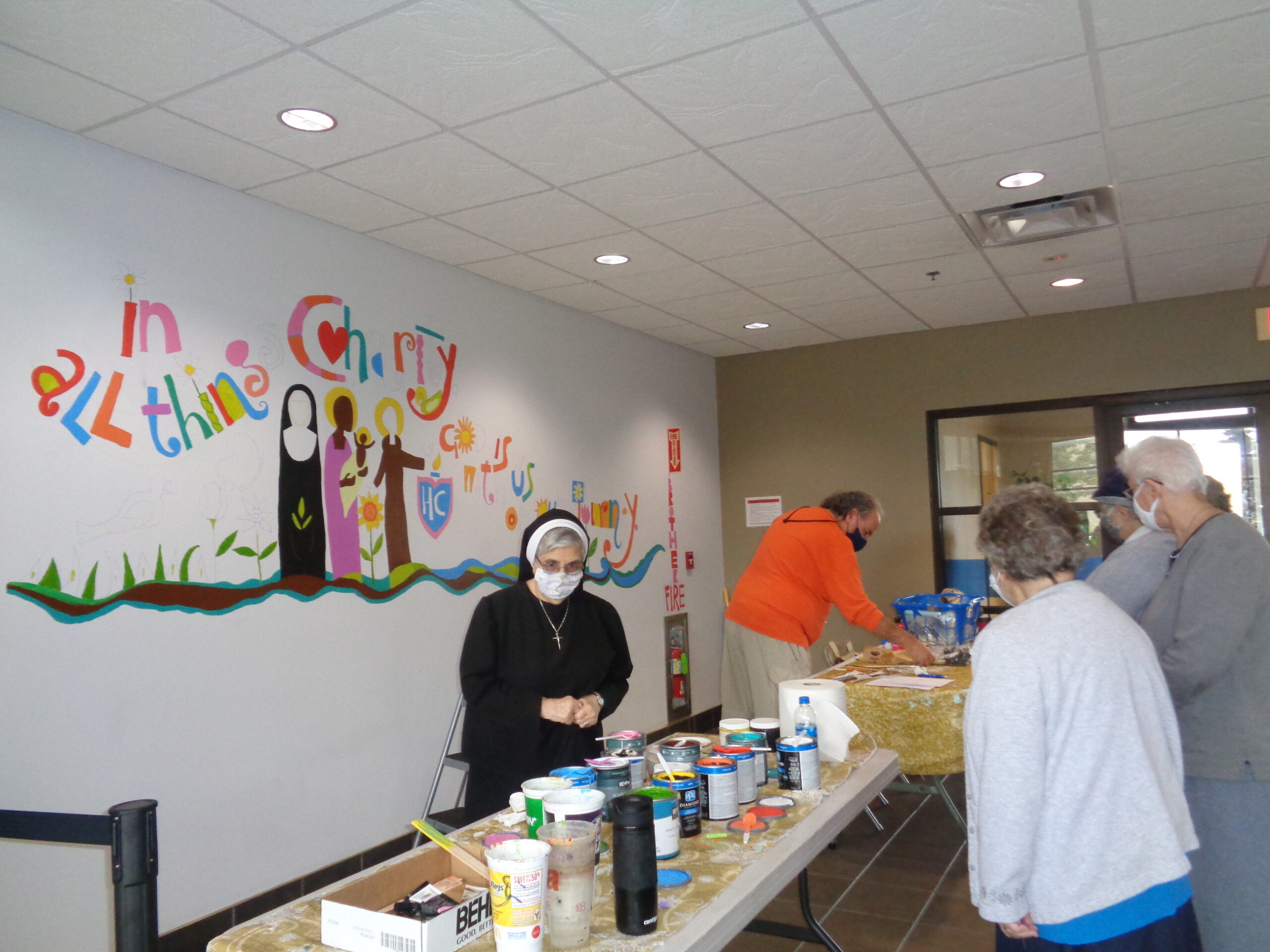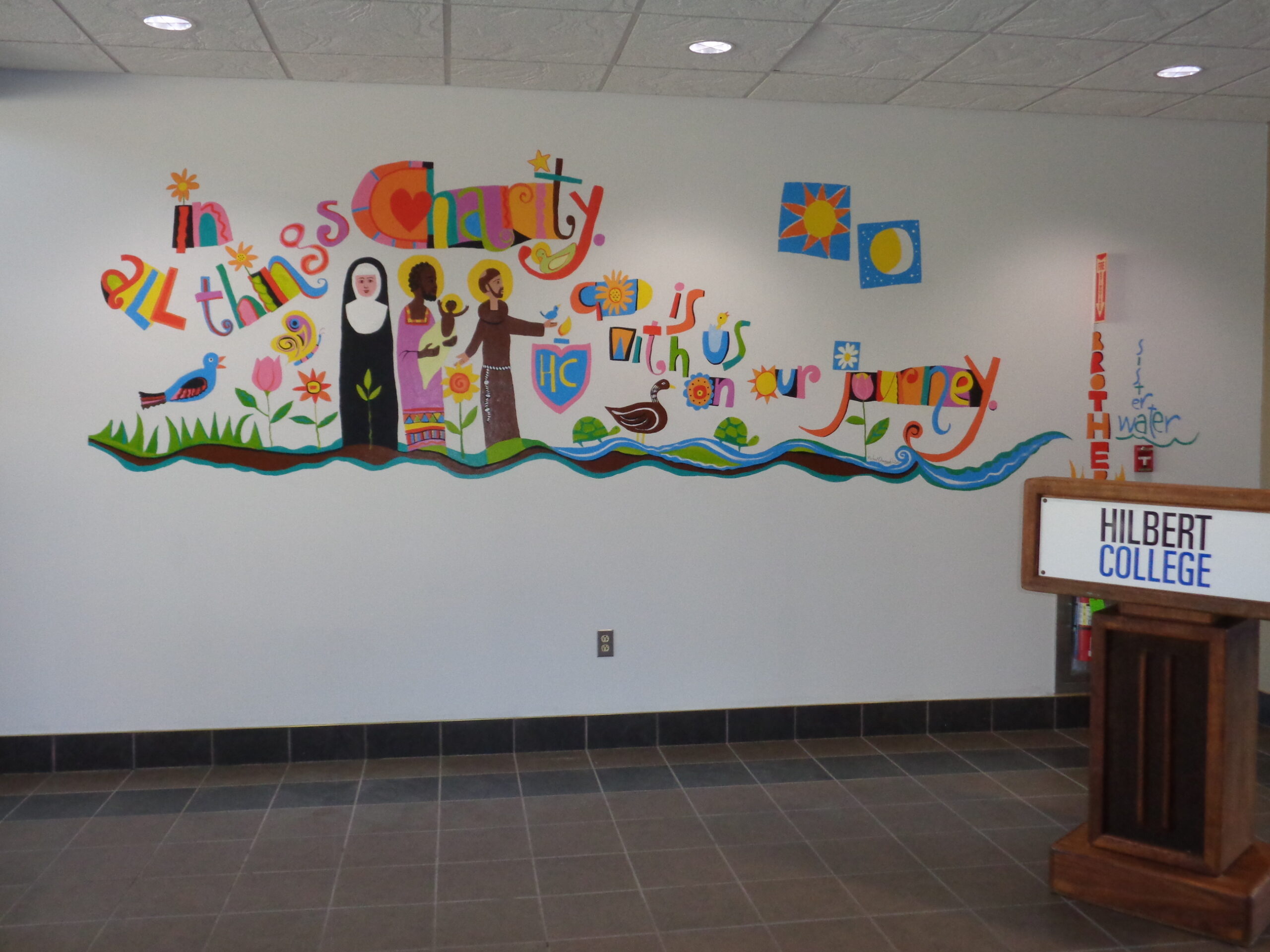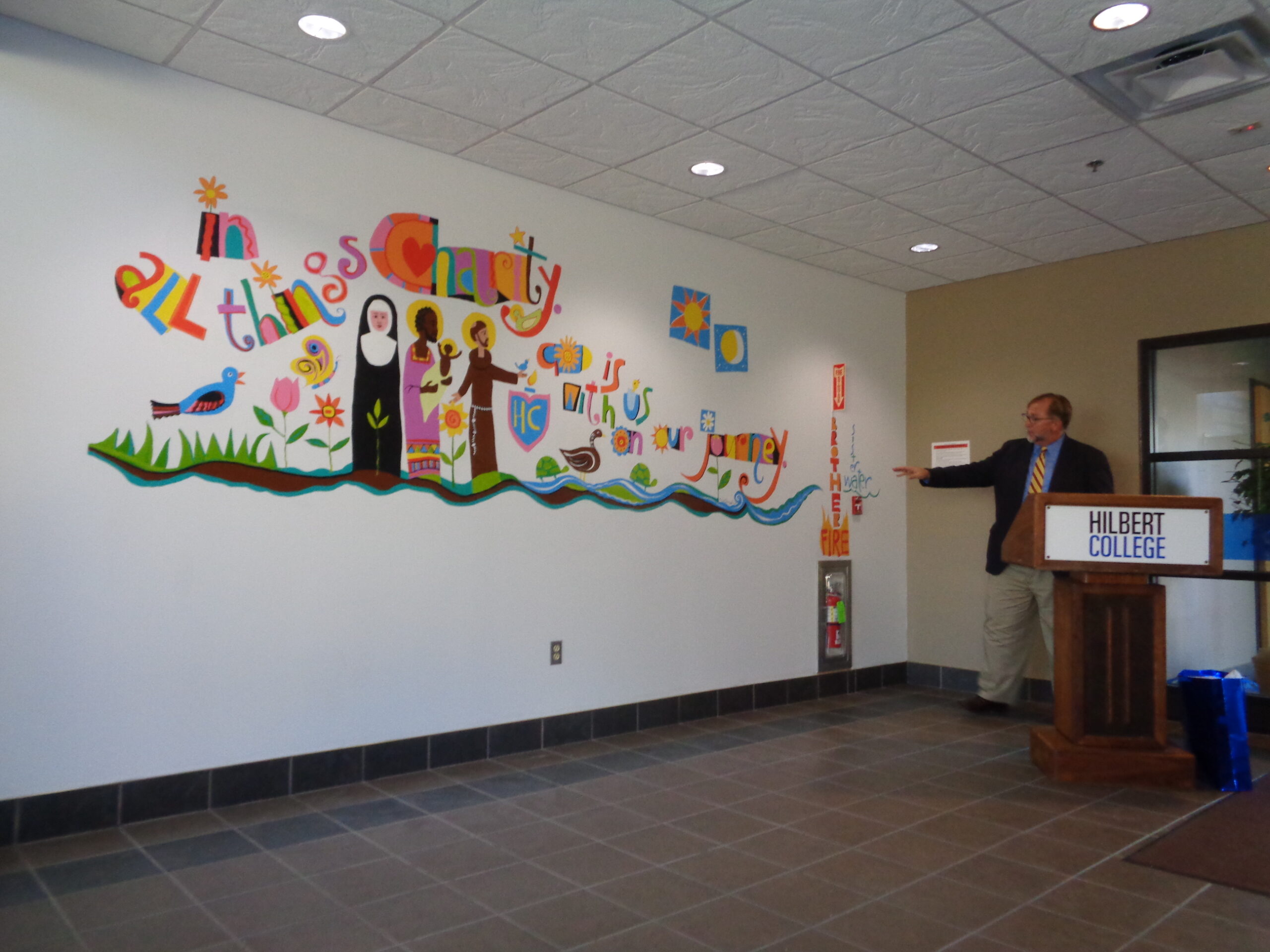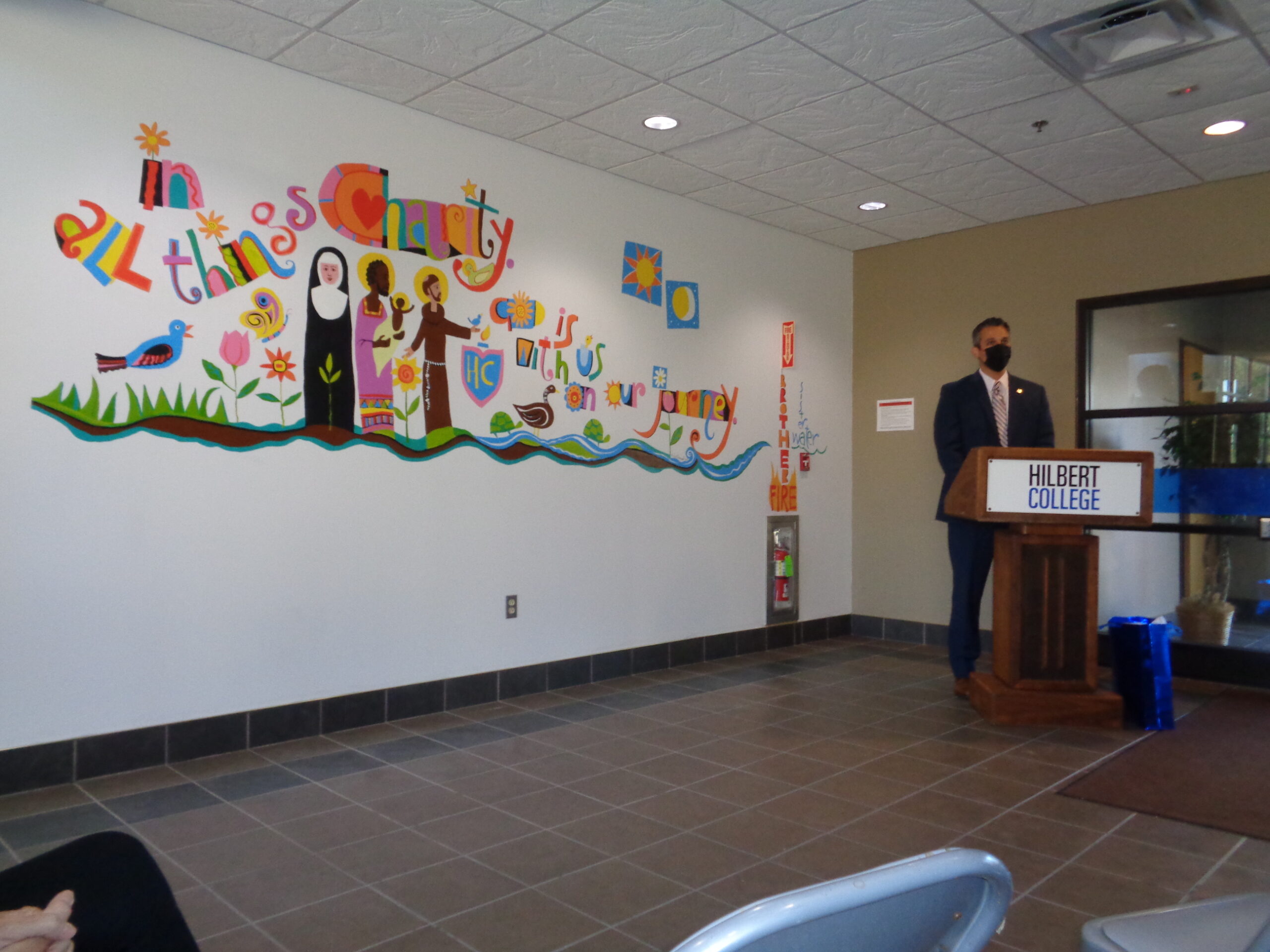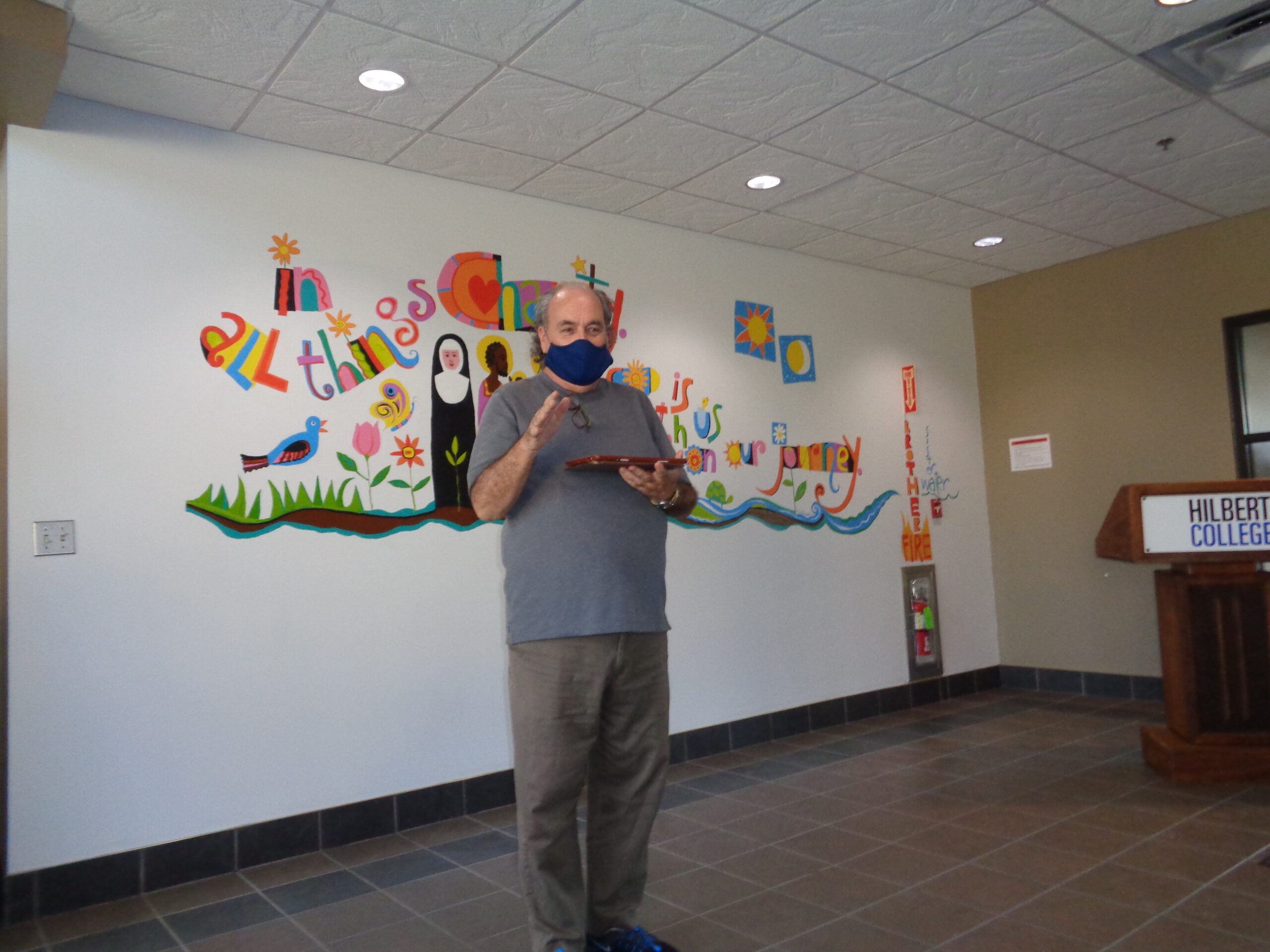 Hilbert College Honors FSSJ Legacy
When the FSSJ sold the property of Immaculata Academy to Cutaia Acquisitions , they arranged for the company that brought the property to have two baseball fields made for the use of Hilbert College's Women's and Men's baseball teams.  The baseball teams at Hilbert College now have a state of the art home field!  Hilbert expressed their thanks for this wonderful gift of the FSSJs.  The following is from Sr. Marcia Ann's response to Hilbert's gratitude:
"On behalf of all the Franciscan Sisters of St. Joseph, I would like to thank Dr. Brophy and the entire Hilbert community for the myriad of ways you have fostered and continue living the Franciscan values on which Hilbert College was founded.  Thank you for faithfully continuing the legacy of the FSSJs.
We are also grateful to Cutaia Acquisitions to whom we sold our Immaculata Academy property for creating the great fields we see before us today."
Colette Hilbert, the foundress of the FSSJs and whose name this college bears lived by the maxim, "In all things charity."  Always treating others with the same respect and dignity you would like to be treated with and reaching out to those most in need are important life lessons that she modeled for us. "Her charity was universal.  It extended to the needy pupil in the classroom, an ailing parishioner, the porter at the railroad station, soldiers on the battlefield, as well as her own Sisters, particularly the sick."  She knew the student in her classroom who needed school supplies and the mother down the street who needed food for her children and she provided for them.  She knew the porter at the train station who was having a bad day and she looked into his eyes and gave an uplifting smile and word of encouragement.  Being Franciscan is in the end all about relationships – our relationship with God, others and creation. Since all of us associated with Hilbert College have been sprinkled with Colette Hilbert's DNA, may we go forth living "in all things charity"!
May these grounds be a place where surrounded by the gift of God's creation, all are refreshed and enjoy great camaraderie, and renewal of the human spirit.  May good sportsmanship be the hallmark of all who come to these fields.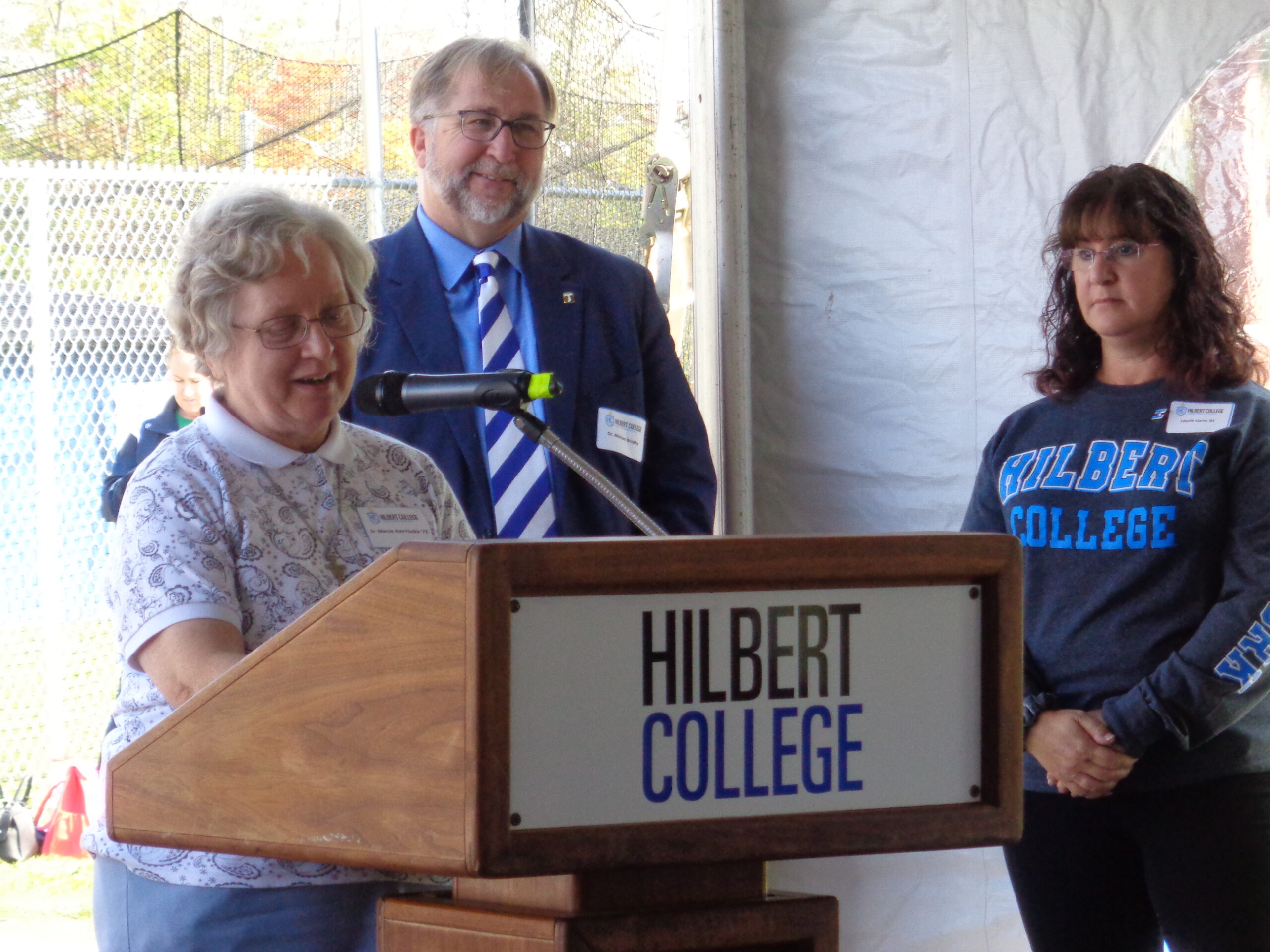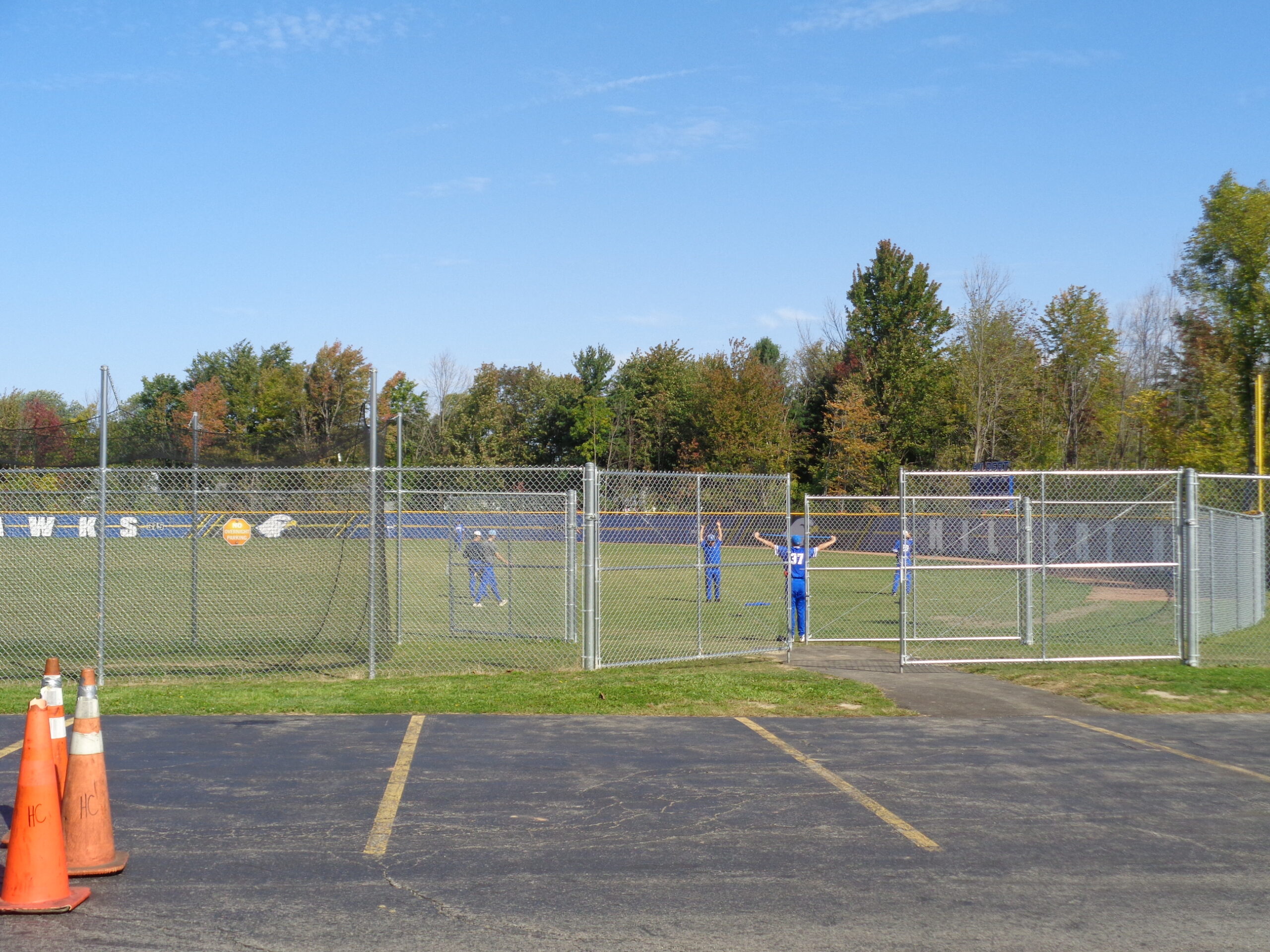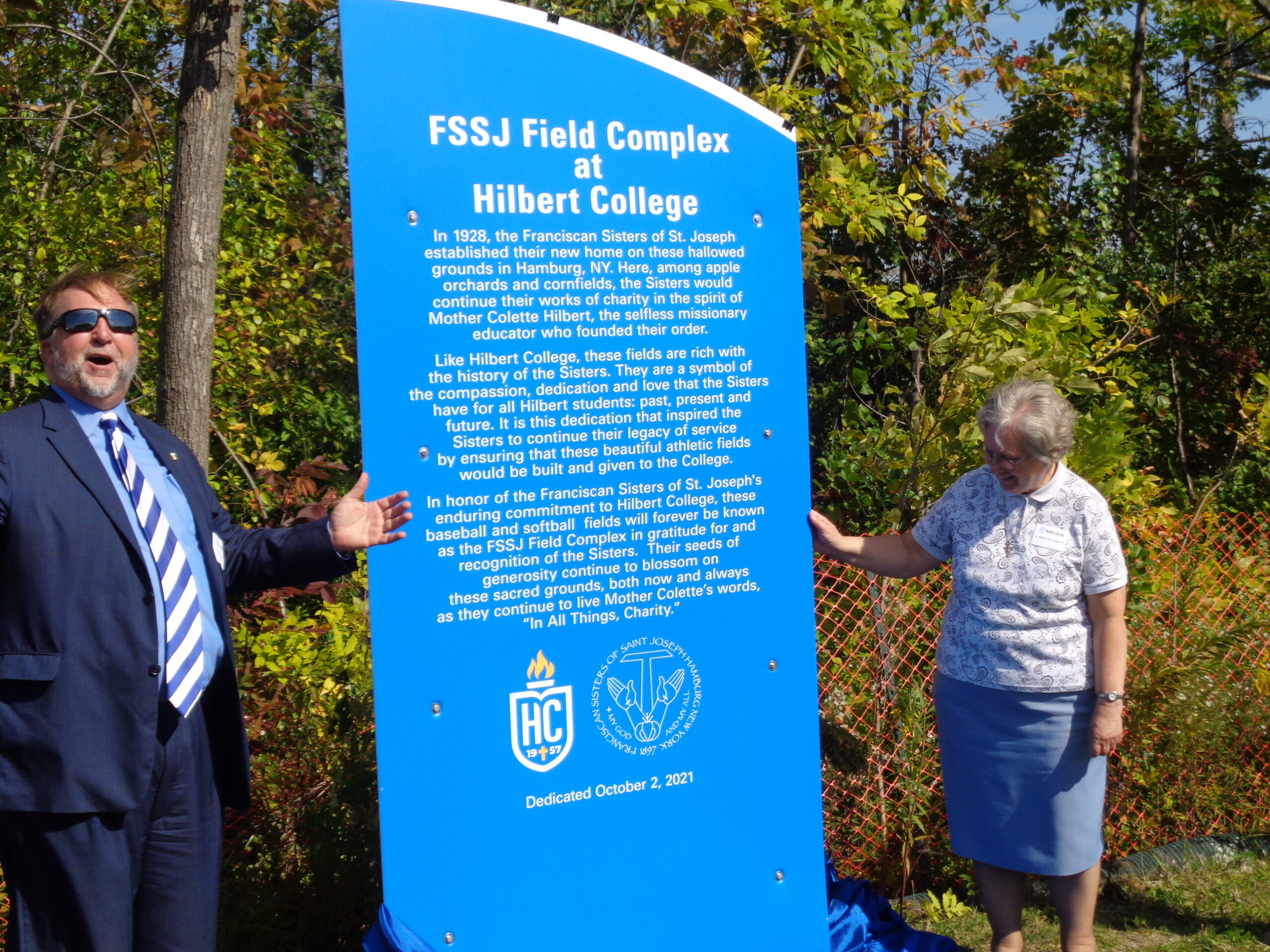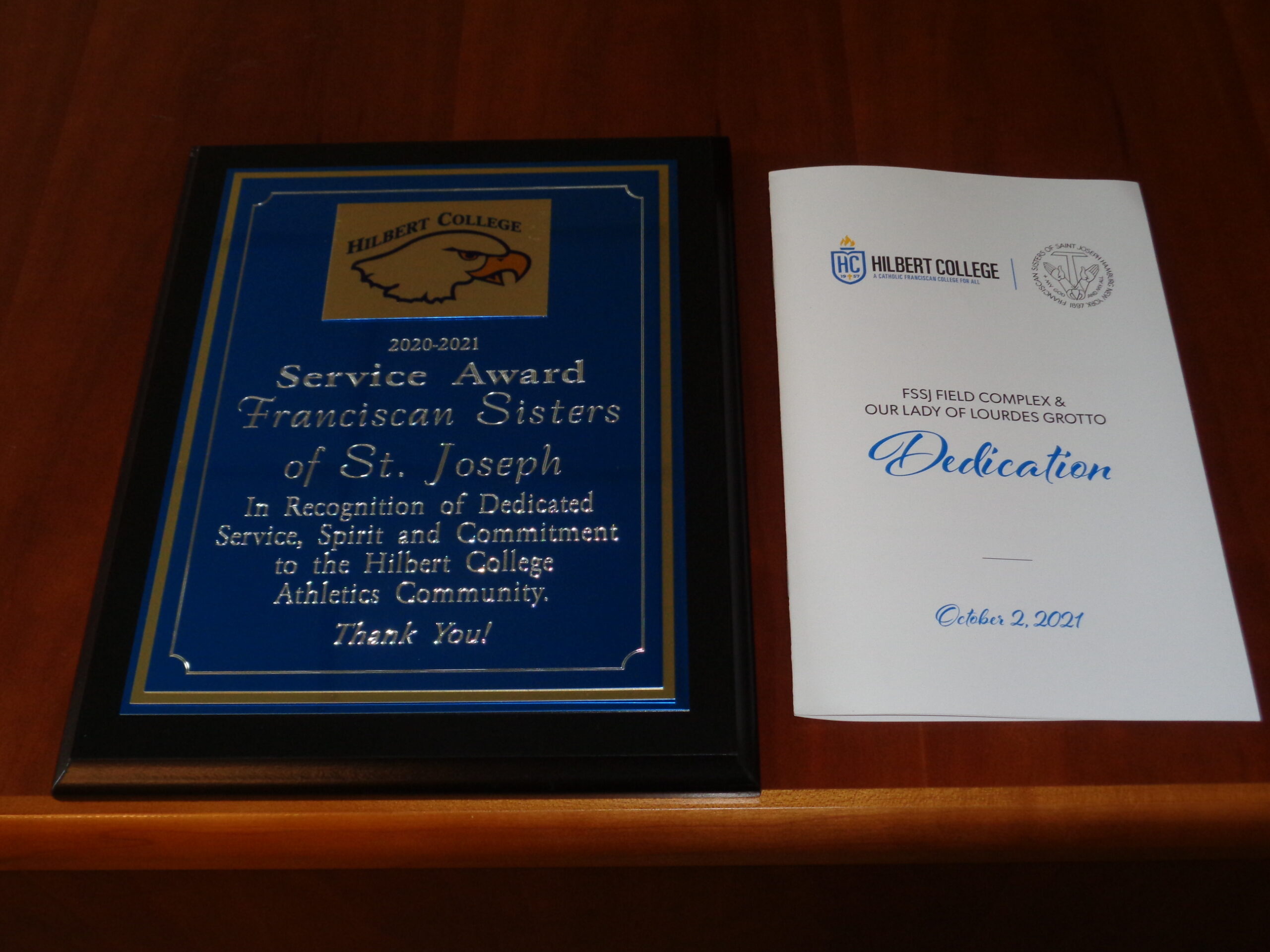 St Francis Display at St. Francis Park Library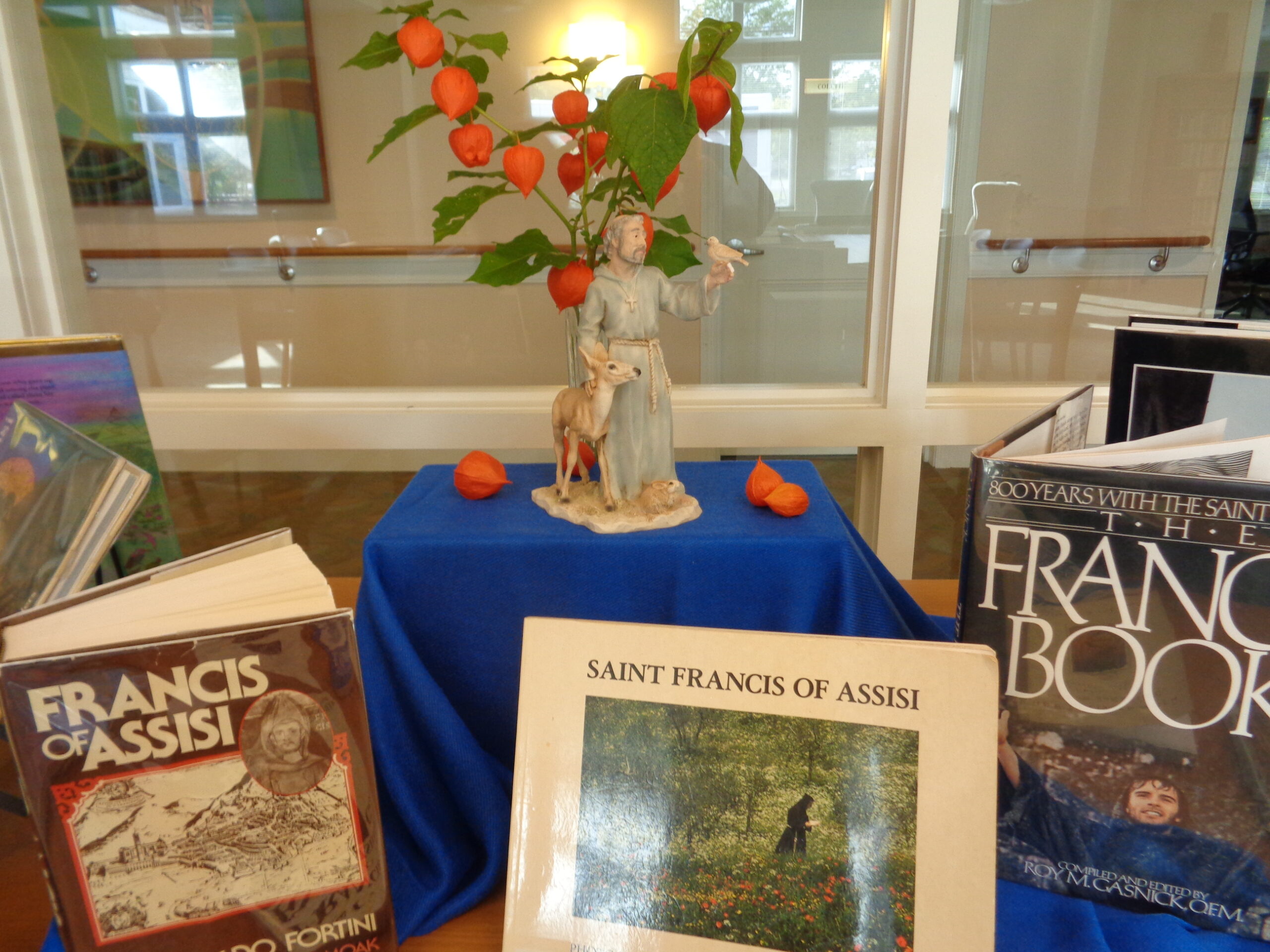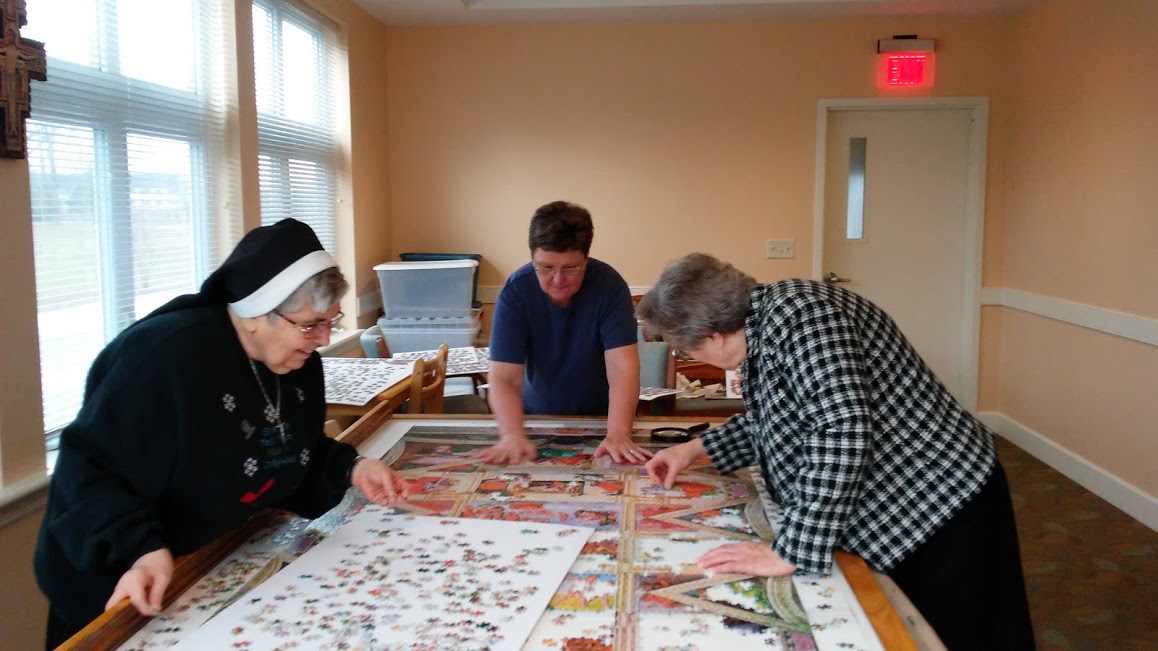 Some Sisters at St. Francis Park love puzzles and others love football.  Both of these loves bring us together in fun and community.  The Sisters on the left, putting the puzzle together are Sr. Lucille Ann, Sr. Frances Angela and Sr. Joyce.  The picture on the right is the mascot of the football loving Sisters.  The Teddy Bear's name is Riz and sits in front of the TV watching games with the Sisters.  The picture within the picture is a special time shared by some of the Sisters who attended an actual Bills game at the Orchard Park stadium.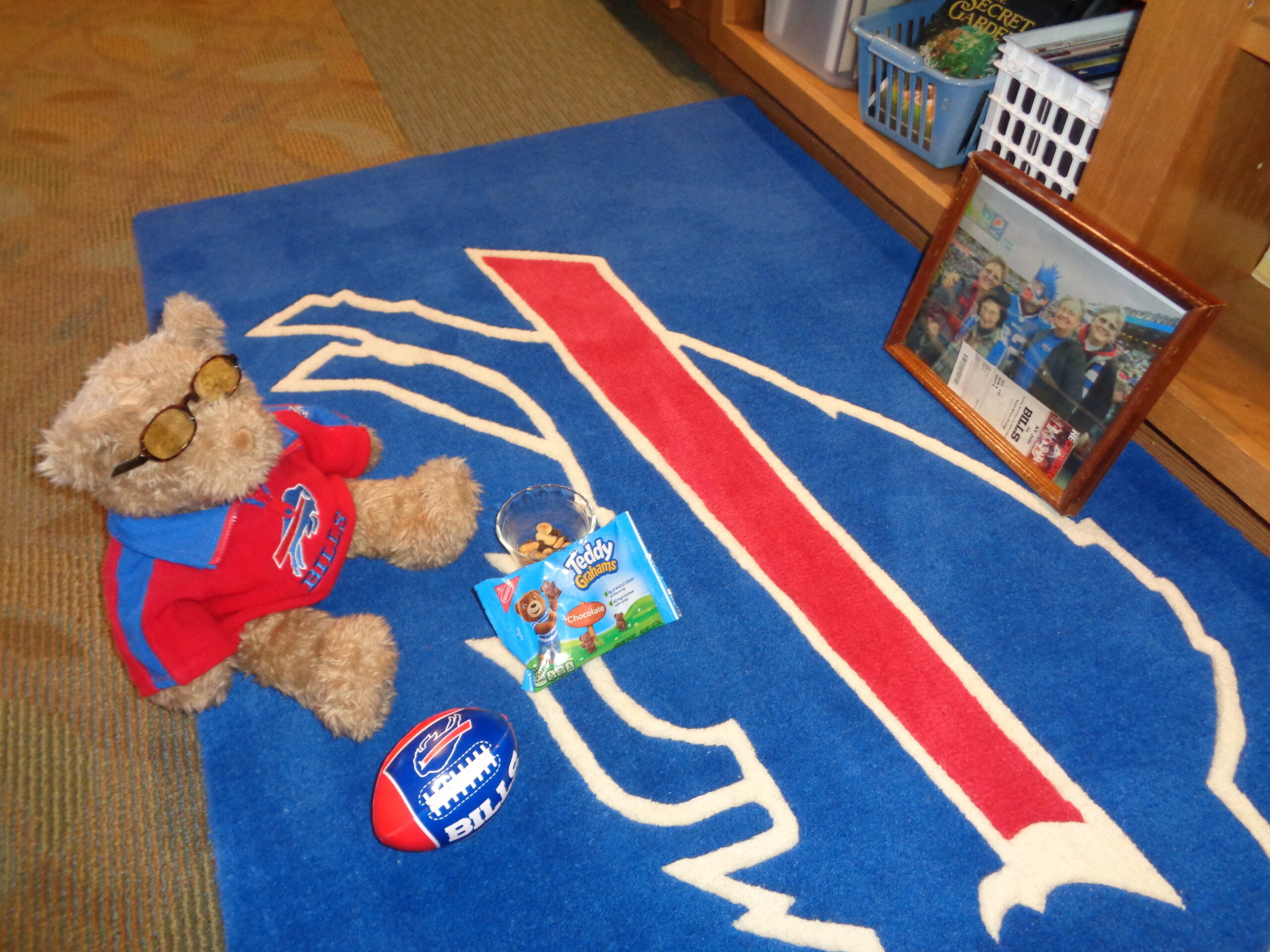 Commissioning of Chapter 2022 Delegates at the
2021 Forum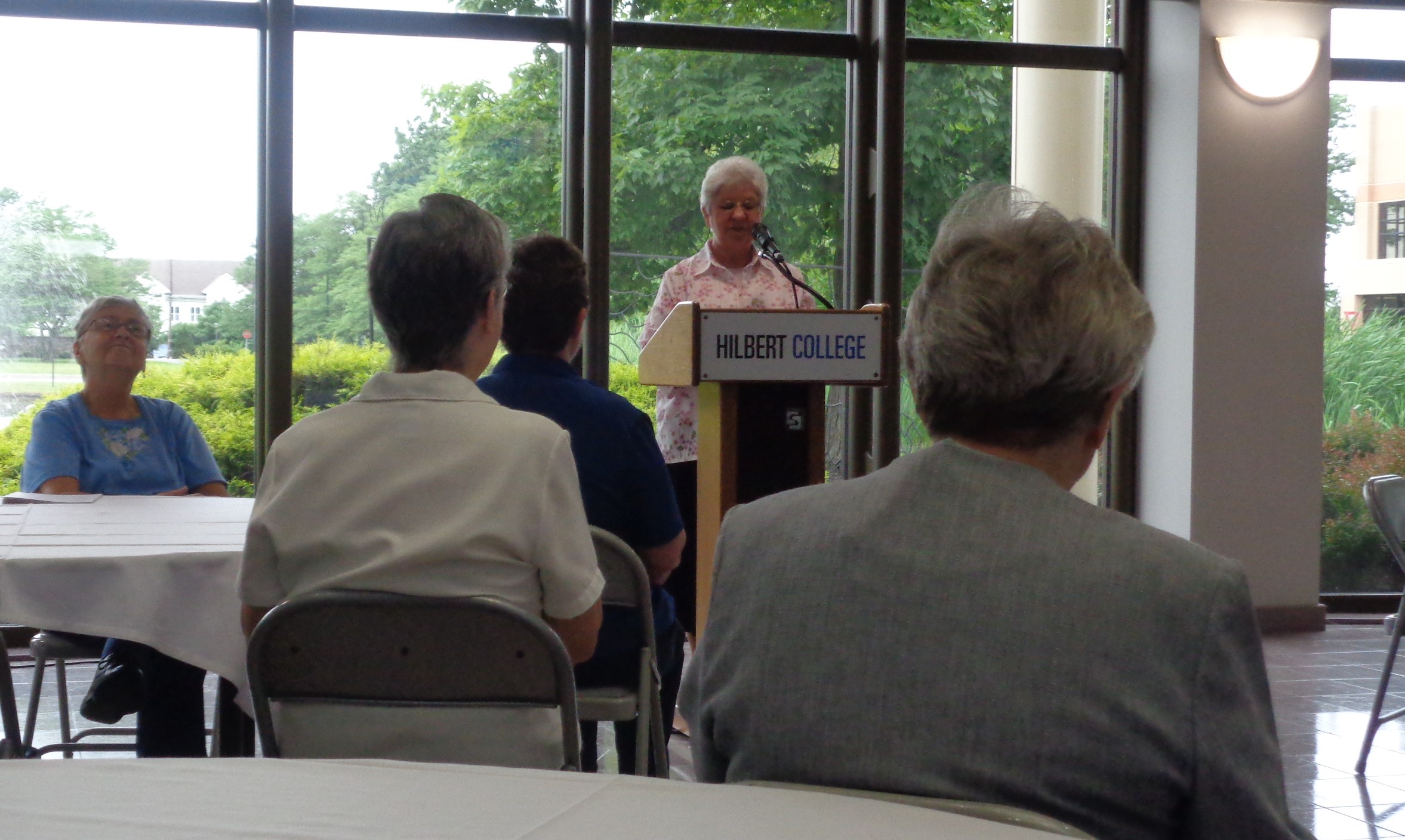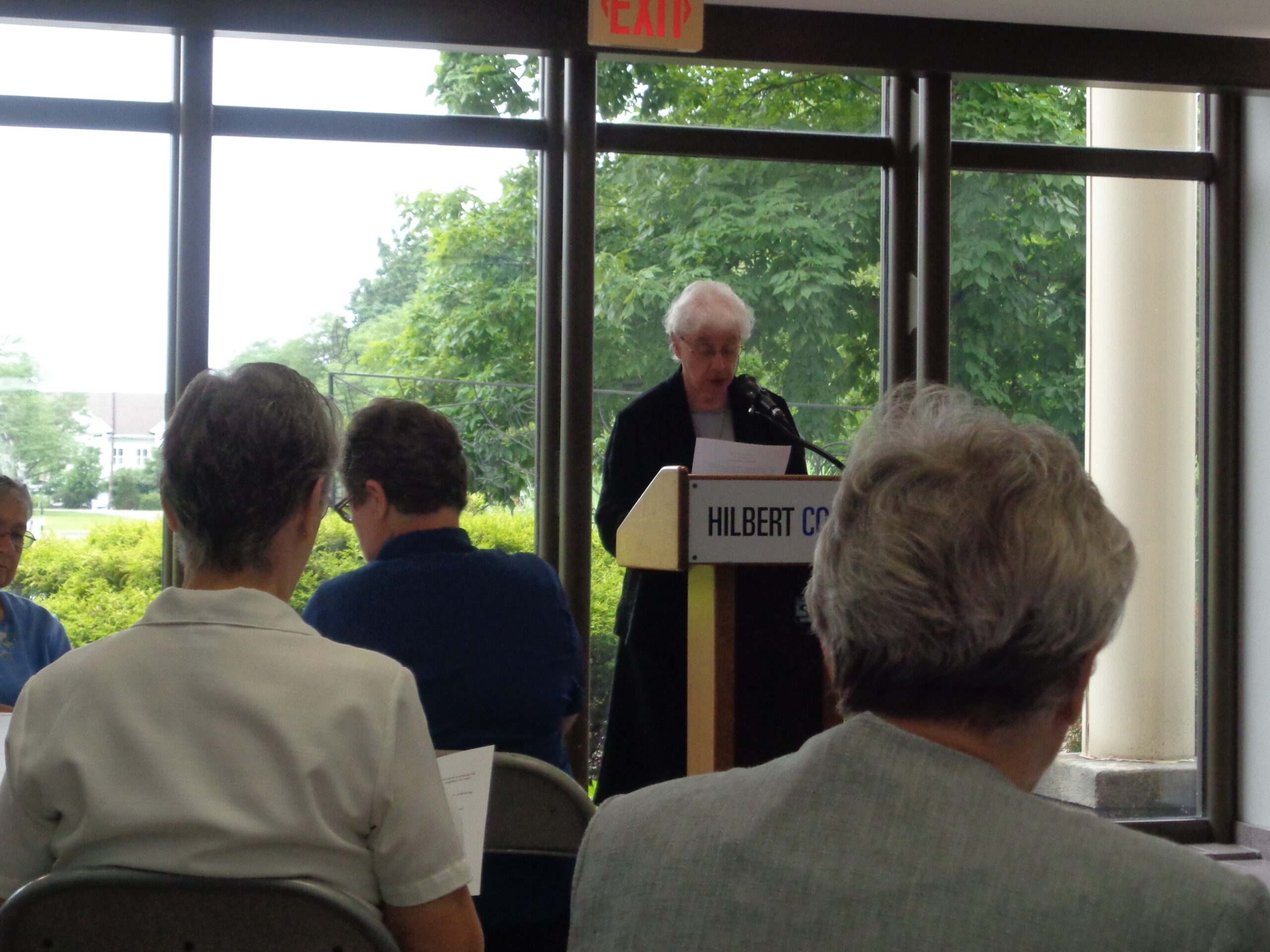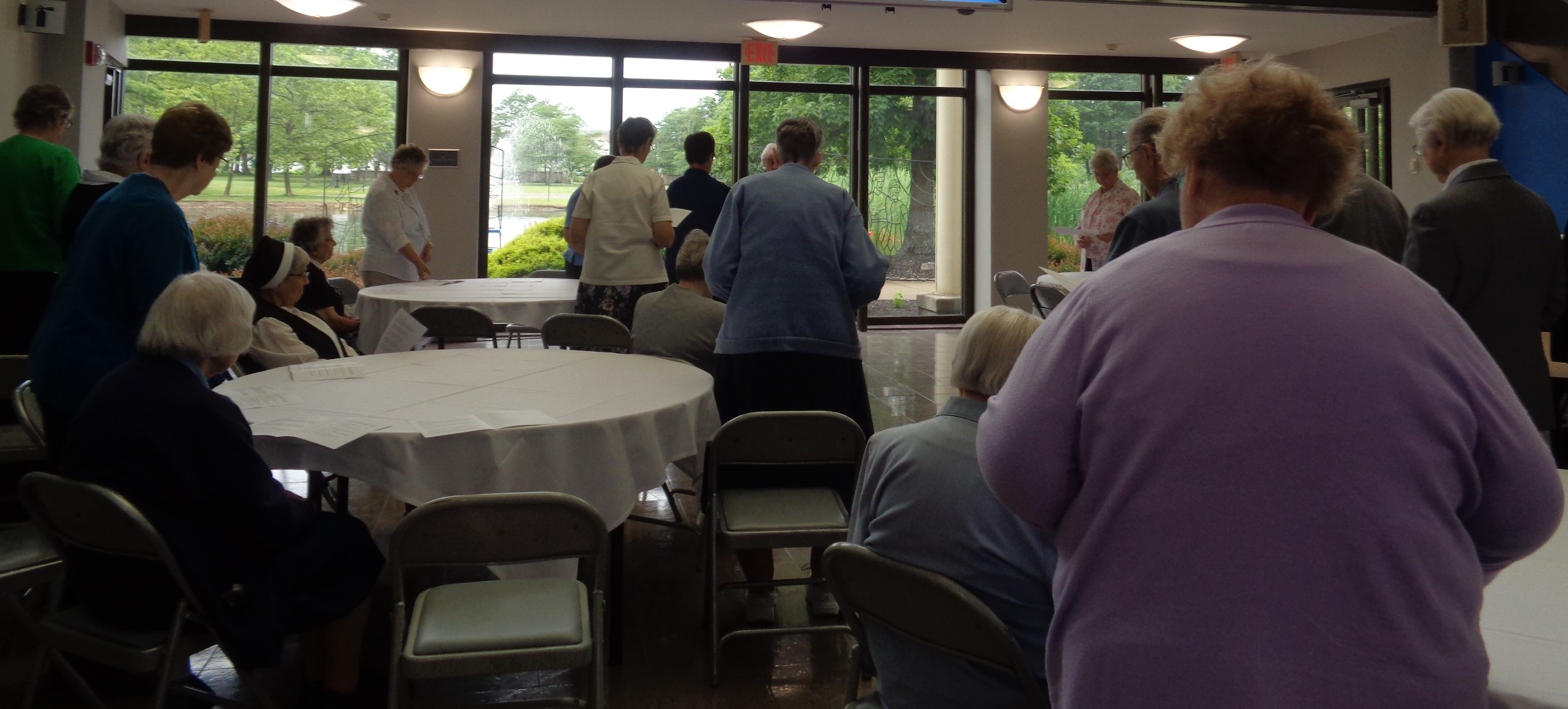 FSSJ Forum 2021:  We Embrace Our Sacred Journey
We Are Made for These Times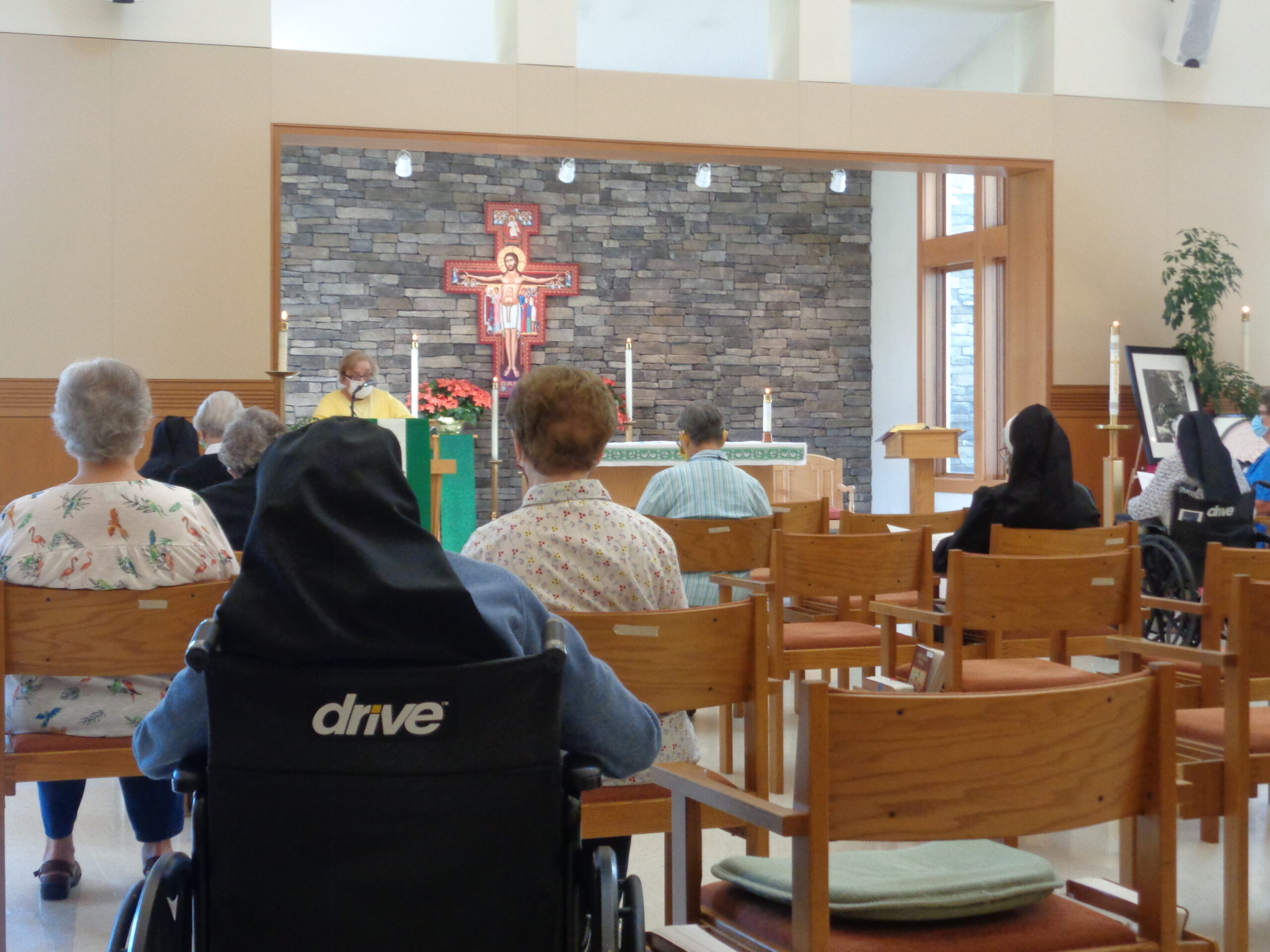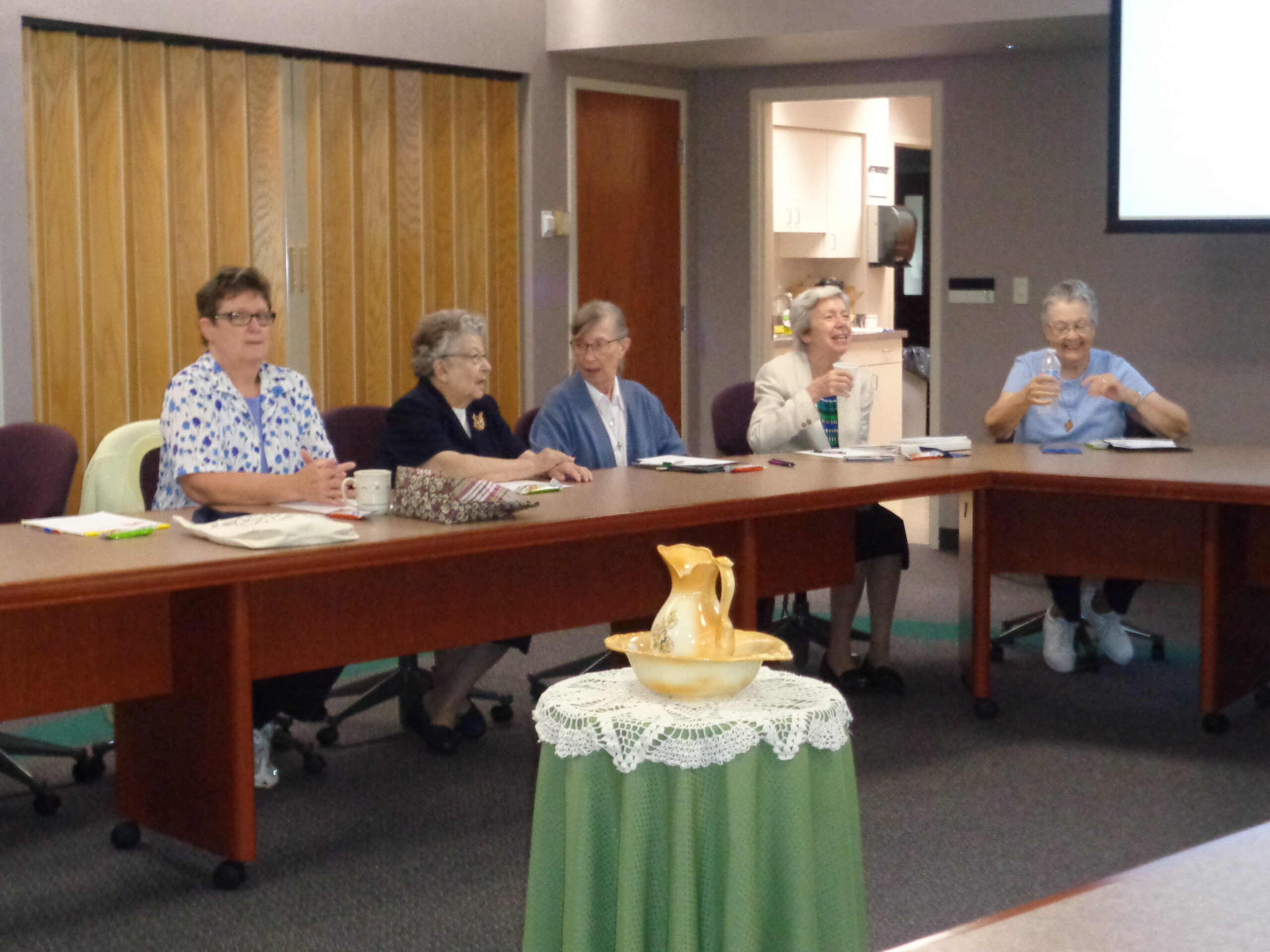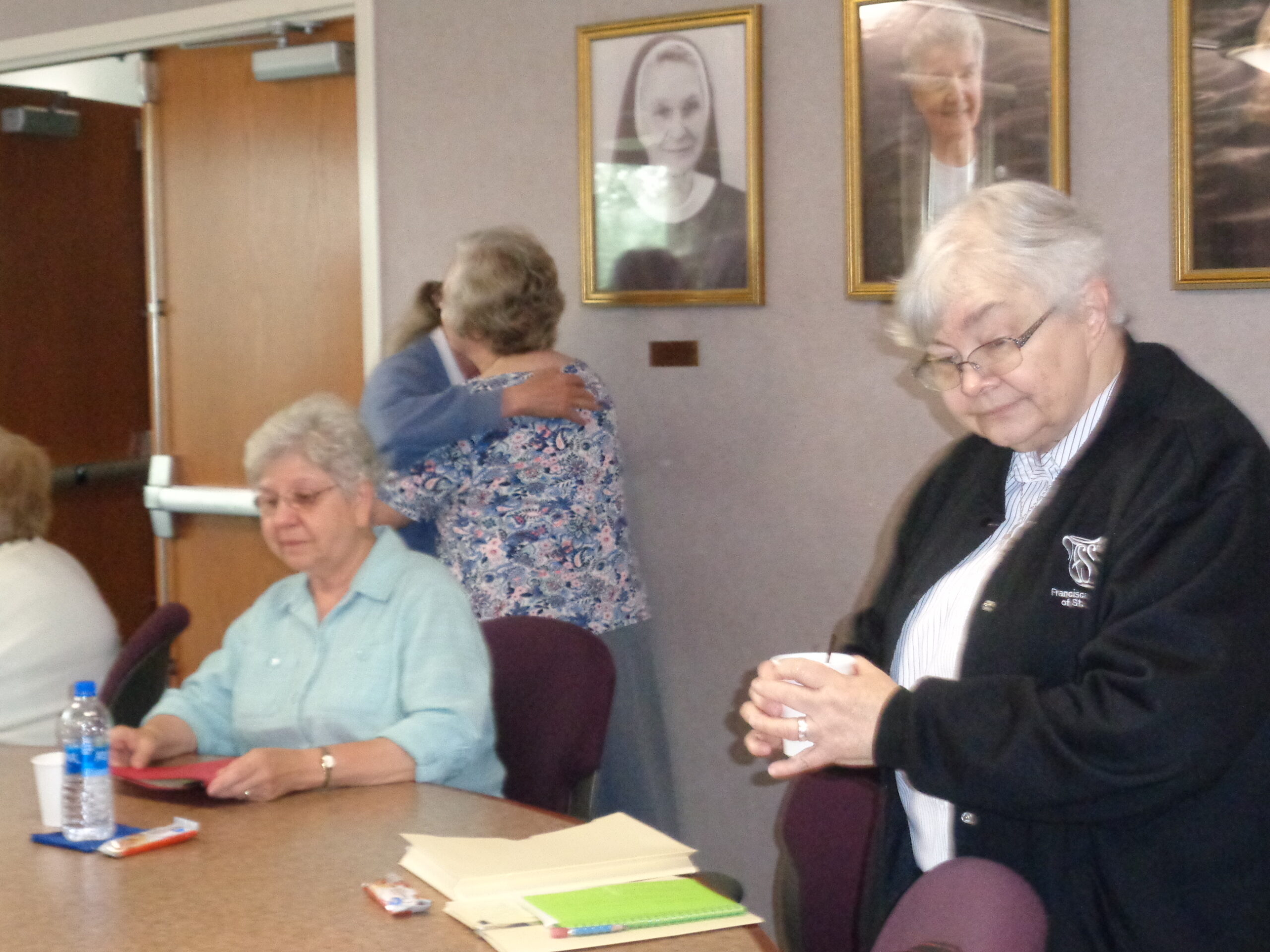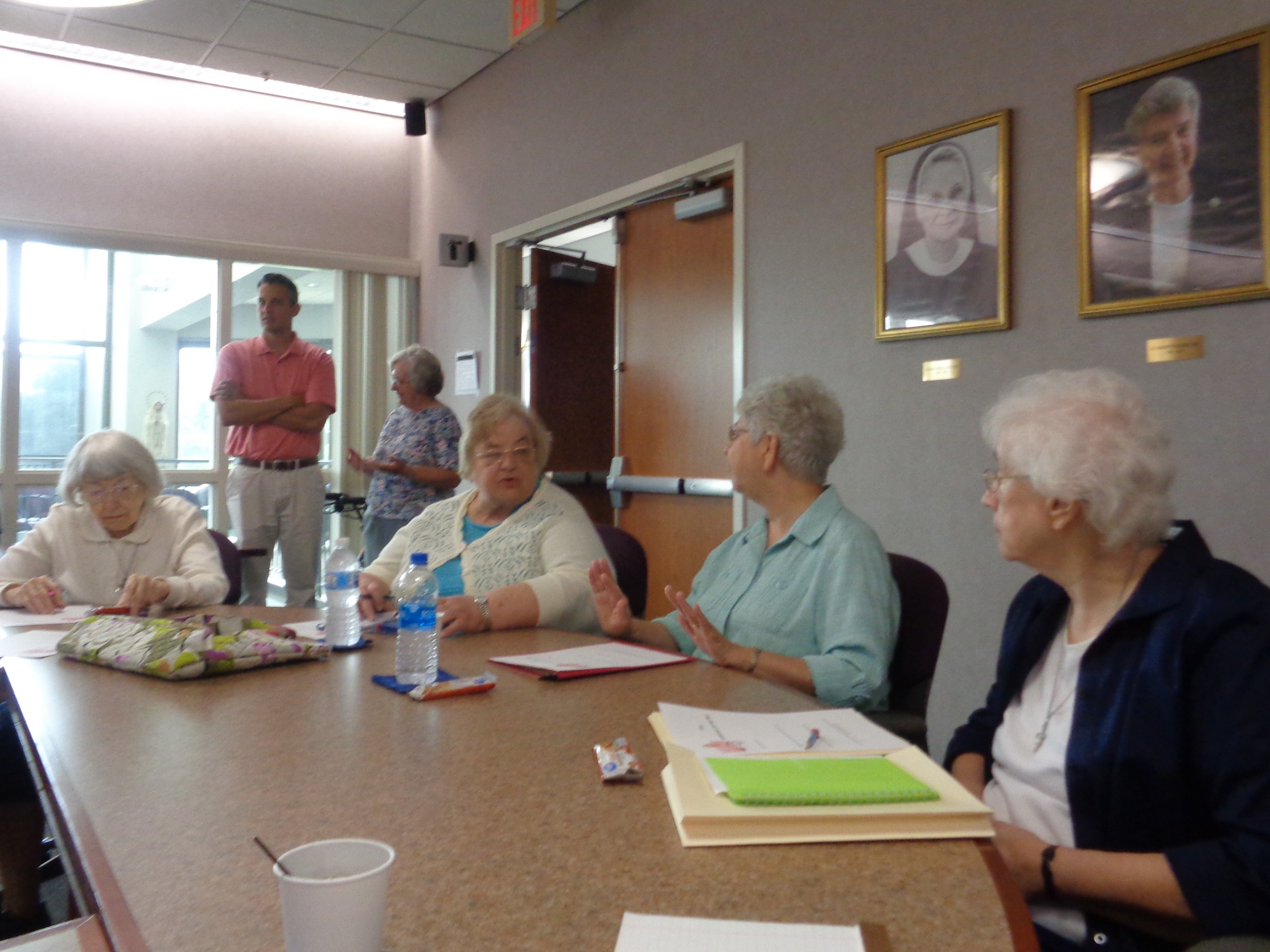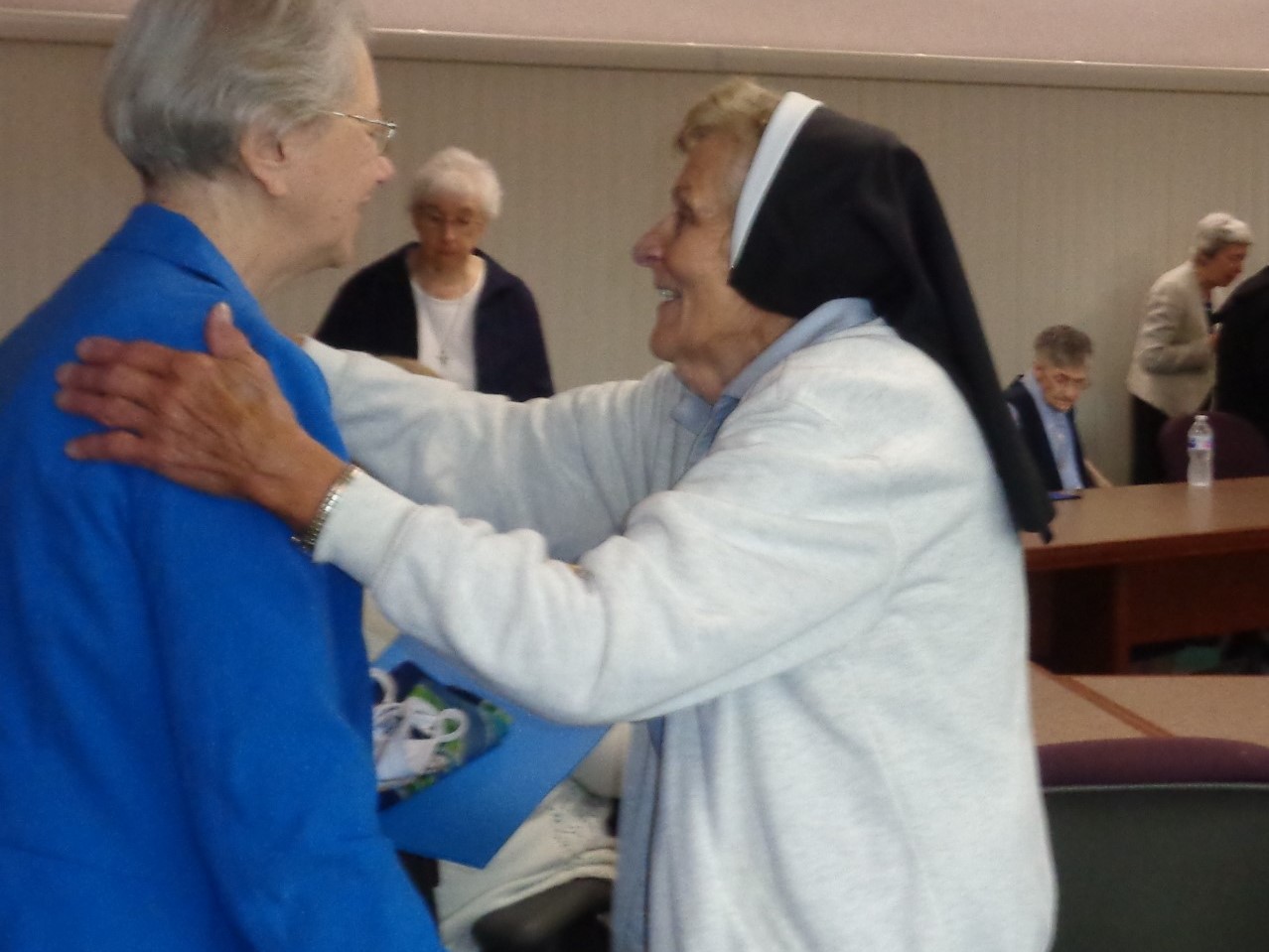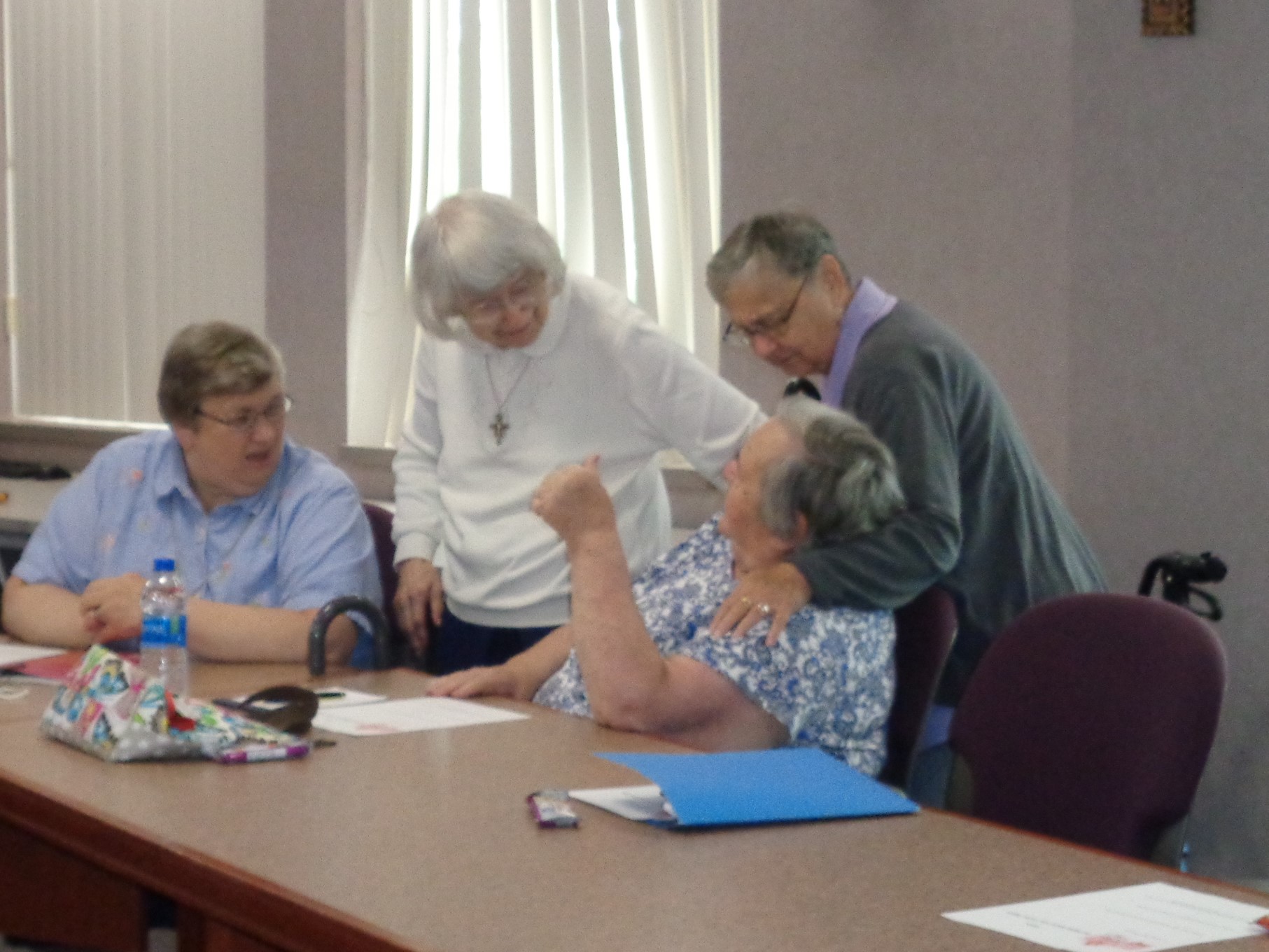 FSSJ Forum 2021
We gathered to pray over and discern our continued Spiritual Life, Mission, Community Life.  Reminding ourselves that we are called to care for all people and all creation. 
God is with us on our Journey,
And God will never leave us.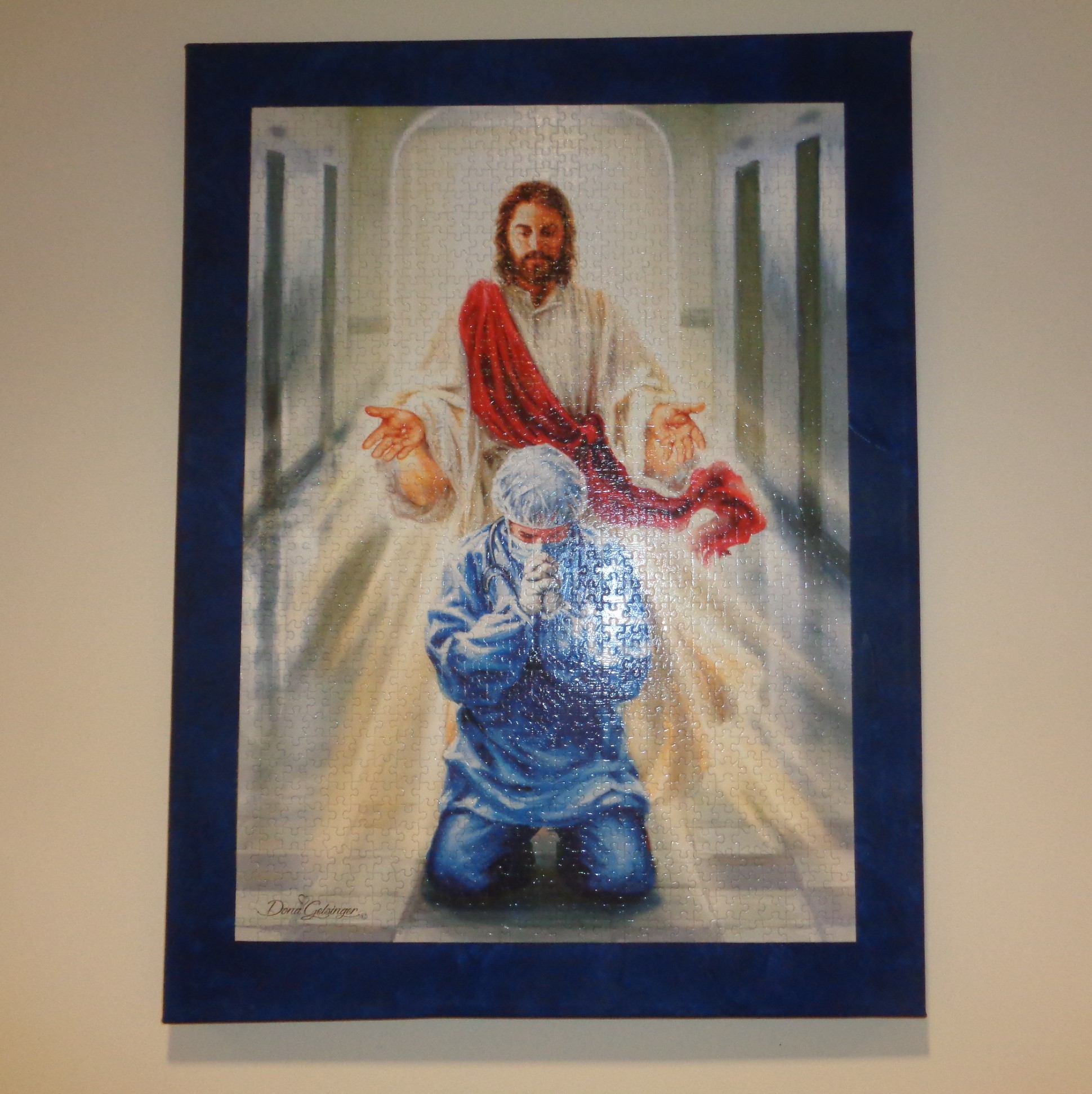 The Franciscan Sisters of St. Joseph are grateful for all those who have helped us to remain safe and healthy during the pandemic. In gratitude for all our health care staff has done for us Sister Deborah Marie Ciolek ordered a jigsaw puzzle with a picture of Jesus blessing a health care worker. After the Sisters put the puzzle together, Sister Lynne Anne Schimminger prepared it to be hung in the Care Community area of St. Francis Park as a gift to all the health care givers, nurses, Home Health Aides and Resident Care Aides.
Happy 65th and 60th Anniversary
The Franciscan Sisters of St. Joseph gratefully celebrate the Sisters who have been faithful daughters of St. Francis, St. Clare and Mother Colette Hilbert:  (left to right front row) Sister Helen Dirig (60 years) Sister Stephen Hadrych (65 years) Sister Marie Stachowiak (60 years), Sister Richard Outcault (65 years).  (left to right, standing) Sister Ann Lyons (60 years), Sister Marcia Ann Fiutko (FSSJ General Minister), Sister Mary Beth Bejma (60 years).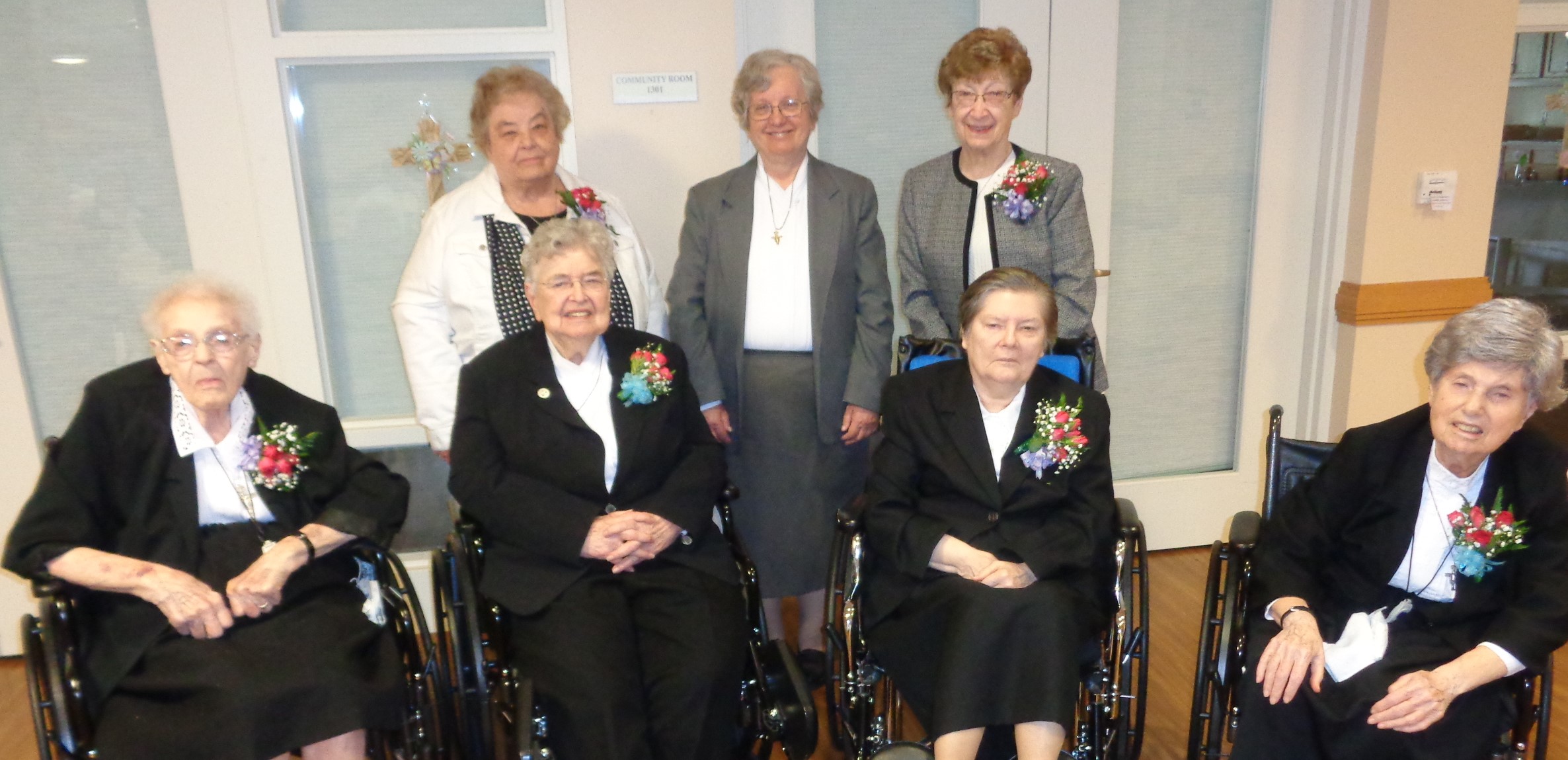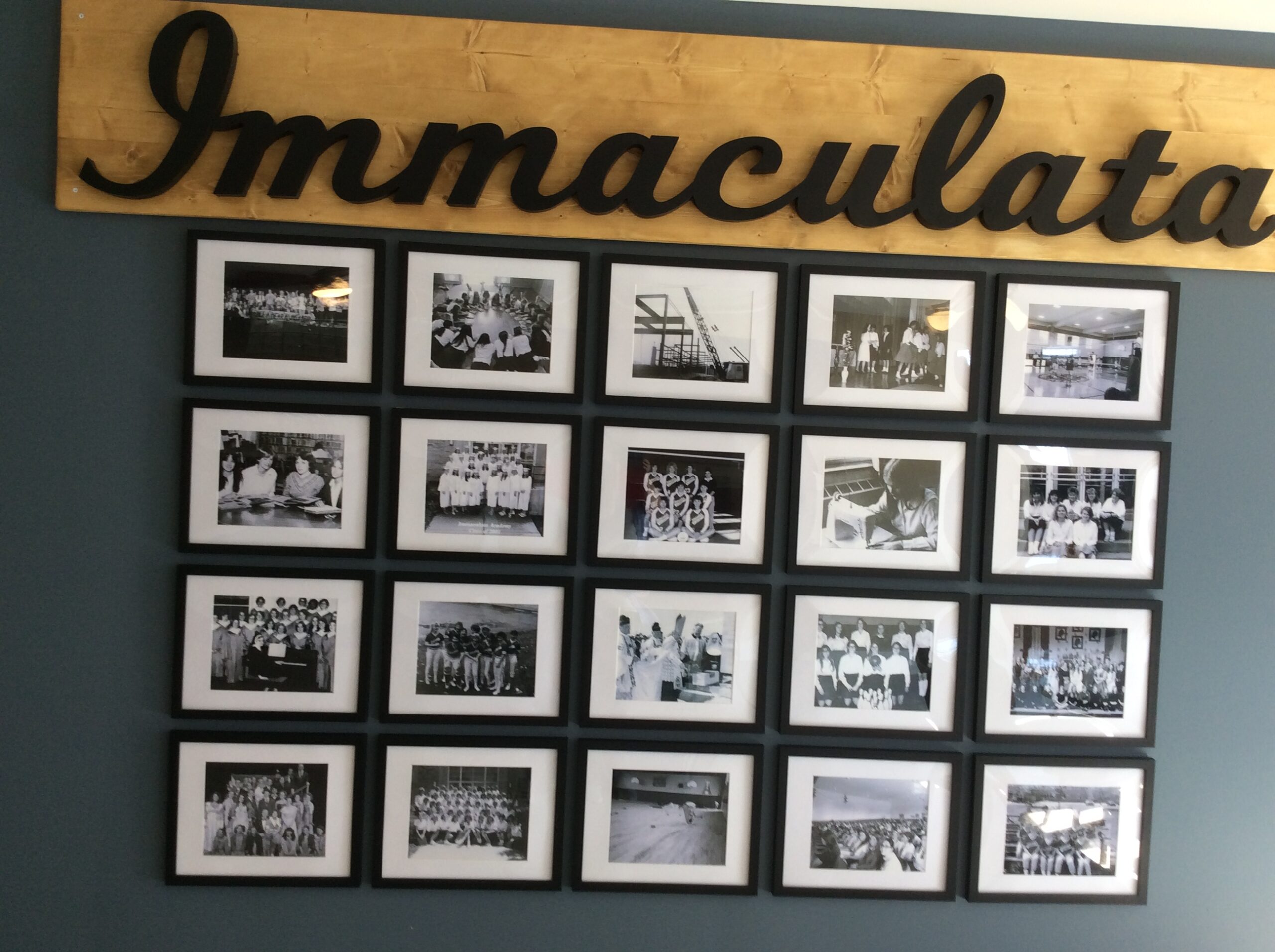 Immaculata Academy has New Life as The Oaks at South Park
For 88 years the Franciscan Sisters of St. Joseph served God's people by educating young women at Immaculata Academy in Hamburg, NY.  They are grateful that the new enterprise, The Oaks at South Park,  pays homage to the history of the property while offering beautiful, private "carriage house style" luxury apartments that will provide safe housing.  For more information on The Oaks go to Home

The picture on the right is the cornerstone of Immaculata Academy with some of the articles found in it.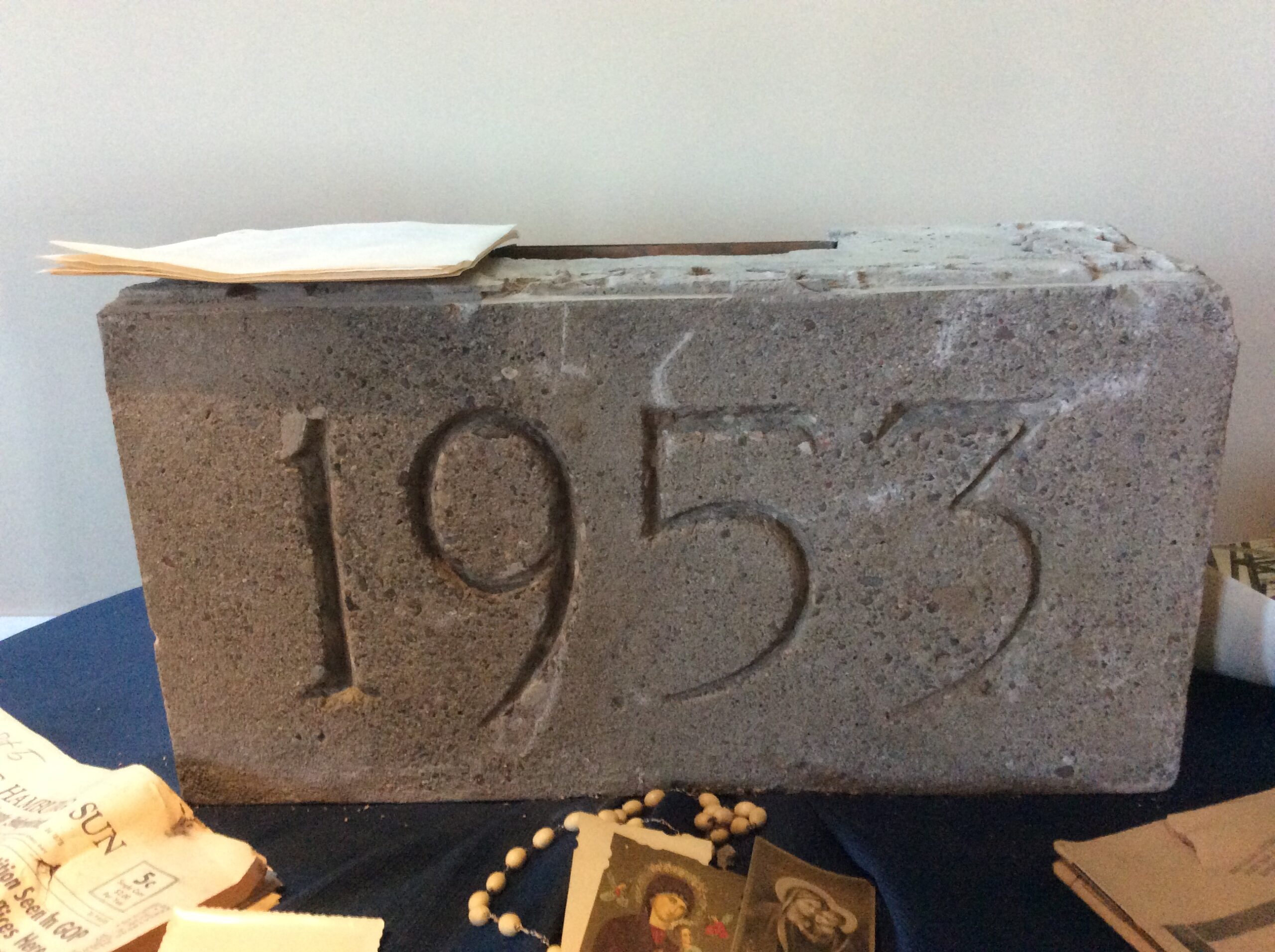 Earth Day at St. Francis Park: Resource table, ambiance in chapel and presentation on the why and how to recycle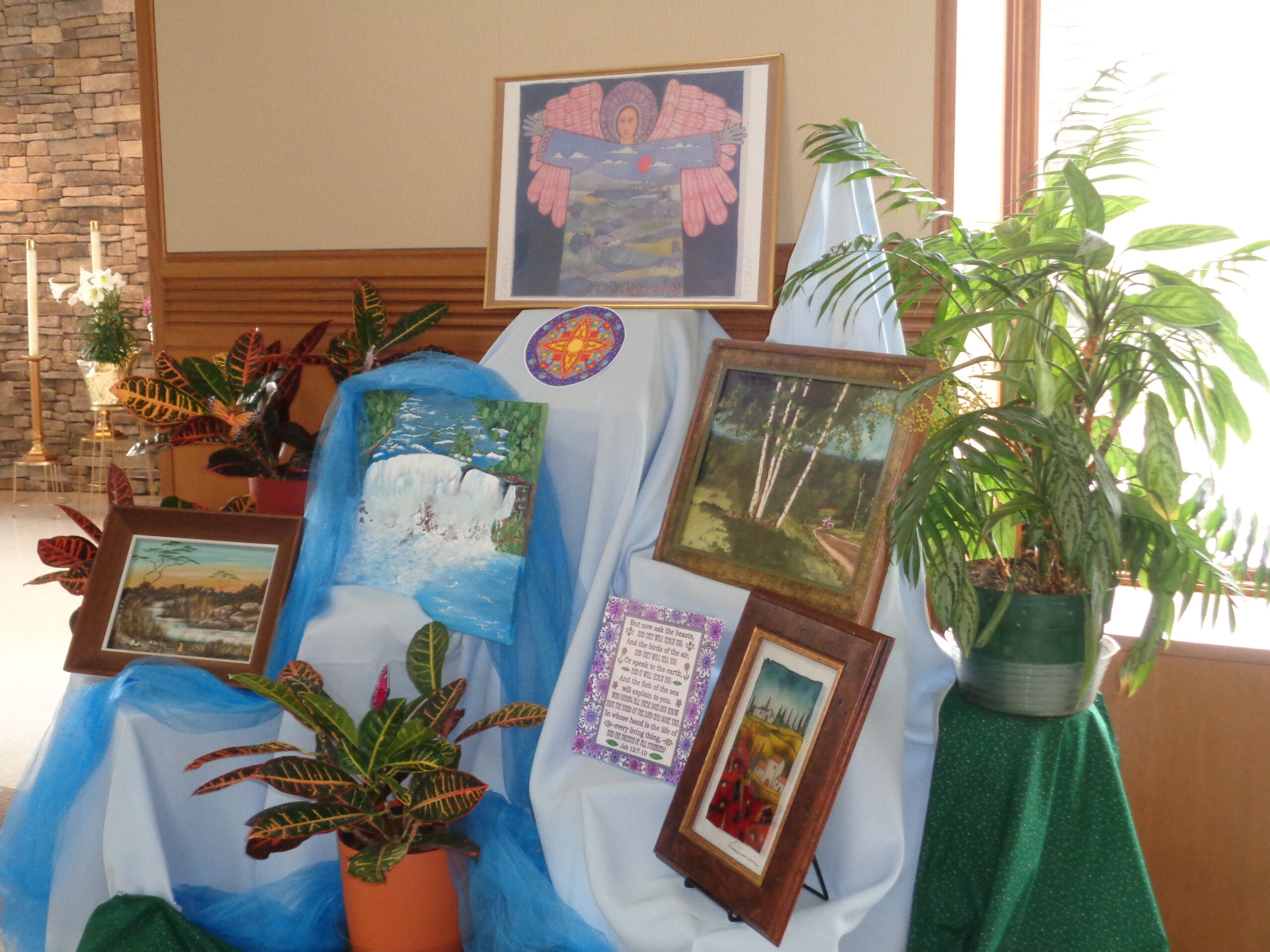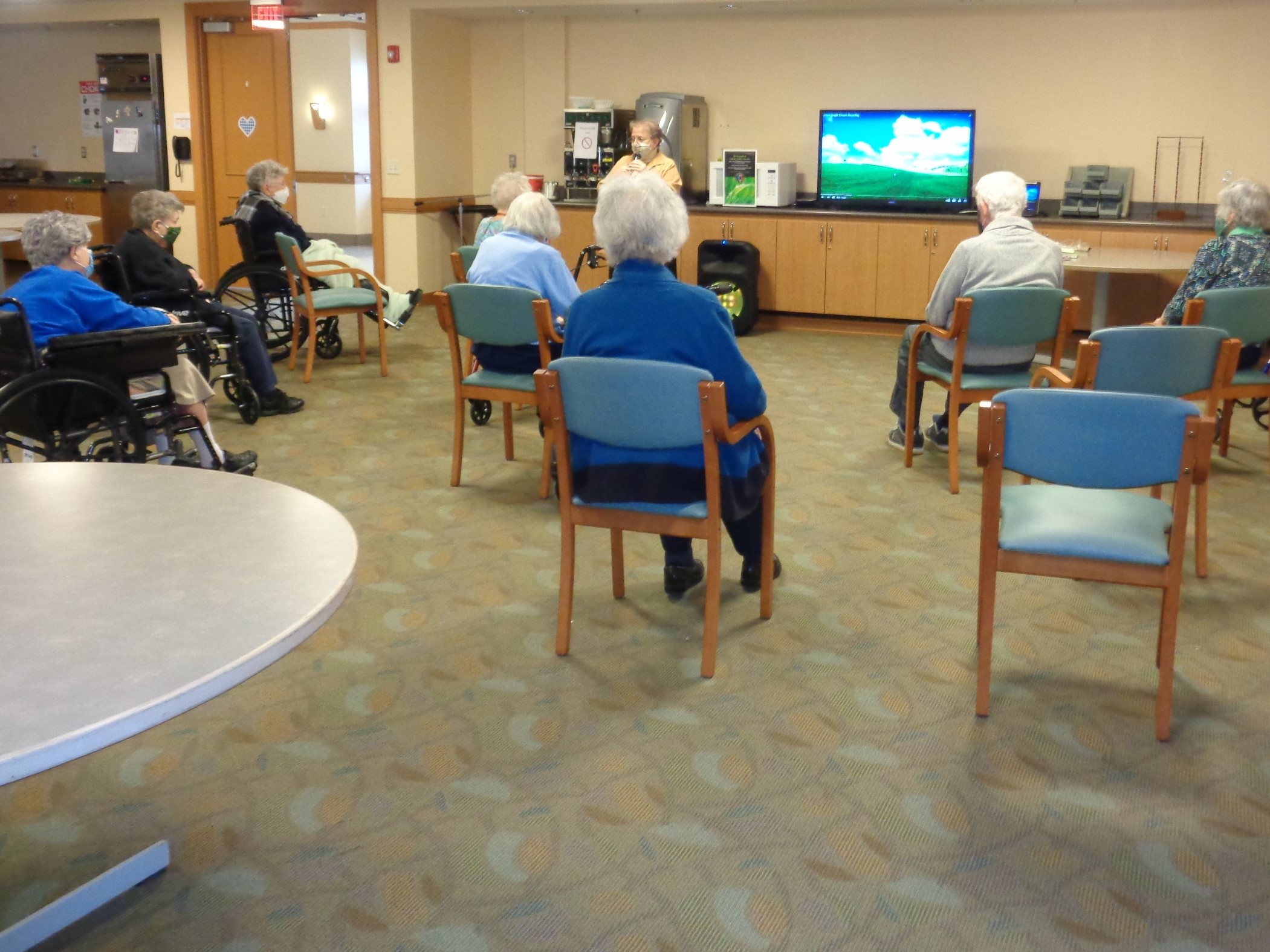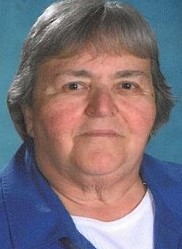 Sister Constance Santilla, FSSJ, Appointed
FSSJ Global Concerns Coordinator
Sister Marcia Ann, General Minister of the Franciscan Sisters of St. Joseph, announced the appointment of Sister Constance Santilla, FSSJ, as the Global Concerns Coordinator for the congregation.  Sister Constance's years of dedicated service in Brazil have demonstrated that she has a deep love and concern for those in our society who are underprivileged.  As Coordinator she will have access to information from the Franciscan
Action Network, Leadership Conference of Women Religious (LCWR), U.S. Conference of Catholic Bishops and other organizations which she will be sharing with us.  LCWR has chosen to spend the next five years concentrating on systemic racism.  Its current resolution deals with the intersection of racism, climate change and immigration reform.  The community is grateful for Sr. Constance's willingness to say yes to this position and is looking forward to advocating for those in need.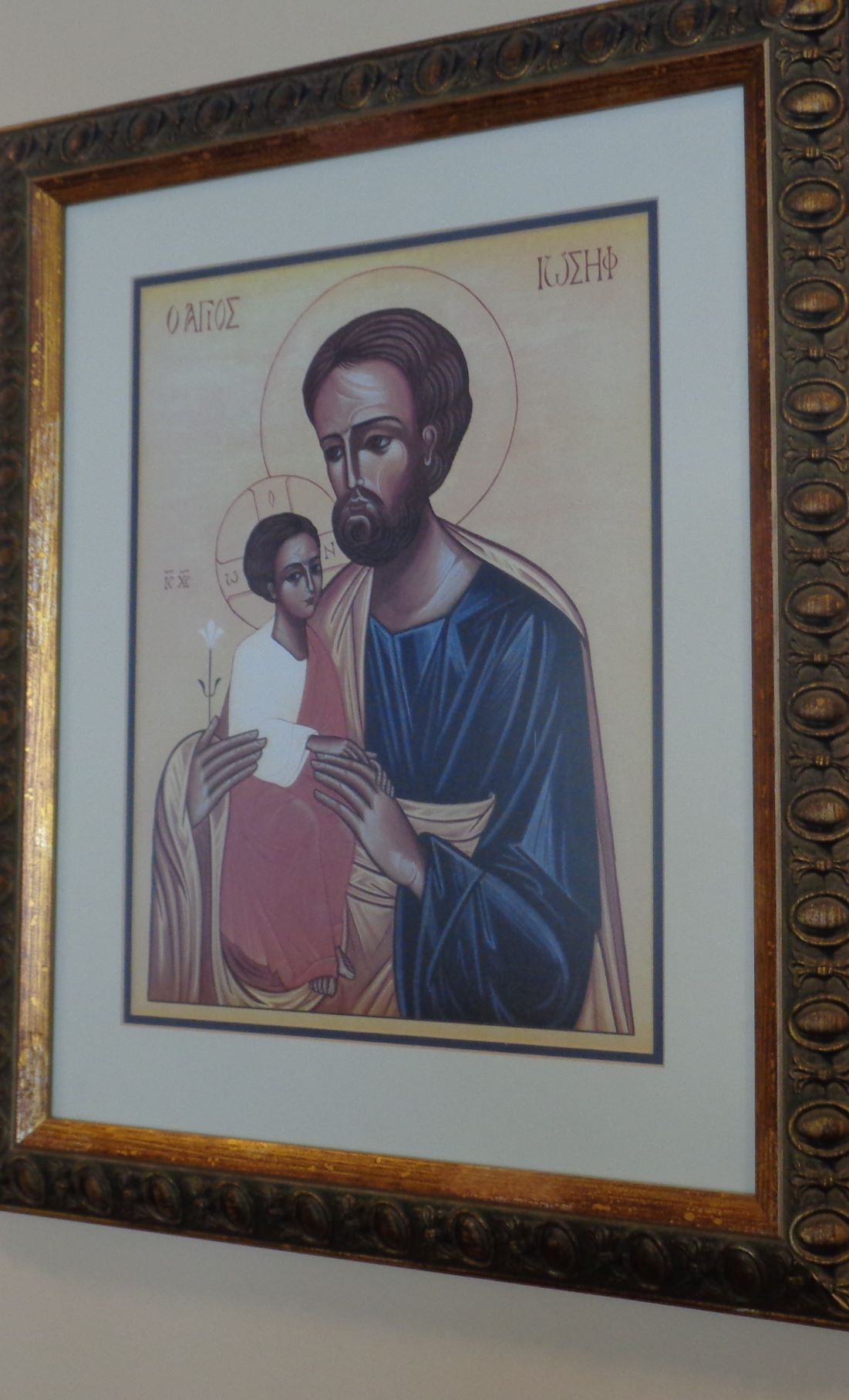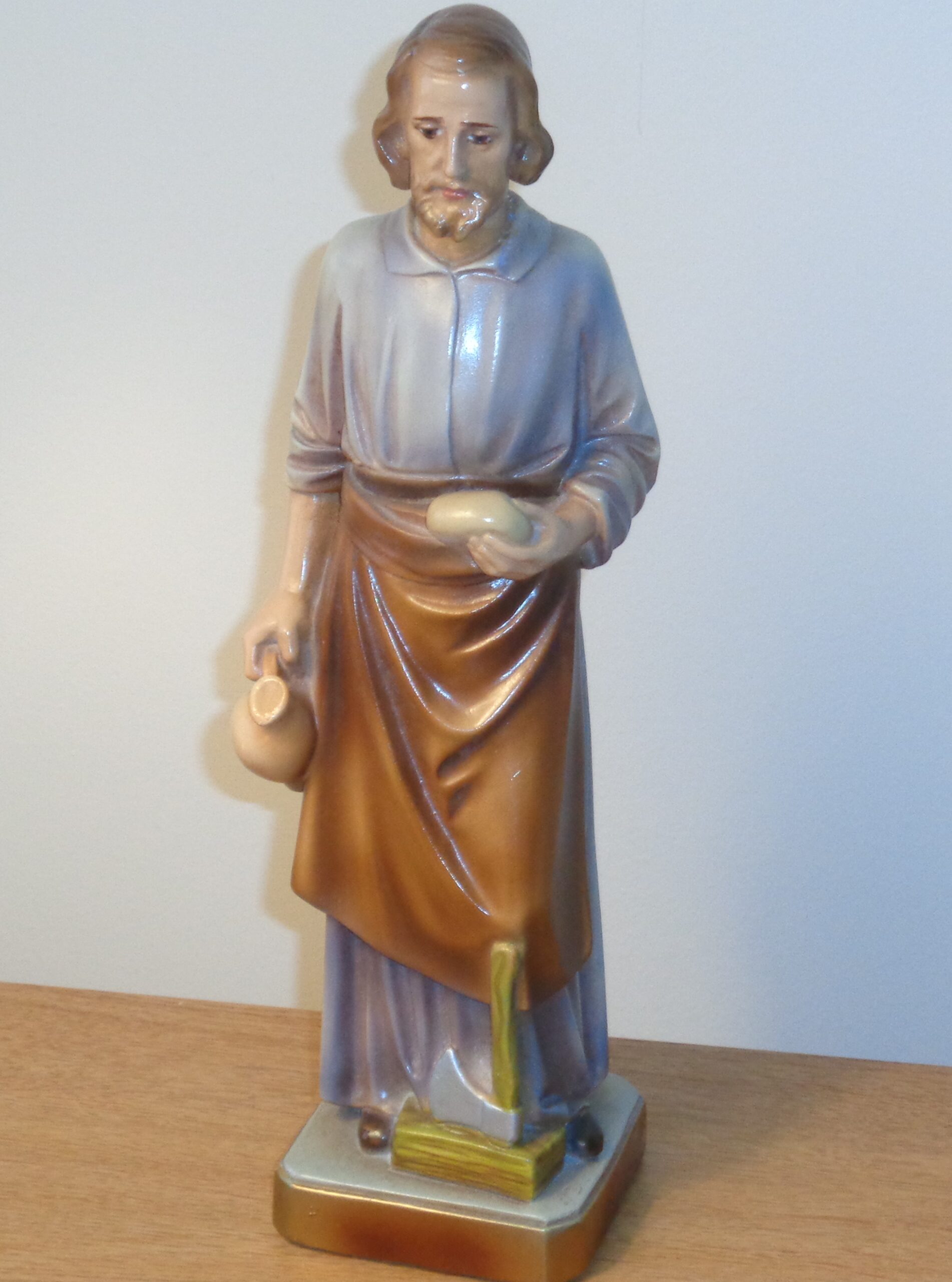 St. Joseph is Always with Us
The icon of St. Joseph to the far left is hanging in the dining room of St. Francis Park and was shared with all of us by Sister Ann Lyons, FSSJ.  The other is a picture of St. Joseph the Provider.  This statue was in one of the original homes that served as a convent for the Sisters when they started their teaching ministry at St. Joseph School in North Tonawanda.  Sr. Joyce Kubiniec, FSSJ, shared this.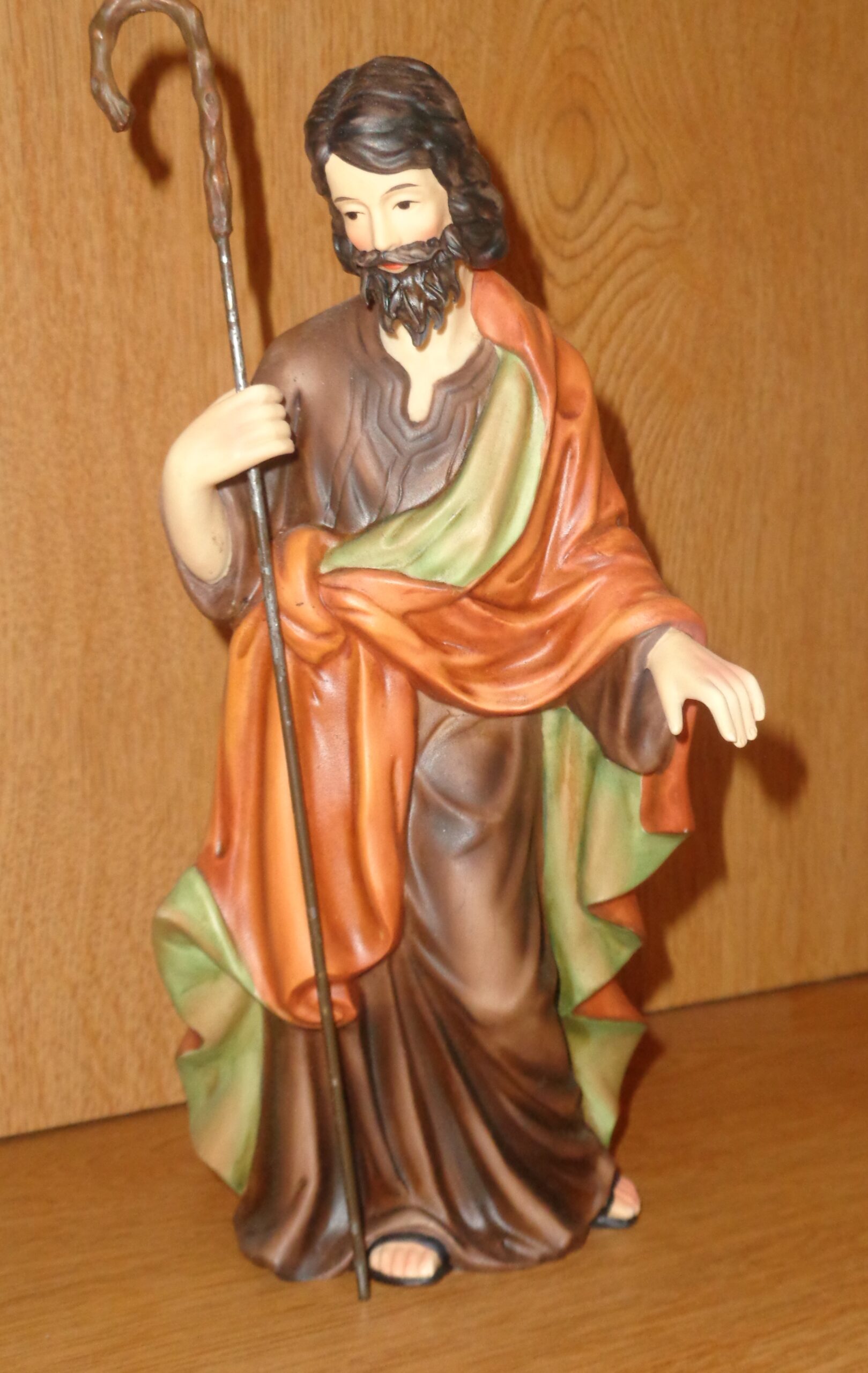 St. Joseph, Our Companion
The statue on the left is one that belongs to Sister Emily Therese Bloom, FSSJ and is part of her collection of Nativity sets.
The statue on the right came to us when Sister Karen and Sister Loretta came to St. Francis Park from Trenton, NJ.  This was a special gift to the Sisters from a person who knew they both loved St. Joseph and that he is one of the patrons of the Franciscan Sisters of St. Joseph.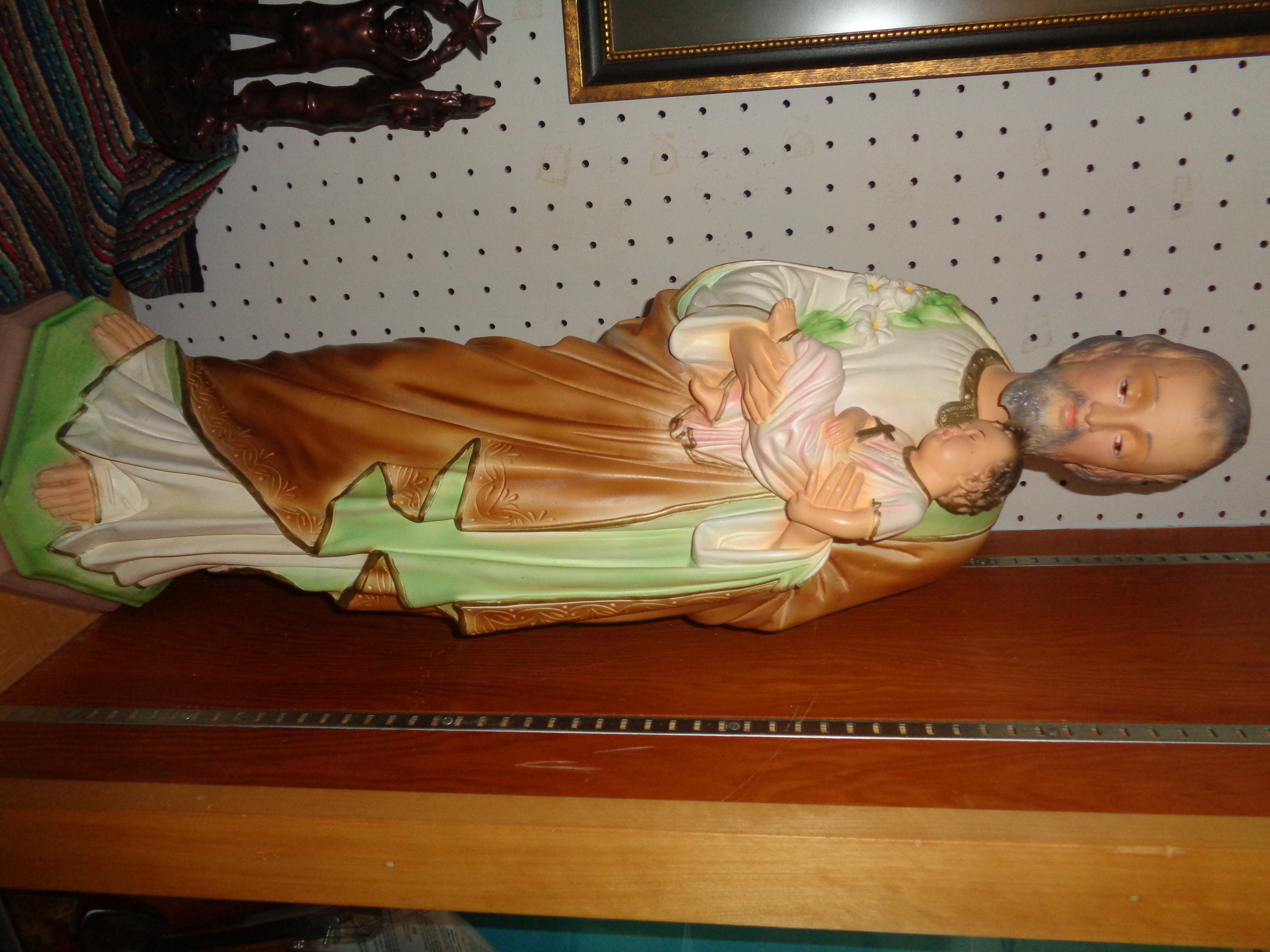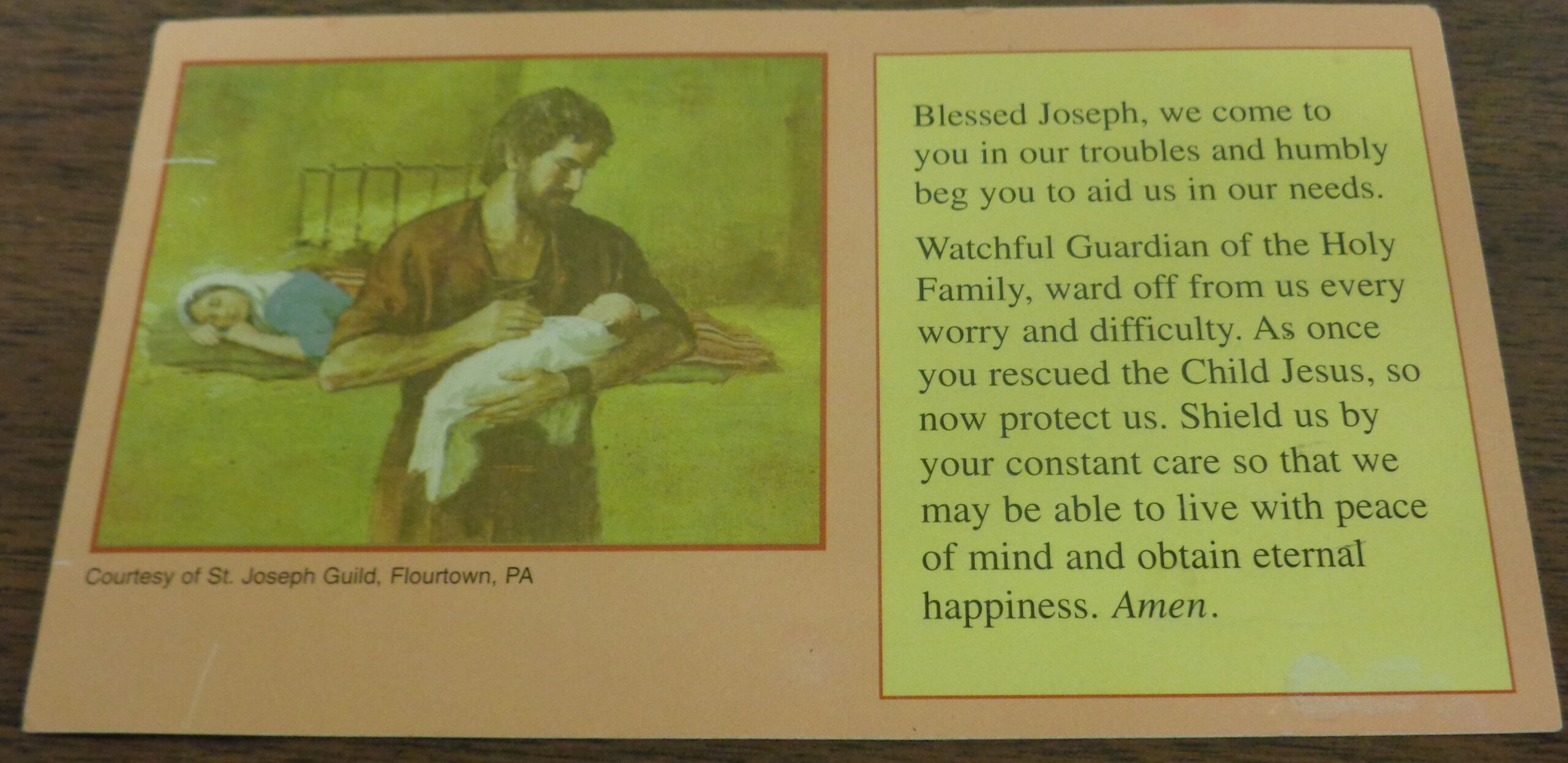 Unique Images of St. Joseph
The picture on the left shows St. Joseph holding Baby Jesus shortly after his birth while Mary rests.
The picture on the right shows St. Joseph, the carpenter, teaching Jesus the carpenter trade.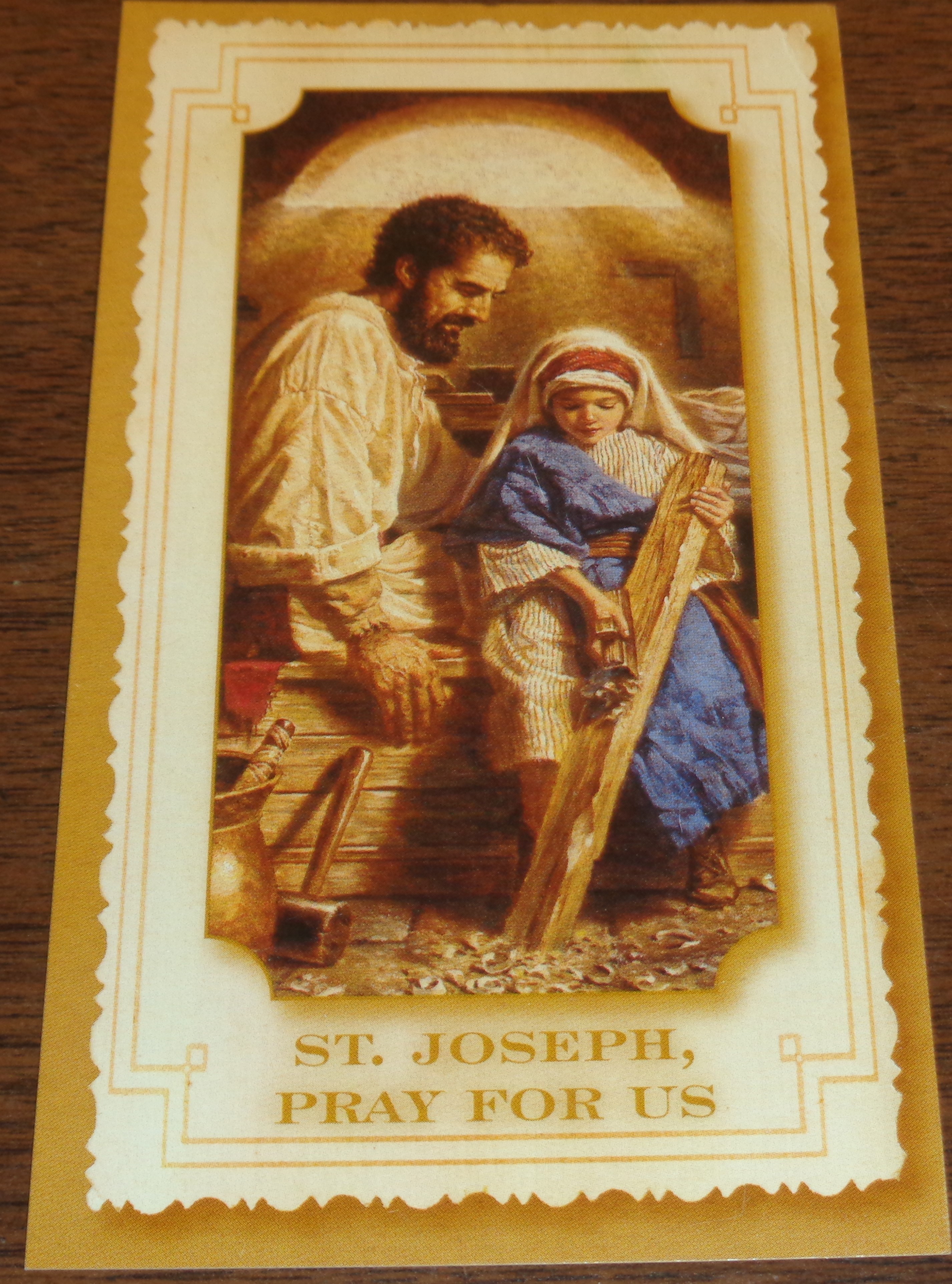 Hilbert College announced that a new baseball field and a new softball field has been named the FSSJ Field Complex, in recognition of the College's founding congregation, the Franciscan Sisters of St. Joseph (FSSJ).  The FSSJ Field Complex, which is slated to be completed for the Spring 2021 season, recognizes the generosity of the Sisters, whose sale of the property adjacent to Hilbert's campus specified that the fields would be made available for Hilbert's exclusive use.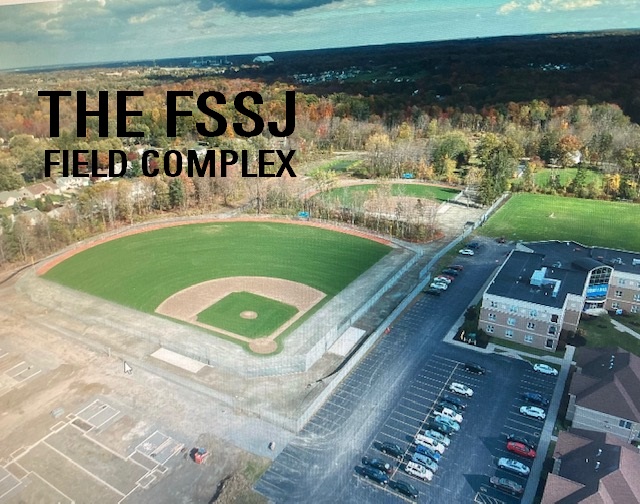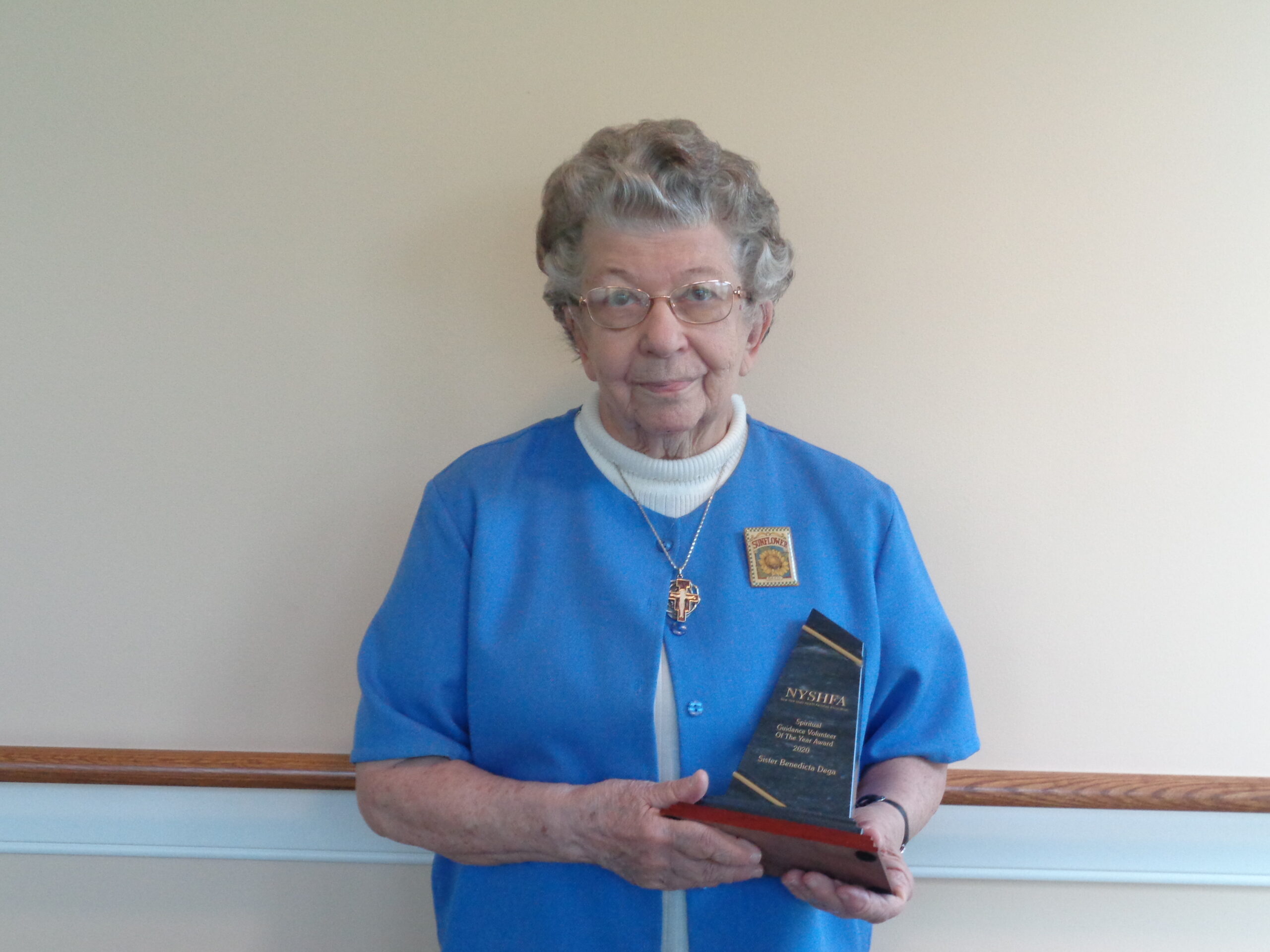 Sister Benedicta Dega, FSSJ, received her award for being named as the NYSHFA Spiritual Guidance Volunteer of the Year. Sr. Benedicta's motto is: Following our foundress, Colette Hilbert, I model her saying "In All Things Charity." Sister has volunteered at Autumn View Health Care Facility in Hamburg, NY since 2015. Sister visits the sick, prays with those who desire to be prayed with, and facilitates Bible study groups. The Franciscan Sisters of St. Joseph are proud and grateful for the Franciscan Spirit Sr. Benedicta shares wherever she serves God's people.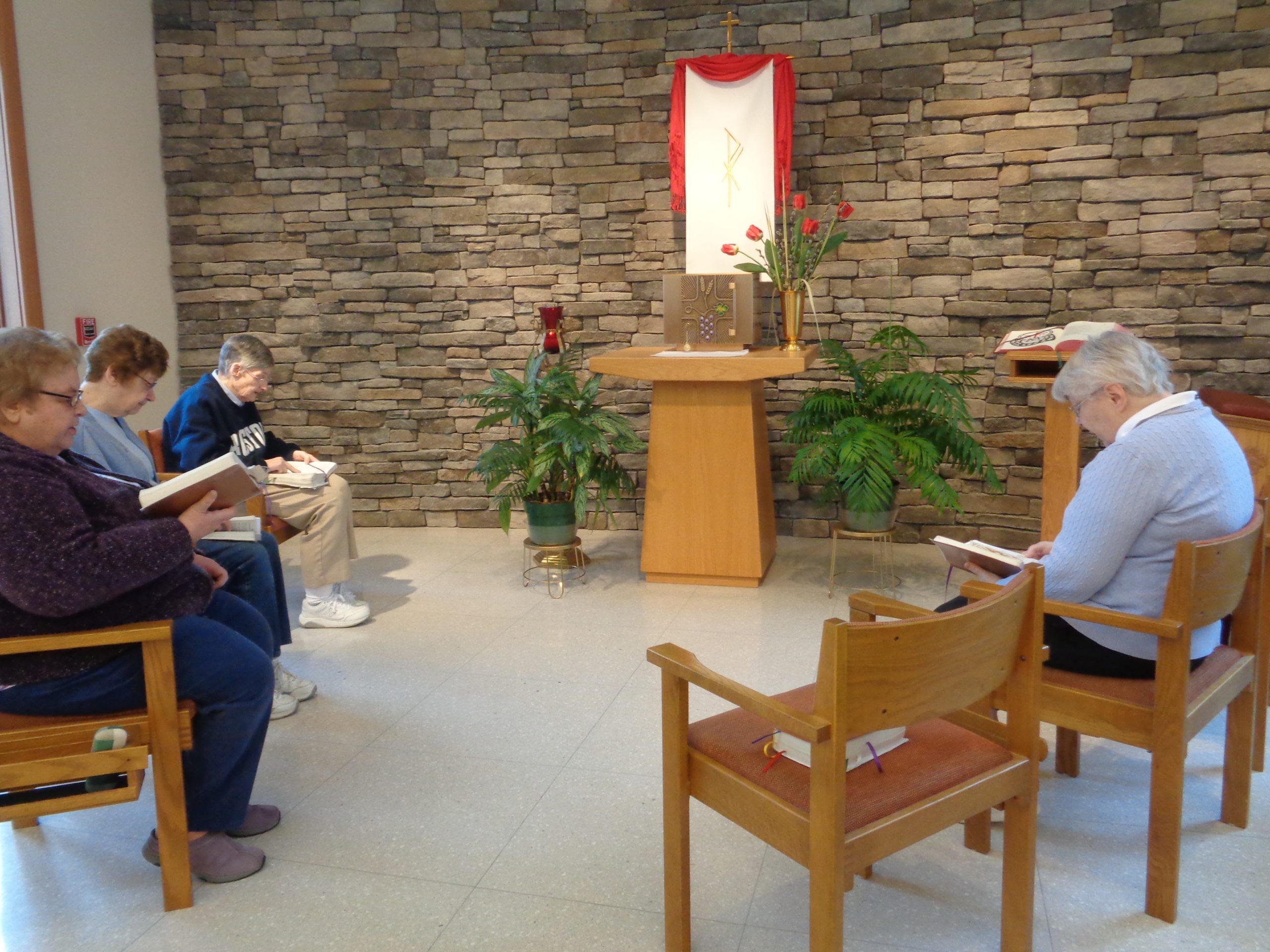 Prayer
Each Franciscan Sister of St. Joseph is praying together or privately for our world at this time.  Some pray in Chapel, some in parlors.  Where or however we pray, God is with us.  Know that you and your families have us holding you tenderly in our hearts.
As St. Francis taught us by example, we not only pray when we pray together but our hope and our call is to "become a prayer." It is something all followers of Jesus are called to do.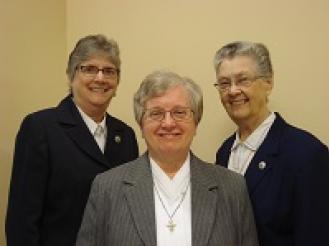 The Leadership Team of the Franciscan Sisters of St. Joseph was elected at the Congregation's 22nd General Chapter in July of 2018.
Elected were Sr. Marcia Ann Fiutko, General Minister, Sr. Jean Marie Cherry, General Councilor and Sr. Judith Elaine Salzman, General Councilor.
FSSJ Chapter Commitment
The Leadership Team will lead the members in fulfilling their Chapter commitment which reads in part: We… Embrace our Sacred Journey…to explore ways to embrace full participation in our community life, new expressions for our mission, and hope-filled plans for our future. We welcome God's invitation to co-create our future possibilities for the common good of God's people.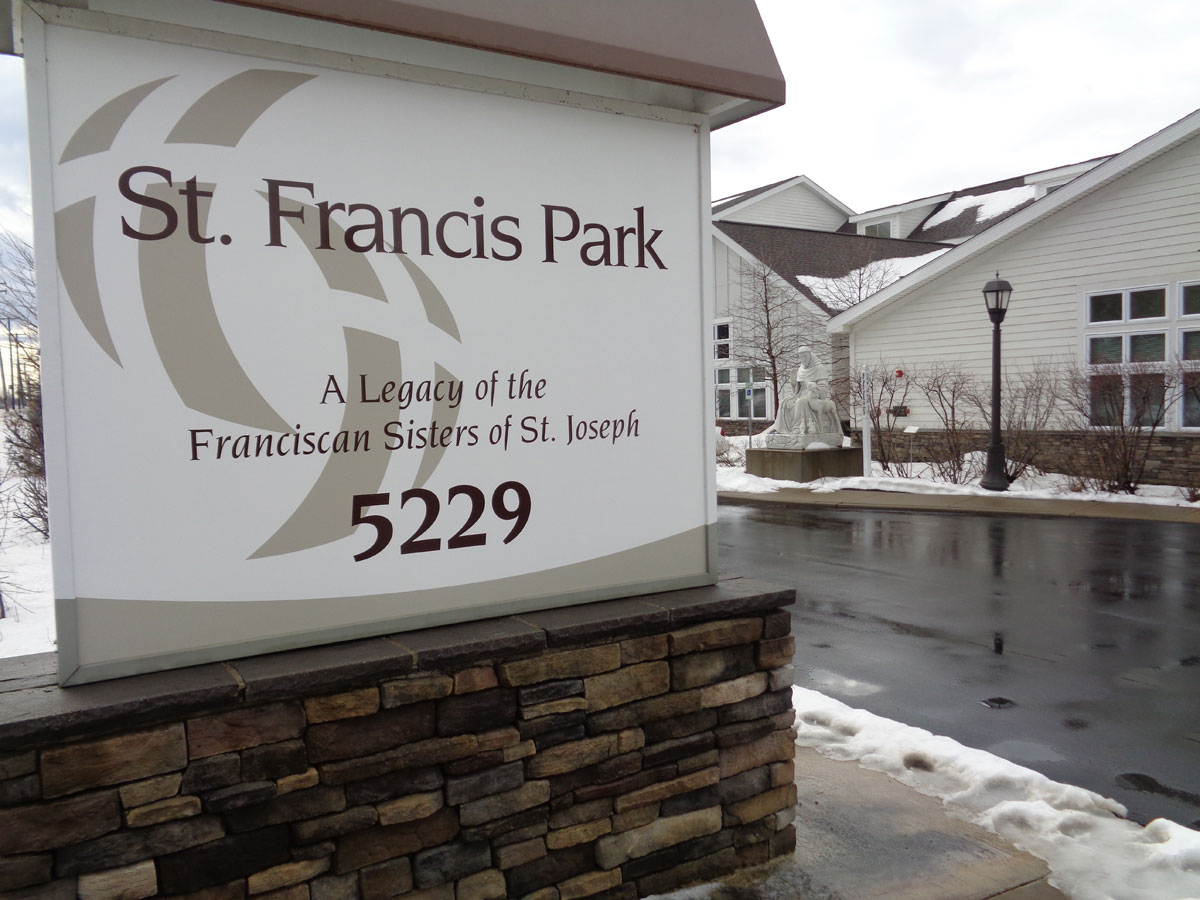 Becoming St. Francis Park
The Franciscan Sisters of St. Joseph have always been open to the Spirit of God and what God is asking of us at each time in history. In the 2000s the Sisters became more aware that we were being called to create a legacy of a new home – one that would be constructed in the Spirit of St. Francis's love of creation and one that would allow us to open our home, our spirituality and our hope for the future to others. In 2010 the new Immaculate Conception Convent was built (LEED Platinum) at 5229 South Park Avenue, Hamburg, NY.
In 2018, Catholic Health purchased Immaculate Conception Convent and helped the Sisters' vision become a reality with the opening of St. Francis Park, an independent living facility for seniors from all walks of life. We invite you to spend some time on this site to learn more.
©2020 Franciscan Sisters of Saint Joseph
5229 South Park Avenue, Hamburg, NY 14075
All rights reserved. No content or images may be reproduced in any form without permission.