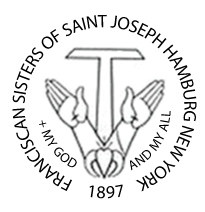 Franciscan Sisters of St. Joseph
Called by God into the Fraternity of Francis, we live in Simplicity, Servanthood, and Joy, renewing the spirit of Mother Colette Hilbert, "In all things Charity."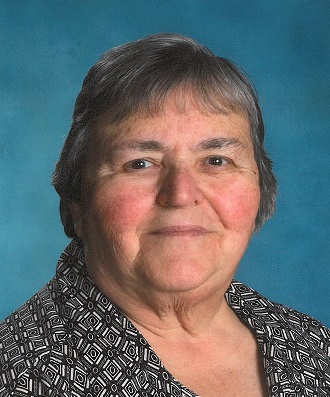 Sister Constance Santillo, FSSJ Appointed
FSSJ Global Concerns Coordinator
Sister Marcia Ann, General Minister of the Franciscan Sisters of St. Joseph, announced the appointment of Sister Constance Santilla, FSSJ, as the Global Concerns Coordinator for the congregation.  Sister Constance's years of dedicated service in Brazil have demonstrated that she has a deep love and concern for those in our society who are underprivileged.  As Coordinator she will have access to information from the Franciscan Action Network, Leadership Conference of Women Religious (LCWR), U.S. Conference of Catholic Bishops and other organizations which she will be sharing with us.  LCWR has chosen to spend the next five years concentrating on systemic racism.  Its current resolution deals with the intersection of racism, climate change and immigration reform.  The community is grateful for Sr. Constance's willingness to say yes to this position and is looking forward to advocating for those in need.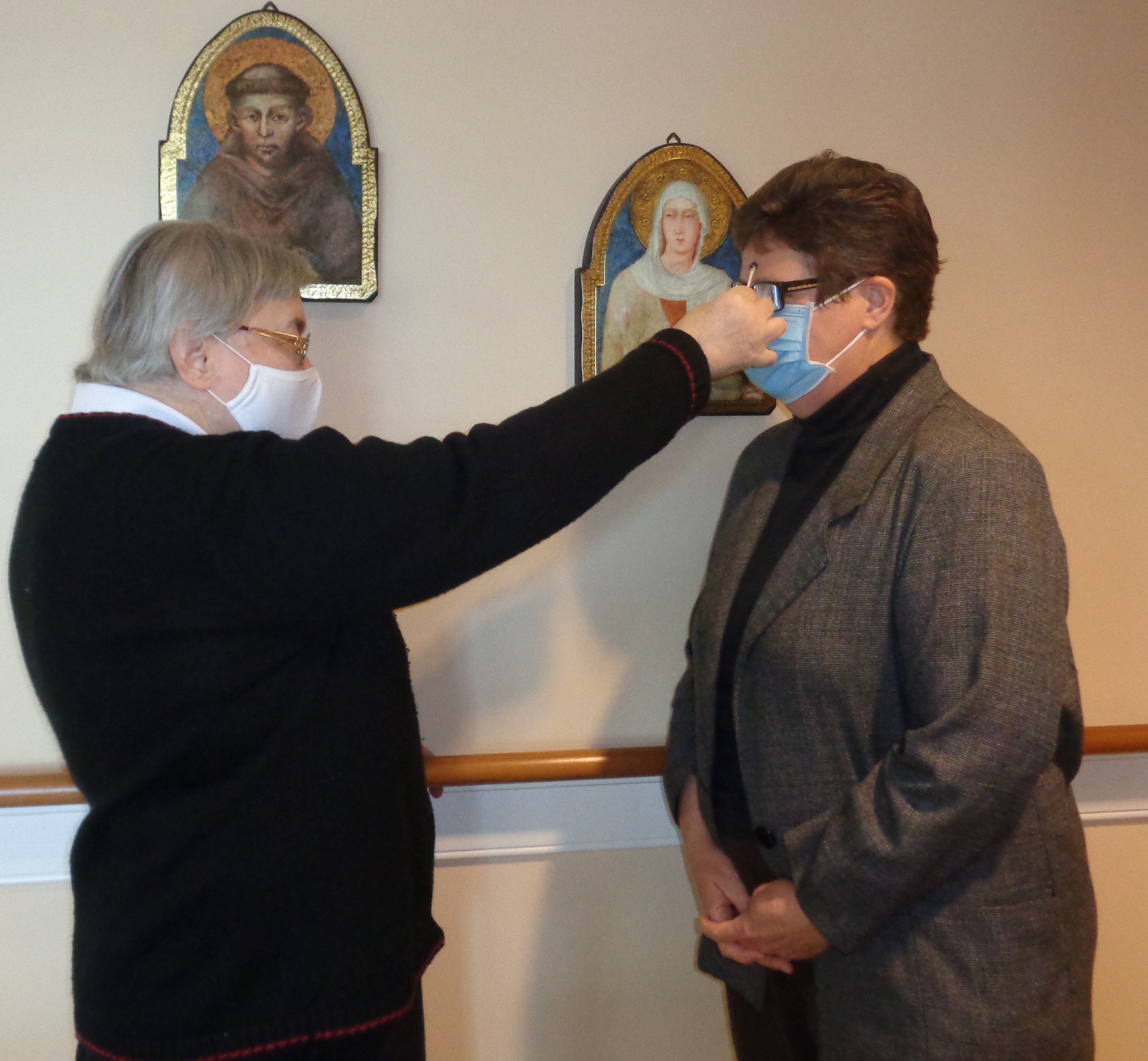 Ash Wednesday
During the pandemic, Ash Wednesday was celebrated taking into consideration health concerns.   Ashes were given using a Q-tip (a different one for each person) or having the ashes sprinkled on our heads.  The Sisters, residents, Catholic Health Associates and FSSJ Employees were given the opportunity to receive the ashes.  Blessings on all as we begin our Lenten Journey.
 Blessing of Throats
Blessing of Throats is a sacramental of the Catholic Church.   Sister Frances Angela (on the left) blesses the Director of FSSJ nurses and Sister Deborah Marie (on the right) blesses Sister Anzelma in our Care Community.  Catholic Health Associates and FSSJ Employees as well as residents at St. Francis Park were also offered  the blessing of throats.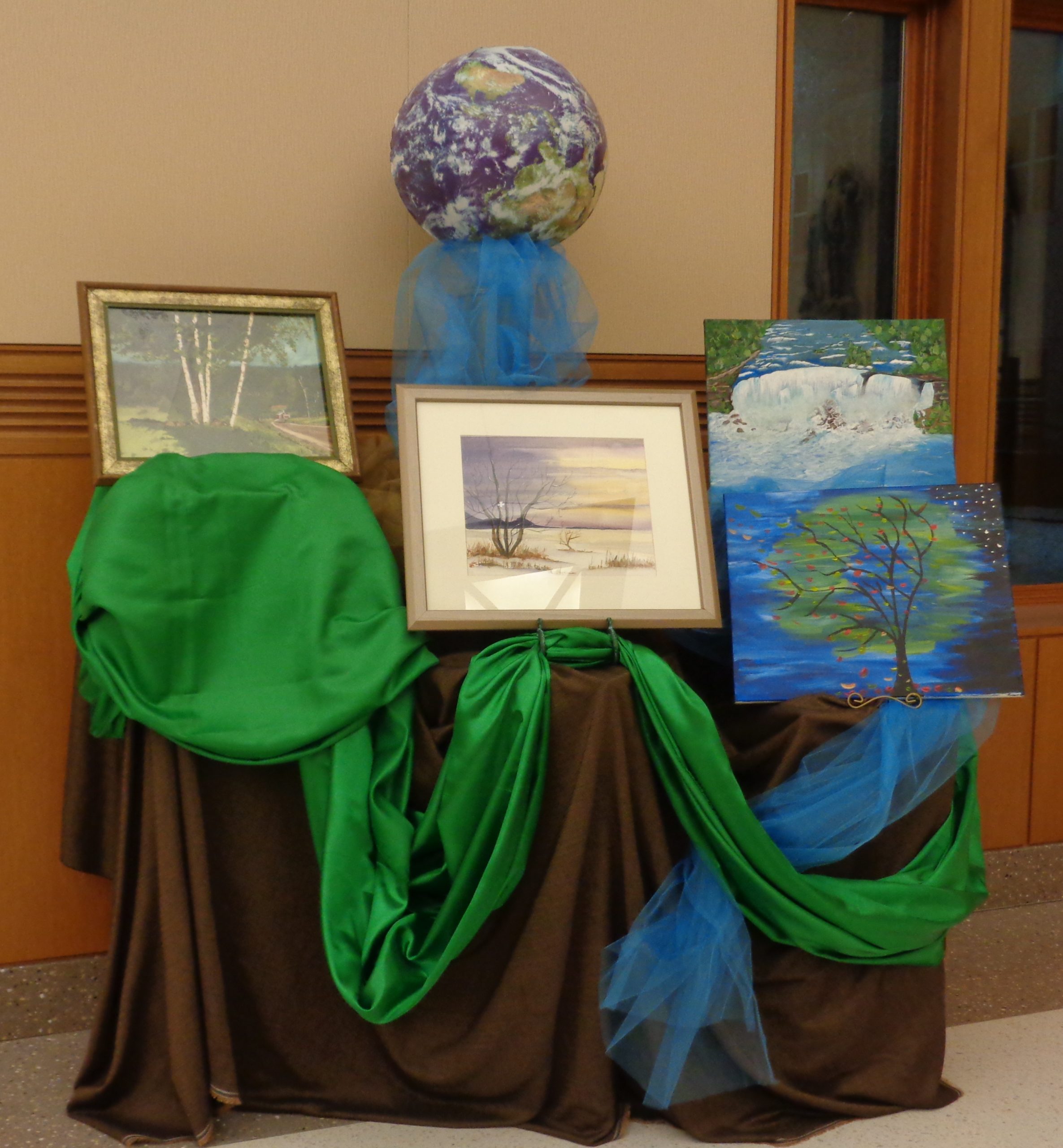 Hilbert College announced that a new baseball field and a new softball field has been named the FSSJ Field Complex, in recognition of the College's founding congregation, the Franciscan Sisters of St. Joseph (FSSJ).  The FSSJ Field Complex, which is slated to be completed for the Spring 2021 season, recognizes the generosity of the Sisters, whose sale of the property adjacent to Hilbert's campus specified that the fields would be made available for Hilbert's exclusive use.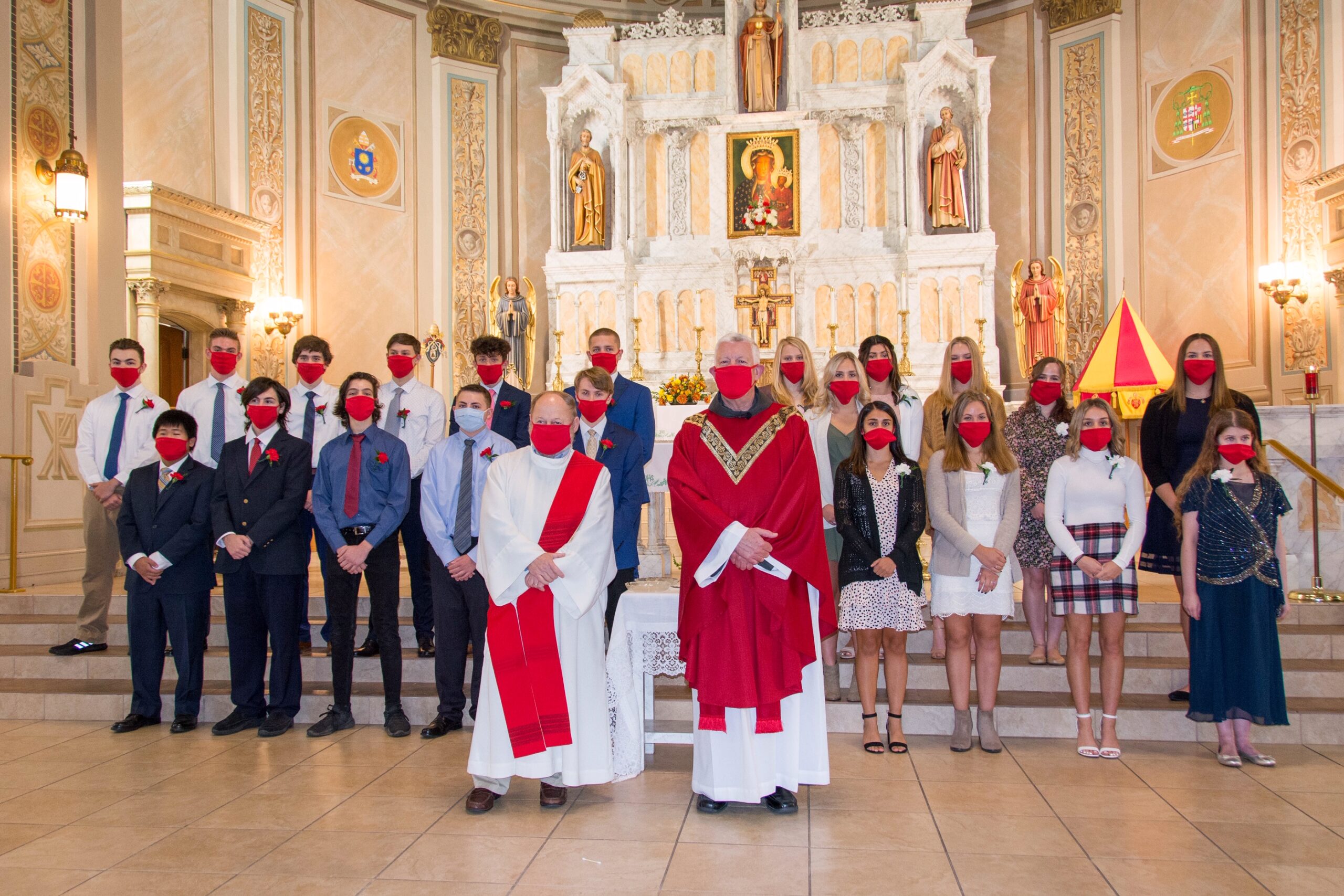 Communion and Confirmation at St. Stanislaus, Chicopee, MA                                                 
The Franciscan Sisters of St. Joseph minister as Coordinator of Religious Education at St. Stanislaus Parish in Chicopee, MA and as Principal of St. Stanislaus School in Chicopee, MA and were very much involved in preparing the Communion and Confirmation celebrations this year.  With concerns about Coronavirus, the parish knew they had to do Communion and Confirmation a little differently than in the past for the safety of all. 
First Communion was celebrated at two different Masses.  The Mass was livestreamed to the grandparents of one of the Communicants who live in Poland.  As you can see from the pictures, safety was a priority. 
The Pastor, Fr. Joe Bayne, OFM Conv., received permission from the Bishop of Springfield to confirm the eligible young people of the parish.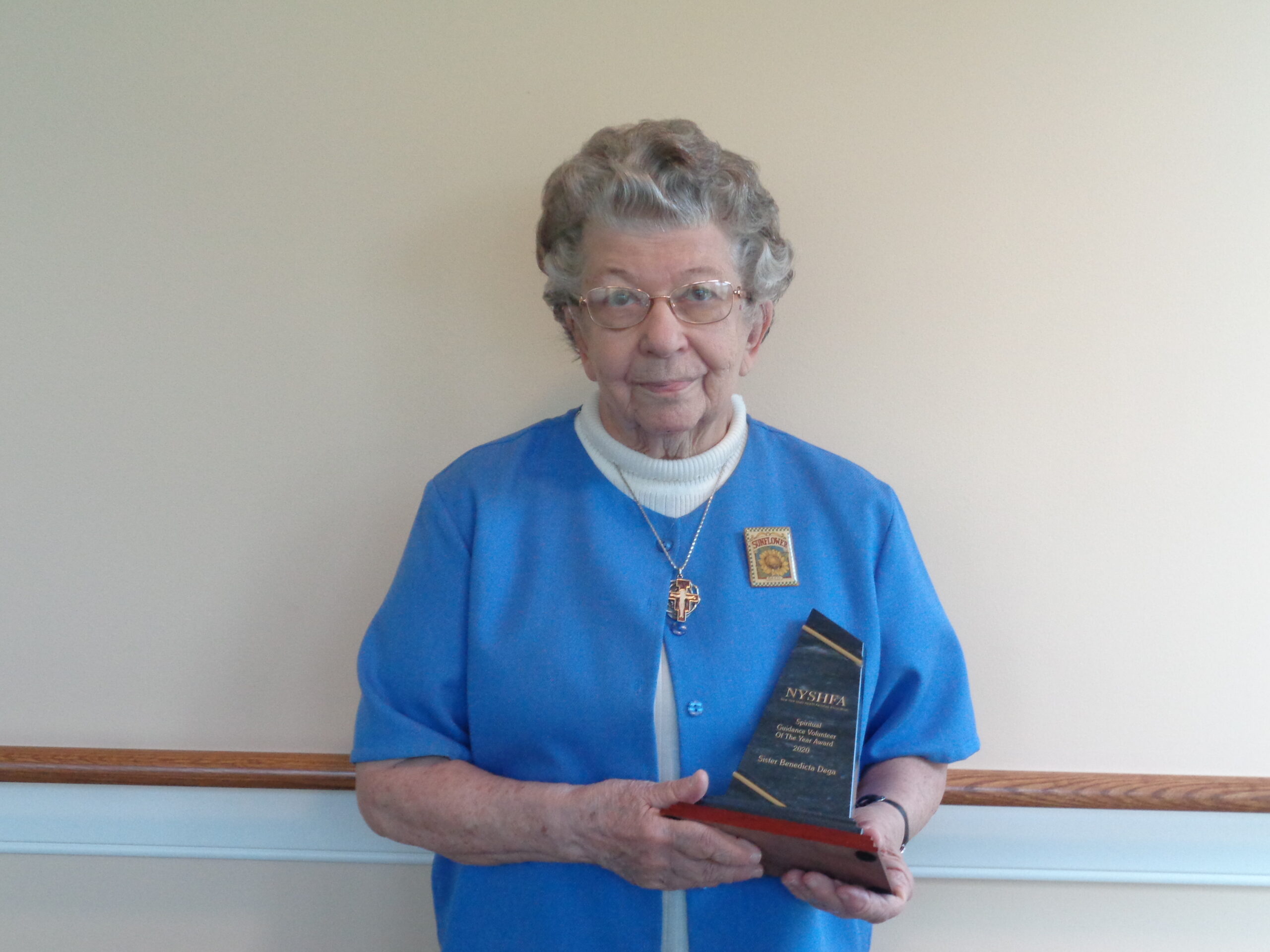 Sister Benedicta Dega, FSSJ, received her award for being named as the NYSHFA Spiritual Guidance Volunteer of the Year. Sr. Benedicta's motto is: Following our foundress, Colette Hilbert, I model her saying "In All Things Charity." Sister has volunteered at Autumn View Health Care Facility in Hamburg, NY since 2015. Sister visits the sick, prays with those who desire to be prayed with, and facilitates Bible study groups. The Franciscan Sisters of St. Joseph are proud and grateful for the Franciscan Spirit Sr. Benedicta shares wherever she serves God's people.
Prayer
Each Franciscan Sister of St. Joseph is praying together or privately for our world at this time.  Some pray in Chapel, some in parlors.  Where or however we pray, God is with us.  Know that you and your families have us holding you tenderly in our hearts.
As St. Francis taught us by example, we not only pray when we pray together but our hope and our call is to "become a prayer." It is something all followers of Jesus are called to do.
Sister Lucille Ann, Sister Jean, and Sister Martha used their care for others and their creativity to make face masks for each Sister and resident at St. Francis Park.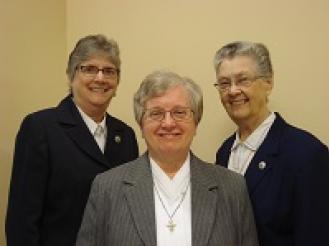 The Leadership Team of the Franciscan Sisters of St. Joseph was elected at the Congregation's 22nd General Chapter in July of 2018.
Elected were Sr. Marcia Ann Fiutko, General Minister, Sr. Jean Marie Cherry, General Councilor and Sr. Judith Elaine Salzman, General Councilor.
FSSJ Chapter Commitment
The Leadership Team will lead the members in fulfilling their Chapter commitment which reads in part: We… Embrace our Sacred Journey…to explore ways to embrace full participation in our community life, new expressions for our mission, and hope-filled plans for our future. We welcome God's invitation to co-create our future possibilities for the common good of God's people.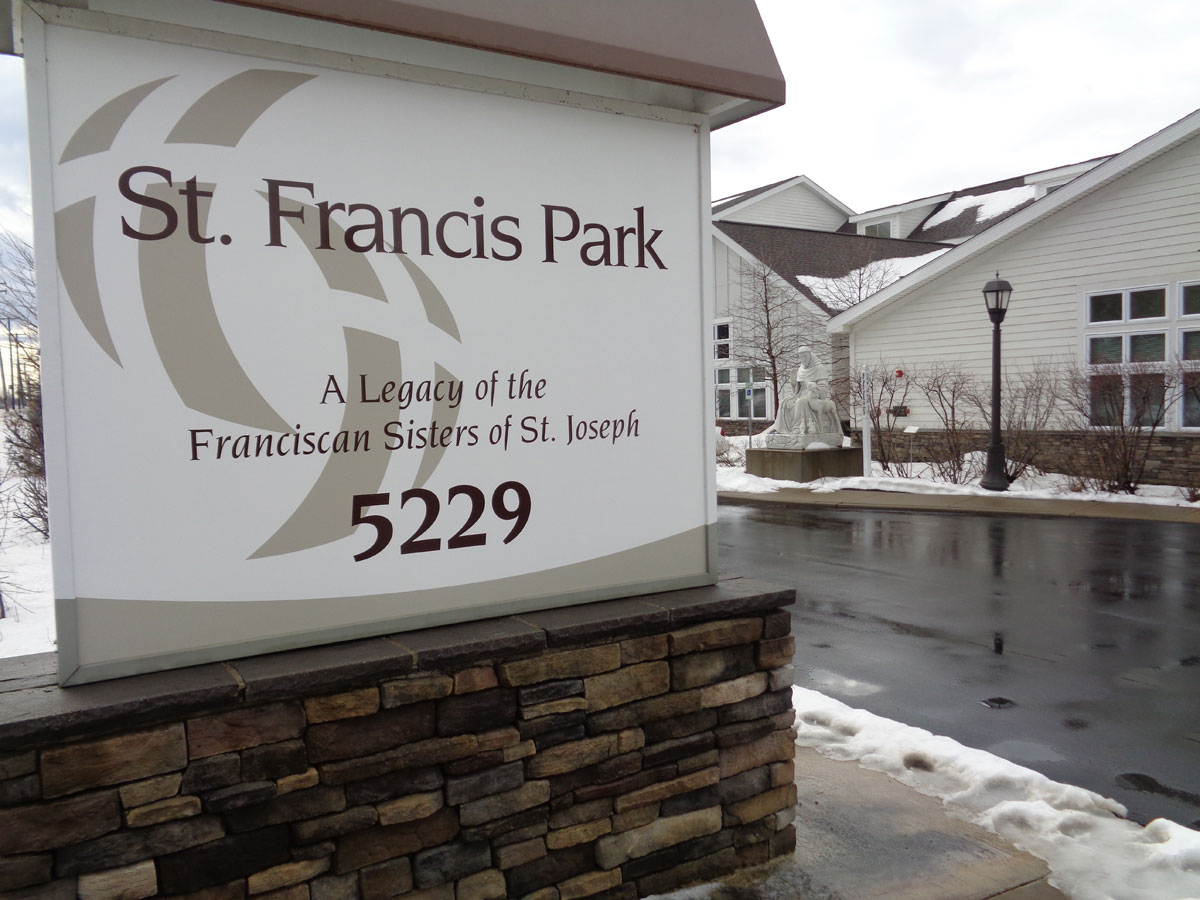 Becoming St. Francis Park
The Franciscan Sisters of St. Joseph have always been open to the Spirit of God and what God is asking of us at each time in history. In the 2000s the Sisters became more aware that we were being called to create a legacy of a new home – one that would be constructed in the Spirit of St. Francis's love of creation and one that would allow us to open our home, our spirituality and our hope for the future to others. In 2010 the new Immaculate Conception Convent was built (LEED Platinum) at 5229 South Park Avenue, Hamburg, NY.
In 2018, Catholic Health purchased Immaculate Conception Convent and helped the Sisters' vision become a reality with the opening of St. Francis Park, an independent living facility for seniors from all walks of life. We invite you to spend some time on this site to learn more.
©2020 Franciscan Sisters of Saint Joseph
5229 South Park Avenue, Hamburg, NY 14075
All rights reserved. No content or images may be reproduced in any form without permission.