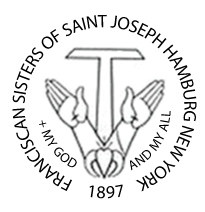 Franciscan Sisters of St. Joseph
Called by God into the Fraternity of Francis, we live in Simplicity, Servanthood, and Joy, renewing the spirit of Mother Colette Hilbert, "In all things Charity."
FRANCISCAN STUDIES PROGRAM
The Franciscan Sisters of St. Joseph have created a high school program entitled Franciscan Studies Program: Lessons on Franciscan Spirituality through the lives of St. Francis, St. Clare and Colette Hilbert, FSSJ. Each component/year focuses on one of the four Third Order core values of humility, poverty, conversion and contemplation. The two-week components are all inclusive with complete lesson plans; readings from Francis, Clare and Colette Hilbert, Foundress of the Franciscan Sisters of St. Joseph (these can be substituted by readings of other founders/Franciscans); reflection questions; study of a Franciscan symbol; prayer service; suggested assessements and a bibilography.
To purchase of copy of the 117 page program in a binder for forty dollars ($40.00), please contact Sr. Jean M. Cherry, FSSJ at jcherry@fssj.org
IMMACULATA ACADEMY/TRANSCRIPTS AND EMPLOYEE RECORDS
Immaculata Academy was a sponsored institution of the Franciscan Sisters of St. Joseph and was permanently closed on June 30, 2016.
PLEASE NOTE: Beginning June 30, 2016, all transcripts and employee records will be available through Nancy DiBerardino at the Diocese of Buffalo. The main phone number is 716-847-5504
Sister Jean Cherry, Administrator
Immaculata Academy
©2020 Franciscan Sisters of Saint Joseph
5229 South Park Avenue, Hamburg, NY 14075
All rights reserved. No content or images may be reproduced in any form without permission.