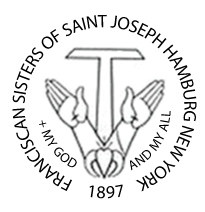 Franciscan Sisters of St. Joseph
Called by God into the Fraternity of Francis, we live in Simplicity, Servanthood, and Joy, renewing the spirit of Mother Colette Hilbert, "In all things Charity."
Thoughts for your journey through life….
                              Sacred Heart of Jesus
In the Catholic tradition the month of June is dedicated to the Sacred Heart of Jesus.  This means that, during June, we reflect on the beautiful symbolism of the Sacred Heart.   The Sacred Heart is surrounded by the crown of thorns which tells us that if there is love, there will be suffering.   Love is why when someone dies, we grieve so deeply.  Love is why parents sacrifice so much so their children will be loved and cared for every minute of the day.   Love is why Christians choose not the values of our world, but the values and virtues of our faith in order to care for the common good.
The Sacred Heart also has a flame coming out from the top of the heart.  This symbolizes passion.   God's passion for us!  God's love for us is not just God thinking about loving us or only loving us when we do what we are supposed to do.   God loves us with passion when we love one another as Jesus asked us to, and God loves us with passion even when we are in sin.  Our God is a passionate God.  We are invited to live passionately – not just in our thoughts but in the way we live.  Are we passionate about caring for one another?   Are we passionate about helping to make a just world for the next seven generations?  We are made in the image and likeness of God.  God is passionate about life and God gifted us with the ability to passionate.  May we grow into God's image and share passionate love with those with whom we live and those we serve.
The Sacred Heart has a cross amid the flames.  This symbolizes that Jesus suffered and died because he was showing us how to live in God's kingdom.  Jesus showed us that we love all people, especially the outcast and poor.  Jesus stayed true to the person that he was called to be in his time.  Each of us is called to be true to our True Self – the Self God created so that we, too, will LOVE.
The Sacred Heart also has a wound in it.   This symbolizes the pouring out of the water and blood of Jesus on the cross.  Let us be grateful for the love we pour out to and for everyone, following Jesus' example.
June is a month for the Sacred Heart – it is also a month of summer fun.  Yet, in June life continues with or without summer fun.  We continue to care and love those who put their lives on the line for us, we continue to care and love our families, community members and our wonderful gift of creation.  May "nothing separate us from the Love of Christ" (Romans 8:38).
©2020 Franciscan Sisters of Saint Joseph
5229 South Park Avenue, Hamburg, NY 14075
All rights reserved. No content or images may be reproduced in any form without permission.