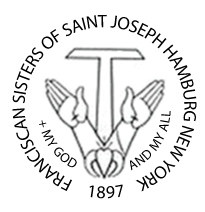 Franciscan Sisters of St. Joseph
Called by God into the Fraternity of Francis, we live in Simplicity, Servanthood, and Joy, renewing the spirit of Mother Colette Hilbert, "In all things Charity."
Thoughts for your journey through life….
Jesus loved to tell parables and I'm sure the people around him loved to listen to them. They didn't always get the message behind them, but they probably had some good chuckles while hearing them. Two of my favorites illustrate this point: the mustard seed and the woman with the yeast.
First of all, during Jesus' time, mustard was considered a weed. It sprouted and spread rampantly. To even consider "planting" mustard seeds would have been outrageous, and subject to a fine. Secondly, its flimsy, willowy stem could never support the weight of a bird—let alone become the largest of plants or a bush for birds to come and dwell in its branches. There would be no safety for the birds with that plant! Not even for the red-winged blackbirds who settle on top of the reeds by the retention pond here at St. Francis Park.
As for the woman who took three measures of flour to mix with the yeast, she would have to be a very proficient baker. Those three measures of flour, which mixed with the yeast, could have yielded enough dough for bread for 100 people, perhaps her entire village!
Can you imagine the laughter among the crowd as Jesus told these parables? Even today, we probably can't imagine the super-abundance that our all-giving God has prepared for those who love God. Let's try to imagine God's delight in blessing all who abundantly share their compassion, possessions, good humor, time, creativity and innumerable talents for the sake of God's kingdom, that is, for all of humankind and creation.
I recall a woman once commenting on how we approach God in our need. "Do we come requesting a thimbleful of God's grace? What if we were to come with an empty bushel basket?" Let's feel free to request that super-abundance of goodness God longs to give us even while we are working to bring God's kingdom to fruition among us.
©2020 Franciscan Sisters of Saint Joseph
5229 South Park Avenue, Hamburg, NY 14075
All rights reserved. No content or images may be reproduced in any form without permission.