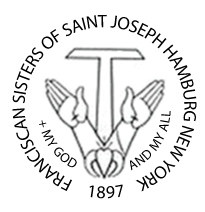 Franciscan Sisters of St. Joseph
Called by God into the Fraternity of Francis, we live in Simplicity, Servanthood, and Joy, renewing the spirit of Mother Colette Hilbert, "In all things Charity."
The Gospel of Luke offers us the dialogue between Mary and her cousin Elizabeth. When Mary enters the house and greets Elizabeth, the latter says: "Blessed are you among women, and blessed is the fruit of your womb" (Lk 1:42). These words, full of faith and joy and wonder, have become part of the "Hail Mary". Every time we say this prayer, so beautiful and familiar, we do as Elizabeth did: we greet Mary and we bless her, because she brings Jesus to us.
Mary accepts Elizabeth's blessing and replies with the canticle, a gift for us, for all history: the Magnificat. It is a song of praise we can define as the "canticle of hope". It is a hymn of praise and exultation for the great things that the Lord has accomplished in her, but Mary goes further: she contemplates the work of God in the entire history of his people. She says, for example, that the Lord "has put down the mighty from their thrones, and exalted those of low degree; he has filled the hungry with good things, and the rich he has sent empty away" (vv. 52-53). As we listen to these words, we might ask ourselves: is the Virgin not exaggerating a little, perhaps, describing a world that does not exist? Indeed, what she says does not seem to correspond to reality; while she speaks, the powerful of the time have not been brought down: the fearsome Herod, for example, is firmly on his throne. And the poor and hungry remain so, while the rich continue to prosper.
What does that canticle of Mary mean? What is the meaning? She does not intend to chronicle the time — she is not a journalist — but to tell us something much more important: that God, through her, has
inaugurated a historical turning point; he has definitively established a new order of things. She, small and humble, has been raised up and brought to the glory of Heaven, while the powerful of the world are destined to remain empty-handed. Think of the parable of that rich man who had a beggar, Lazarus, at his door. How did he end up? Empty-handed.Our Lady, in other words, announces a radical change, an overturning of values. While she speaks with Elizabeth, carrying Jesus in her womb, she anticipates what her Son will say, when he will proclaim blessed the poor and humble, and warn the rich and those who base themselves on their own self-sufficiency. The Virgin, then, prophesies with this canticle, with this prayer: she prophesies that it will not be power, success and money to prevail, but rather that service, humility and love will prevail. And as we look at her, in glory, we understand that true power is service — let us not forget this: true power is service — and to reign means to love. And that this is the road to Heaven.
          Angelus homily by Pope Francis, 2022
         Art work by Sr. Geraldine Rutkowski, FSSJ
©2020 Franciscan Sisters of Saint Joseph
5229 South Park Avenue, Hamburg, NY 14075
All rights reserved. No content or images may be reproduced in any form without permission.