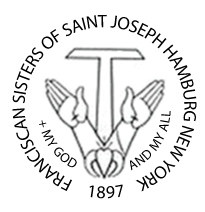 Franciscan Sisters of St. Joseph
Called by God into the Fraternity of Francis, we live in Simplicity, Servanthood, and Joy, renewing the spirit of Mother Colette Hilbert, "In all things Charity."
Thoughts for your journey through life….
Laudato Si:  Care for Our Common Home,
Pope Francis
Jesus lived in full harmony with creation, and others were amazed: "What sort of man is this, that even the winds and the sea obey him?" (Mt 8:27). His appearance was not that of an ascetic set apart from the world, nor of an enemy to the pleasant things of life. Of himself he said: "The Son of Man came eating and drinking and they say, 'Look, a glutton and a drunkard!'" (Mt 11:19). He was far removed from philosophies which despised the body, matter and the things of the world. Such unhealthy dualisms, nonetheless, left a mark on certain Christian thinkers in the course of history and disfigured the Gospel. Jesus worked with his hands, in daily contact with the matter created by God, to which he gave form by his craftsmanship. It is striking that most of his life was dedicated to this task in a simple life which awakened no admiration at all: "Is not this the carpenter, the son of Mary?" (Mk 6:3).  Pope Francis, Laudato Si:  Care for Our Common Home
©2020 Franciscan Sisters of Saint Joseph
5229 South Park Avenue, Hamburg, NY 14075
All rights reserved. No content or images may be reproduced in any form without permission.