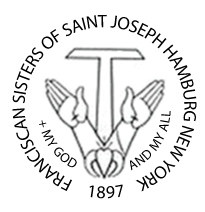 Franciscan Sisters of St. Joseph
Called by God into the Fraternity of Francis, we live in Simplicity, Servanthood, and Joy, renewing the spirit of Mother Colette Hilbert, "In all things Charity."
Thoughts for your journey through life….
LENTEN REFLECTION ON FRANCIS OF ASSISI
I believe that the credibility of the life and ideals of Francis of Assisi arises out of the connections made when people engage in mutual exchange about their passionate experience of the holy.  Franciscan spirituality is the life process of applying to ourselves Francis' way of encountering and experiencing God.  For Francis, God is known in the Christ of the Gospels who announces repentance and peace for all.  The Gospel way for Francis was total investment of self, the total handing over of self to God, and the total commitment of self to God's purpose—a continuous conversion.  Each of us who takes this path has to bring a whole life, a life that starts at a point in time and includes all the people, all the happiness, all the cherished moments, all the sorrow as well as all the trials.
Francis' journey toward following in the footprints of Jesus led him to withdraw from the activity of Assisi to discover the will of God.  He came to discover that the Spirit was present and active in solitary places and only though the stillness of silence could the message penetrate to his depths.  This solitary experience helped Francis sort out those values he truly believed in; this withdrawal also demonstrated that true renewal is built on a life of prayer.  Prayer is what kept Francis open and alert to God.
We like Francis, have to start with ourselves.  We may need to find time and opportunity for "silent places" so we too can hear the voice of Christ and align ourselves with the power of the Spirit—the primary source of renewal.  Each Lent we are called to renewal of life—a time for discovering in our hearts the resources that will enable us to live better lives, be better people, and in our own way, draw closer to God.  The Lenten discipline of prayer is meant to open our hearts and dispose our spirits to the action of God.
Francis is not just for his time or for the past; he is a guide for the present.  We cannot return to the thirteenth century and become clones of Francis by slavish imitations of his actions.  What is needed is a creative application of his values, which are above all the values of Christ.  He acted with faithfulness and determination on the light he possessed.  It is clear from his life that he continually acted upon God's word.  Our will to act is crucial; it is the test of faithfulness to what our hearts dictate out of our experience of Francis and our experience of God.  One cannot come under the influence of Francis without growing spiritually; one cannot know the Assisi Saint without absorbing deep values; one cannot live following the example of Francis without expanding in commitment to Jesus.  Hopefully, as we pray during these forty days we begin to respond in new ways to our experience of the holy in our midst.
©2020 Franciscan Sisters of Saint Joseph
5229 South Park Avenue, Hamburg, NY 14075
All rights reserved. No content or images may be reproduced in any form without permission.