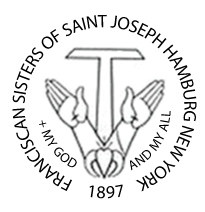 Franciscan Sisters of St. Joseph
Called by God into the Fraternity of Francis, we live in Simplicity, Servanthood, and Joy, renewing the spirit of Mother Colette Hilbert, "In all things Charity."
FSSJ Treasured Memories of Ministries
Treasured Memories of Immaculata Academy

                                Sister Jean Cherry, FSSJ

I have always delighted in puppies. They don't always know what they are doing but they are eager to do something. They don't always know where they are going but they are eager to go somewhere. People often say 'look at the big feet on those puppies; they will grow into them.' Puppies are so full of potential. This reflection is not about puppies but rather it is about my former students at Immaculata Academy – the freshmen in particular. I chose to 'specialize' in freshmen, choosing to have freshmen homerooms when most other teachers would never do so. To me "my" freshmen were analogous to puppies. They came to IA not knowing what to do or where to go. They had to grow into themselves. They were full of potential.
I took my role of helping these young girls to become significant contributors to a society in great need of kind, prayerful, responsible, generous-hearted and intelligent women leaders. My goal was help form their heads, hearts and souls.  With our Franciscan values as the
under-pinning, the other areas would fall into place. Fortunately, I had wonderful like-minded colleagues with the same goal.
Like puppies, our ladies at IA had their ups and downs, especially in their first two years. Much energy is needed to learn how to build healthy relationships, how to navigate difficulties and challenges, all while learning their academics. Some did it more gracefully than others, but they all did it. I helped many of them through the ever-present drama of girls in high school, giving encouragement and/or a bit of tough love when needed, always with the intention of helping them to see the good in themselves.
The "magic" seemed to happen in the junior and senior years. It was then that I could see who these young women would be when they left our hallways – hallways made hallowed by their presence. They had grown in confidence and self-discovery just as puppies grow into themselves. They were not done yet but were well on their way.
They had become "IA Girls" for the world – Intelligent and Aware, Inquisitive and Able, Innovative and Amiable…
How blessed I was for over 35 years to share in their life journeys from young, seeking freshmen to more mature, young women ready for the next chapters in their lives. And what joy I continue to have when I see them as adults, successful in their varied chosen paths and grateful for their education at Immaculata Academy.
These girls were/are my delight, my treasured memories.
©2020 Franciscan Sisters of Saint Joseph
5229 South Park Avenue, Hamburg, NY 14075
All rights reserved. No content or images may be reproduced in any form without permission.