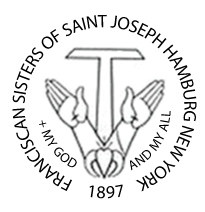 Franciscan Sisters of St. Joseph
Called by God into the Fraternity of Francis, we live in Simplicity, Servanthood, and Joy, renewing the spirit of Mother Colette Hilbert, "In all things Charity."
Thoughts for your journey through life….
In 1979 St. Pope John Paul II proclaimed Francis of Assisi patron of all who promote ecology. Francis had a deep love and respect for the integrity of all creation…animals, plants, natural forces, Brother Sun, Sister Moon. In his Canticle of Creation, praising our Sister, Mother Earth, Francis was convinced that "the earth is the Lord's and all it holds." He believed that God, our Creator, gave us these "gifts of creation": the air we breathe, the water that sustains life, the fruits of the land that nourish us, the wind, sun, stars and moon which are part of life without which we humans cannot flourish. Francis encountered God in all of God's creatures and creation. Do we?
How much we take for granted when it comes to the gifts of creation! It seems to me that as we approach the season of autumn, this is the time we most appreciate the beauty of nature. What a miracle of nature to watch the leaves turn from green to yellow, orange, red or brown. Our land is ablaze with color. Then in its peak of beauty, the leaves die and fall to the ground to be trampled. This in turn becomes mulch to serve as food for the soil It amazes me that through the order of things God had arranged that all life, all of God's creation, go through stages-life, death and new life just as we humans experience this cycle.
What is your favorite scene in nature where you encounter God? Do you encounter the Creator in your prayer, in your loved ones, in your faith community? Do you also encounter God in pain, sorrow, in the stranger who makes you feel uncomfortable? Even in these difficult situations I believe we are challenged to see beauty, to experience new life. If our focus is only on the negative, we need to go out for a walk, sit in our backyard or look out the window and marvel at God's handiwork-God's creation.
Just as we meet the painter is his art piece and the poet in her finely crafted words, so we encounter the Creator in all of Creation.
©2020 Franciscan Sisters of Saint Joseph
5229 South Park Avenue, Hamburg, NY 14075
All rights reserved. No content or images may be reproduced in any form without permission.